Help! Why Are My Jeans So Uncomfortable?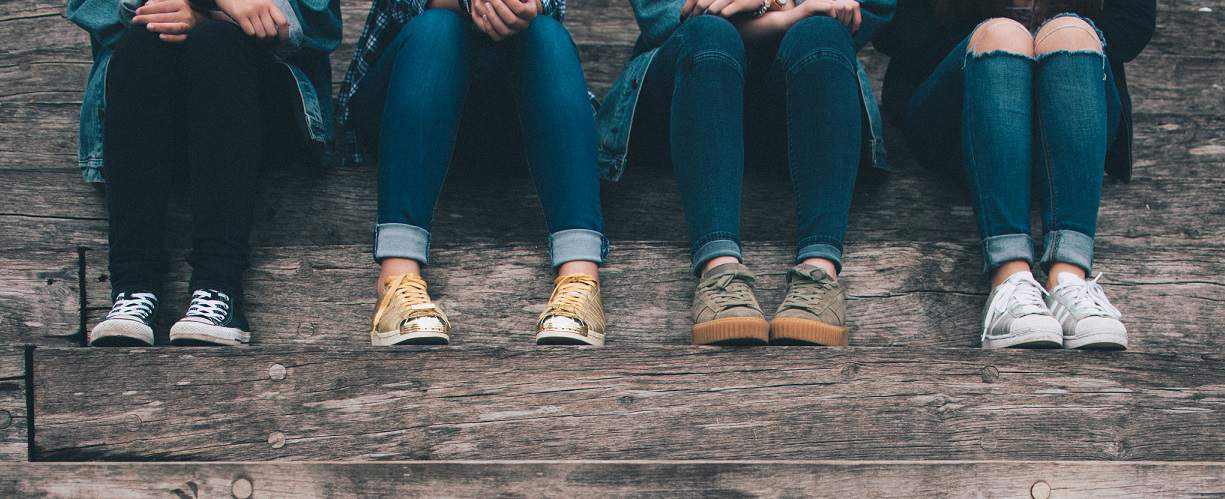 You may be wondering to yourself, 'why do I find jeans uncomfortable?' when everyone else seems to love them and wear them all the time. Don't worry- it isn't you. There are lots of understandable reasons you may hate jeans, which we will cover in this post. We also hope to give you a few solutions to getting you to the point where you reach for your jeans when you are in the mood for comfy pants.
Historically jeans were not made to be comfortable but rather made for miners as a durable and practical garment while working in difficult conditions. The modern jean has evolved into something quite different. A wardrobe staple for many, they are one the most popular types of clothing that almost everyone seems to own at least one pair.
If you are someone who finds jeans uncomfortable, the popularity may be puzzling to you, but one of the reasons for jeans' popularity is how comfortable and easy to wear people worldwide find jeans to be. So let's explore some of the reasons why you may hate your jeans.
Why Are My Jeans so Uncomfortable?
They Don't Fit

One of the most important aspects of getting pants that feel good to wear is finding styles that fit you properly.
Size
The first thing that anyone who finds jeans unbearable to wear needs to consider is whether they are wearing the right size of jeans. If they are too big or too small, you will not want to wear them. Ill-fitting jeans can cause issues like fabric cutting into hips or waist, feeling like you are super constricted, or just an overall feeling of discomfort.
Although it sounds simple to get a good size and fit, it is actually quite hard to find jeans that fit properly. If you are ordering online, you can start by measuring your hips, waist, and inseam length and then looking at the manufacturer's posted sizing measurements. If you can shop in person, try on as many fits, sizes, and brands as you can stand. It may take a while, but it will be worth it in the end when you find that perfect pair that you are going to love wearing.
A couple of common problems that people run into when finding a good fit:
The Waist-to-Hip Ratio
One of the biggest issues that women have with finding a good fitting pant is getting pants that fit okay in the legs and the hips but have a huge gap at the waist, which is super annoying and hard to fix even with a belt. The solution to this issue is looking at curvy fit styles with a different waist to hip ratio than standard sizing. If your hip measures more than 10 inches wider than your waist, you will want to try out curvy fit styles.
Athletic Fit
Men who find it difficult to get a good fit may want to consider the 'Athletic' type of fit that many brands offer. They tend to have more room in the hip, thigh, and butt area but still maintain the slim legged look that is more on-trend than traditional classic or relaxed cuts.
The Fabric Isn't Soft Enough

In previous generations, when you would think of jeans, you may imagine denim that is pretty hard and tough. This isn't the case anymore. The jeans market is flooded with stretch and performance fabrics that are soft and move with you. With the skinnier designs in style over the last ten years, stretch fabrics have been used to allow women and men to move around in such tight fits.
In the last year or so, more relaxed designs are coming back into fashion. Manufacturers are moving away from stretch material back towards 100% cotton, but because consumers have become so used to the soft, stretchy fabrics of the skinny styles, the 100% cotton options are being made with much softer denim that has been brushed for softness or that has been prewashed to get a broken-in feel.
Non-Stretch Vs. Stretchy Denim
The majority of the popular jeans currently are stretch denim. This means that elastane or spandex has been added to the cotton blend to give the fabric a stretchy feel. Stretchy jeans can, in some cases, feel almost like wearing sweatpants and be a good comfy option if you want to give jeans another shot.  There are some downsides to stretch fabrics, including getting stretched out and saggy as your day wears on.
Non Stretch denim is denim that is 100% cotton that hasn't had any elastane or spandex added to the fabric blend. There is a huge range of nonstretch denim, and some of it can be pretty thick and uncomfortable. Many options have been prewashed or brushed to make the fabric softer and give it a worn-in feel that is incredibly comfortable.
Break-in Period
100% cotton denim usually has a break-in period that you have to go through to have jeans mold to your body and become softer with age and wear. This isn't quite the same with some of the stretchy fabrics that are usually pretty soft right from the get-go. If you have purchased jeans that have a good fit, but the fabric isn't as soft as you would like, you may need to wash them several times to soften them up.
Sensitive to Seams
If you have clothing sensitivity, you may be able to find jeans with a soft enough fabric not to irritate your skin, but you may run into trouble with the seams on jeans, especially those of the tighter-fitting styles. It is pretty hard to find a seamless pair of jeans, so they are probably best avoided if you get bothered by seams pressing into your skin.
The Style Isn't a Good Match for Your Body Type
Body Type
There are so many different jeans styles for both men and women that you are really want to spend a bit of time figuring out what style works best with your body type, rather than just following trends or bestseller lists. Women can wear skinnies or the more on-trend relaxed designs and everything in between, so there are many options to consider. Men have less choice but plenty to choose from.
The reality is that not everybody can wear any style of jeans and feel comfortable. This is a huge factor to think about if you cannot find jeans that feel good no matter how much you love the style's look. It is worth looking into what jeans will suit your body type and then going from there.
Too Tight
This kind of falls under-sizing or fit, but in the same vein, you also want to avoid any kind of designs that are too tight no matter how great they look.  This usually means skinny or slim-legged options, even if they have stretchy fabric.  Jeans that are constricting don't allow the range of motion necessary that you will need during your day.
This is more of an issue for women since women's jeans are generally designed to be tight while men's jeans can be a little looser, although there are lots of skinny and slim fit styles for men that can be pretty constricting.
Waistbands
If you really want to feel good in your jeans, look for styles where the waistband sits at your natural waist. Waistbands that are too high can dig into your stomach or ribs ( if they are high enough) when you are sitting down. While low rise styles can also be a pain when sitting, they don't offer sufficient coverage and fall at an unusual position when seated.
You're Wearing the Wrong Fabric Weight for the Weather
Jeans come in different fabric weights that can be too cold or too hot depending on where you live and the time of year. You can get really thin styles and can be worn in the hotter month or warmer climates, or you can get heavyweight denim that can work well for those colder months when you need a bit more insulation. Jeans aren't generally the best option for super cold weather as they aren't a good fabric for keeping you warm even when worn with a layer.
You Need to Find Better Quality Jeans

As with most things, the better quality jeans you get, the more chance you find them comfortable, at least in getting a good quality, soft fabric that feels nice against the skin. For a lot of people, it takes years to find a brand and fit that is perfect for them. If your jeans are causing discomfort, you may just not have found the right brand for you yet.
You've Gotten Too Used to Living in Sweats
If you tend to live in loose-fitting sweatpants, pajamas, or lounge clothes, as most of us have been over the last year, it can be tough to even think about getting back into jeans. Eventually, this glorious age where it is socially acceptable to wear sweats just about everywhere will come to an end (glorious only with the part that you can wear sweatpants all the time, not the deadly pandemic part), and it will be time to start wearing regular clothes again. It may take a little bit of an adjustment period but give yourself lots of time to get used to the minor restraints that wearing structured pants may cause.

Latest posts by Molly London
(see all)