Comfy Airport Outfit Looks for Women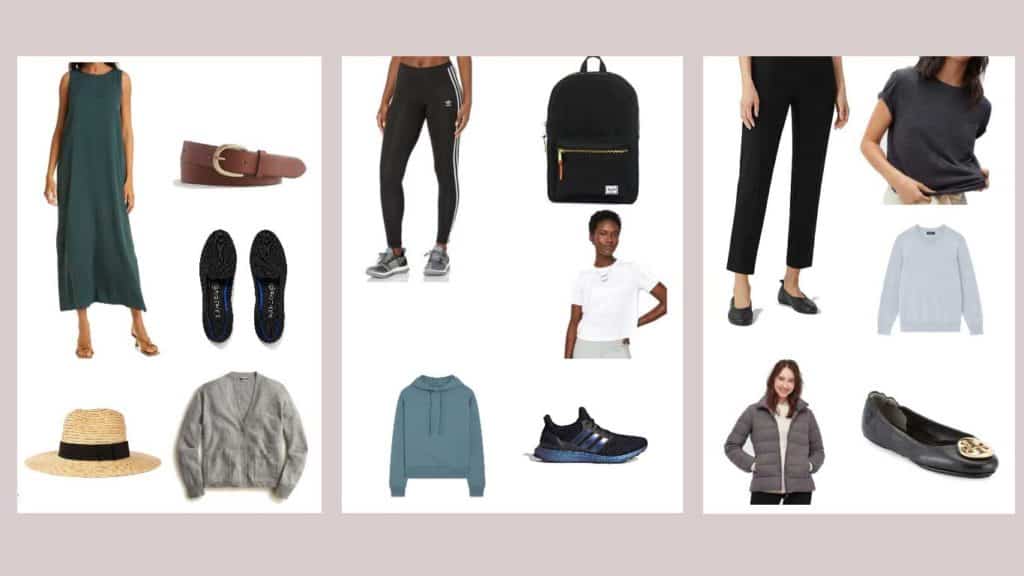 Comfortable airport outfits can be tricky to get right since there are so many things you need to think about when you are traveling. Finding that perfect outfit for your travels should be the least of your worries. Generally, you want to have lots of layers, at least a couple of pockets, something to keep you warm if needed, and a comfy waistband is also a plus. You probably want to avoid too many metal accessories that you may need to remove when going through security. Easy to get on and off shoes also don't hurt.
The most comfortable outfit for traveling is hands down sweatpants and a sweatshirt, but many people don't love the overly casual vibe of sweats so if you are looking for other options we are here with a few.
We have put together some looks (along with links and where to shop -just click the image) that are practical, cute, and best of all comfortable to help get you on your way.
Casual and Versatile
This is one of the best airport outfits that will keep you comfy throughout your entire journey. A jean jacket is a versatile layer to have when traveling that you can wear with almost anything and the Icon Jean Jacket from the Gap is a classic. It also gives you two front pockets for even more storage.
The Athleta joggers are one of the best travel pants going, they have a rib-knit waistband and lots of pockets for storage, including two secure zip pockets. They are also wrinkle-resistant and quick drying. The Calson tee is unbelievably soft and comes in lots of colors to spice up the outfit.
The Travelon Mini shoulder bag not only looks sleek and stylish, but it also has essential safety features like RFID blocking to keep your cards and passport safe. Top it off with the insanely popular Cariuma IBI sneaker that will keep your feet feeling great, especially if you are doing a lot of walking on your trip.
Sporty Comfort
Many women's favorite travel look involves leggings. You can go with simple black styles or something a little more colorful. If you want to go full-on athletic, you can check out the Adidas leggings with the side stripes. A cut semi-cropped tee looks great with almost any legging you can find.
If it gets cold on the plane or in an overly air-conditioned airport, you will want to bring a warm layer, and this hoodie from Girlfriend collective is a great choice. To keep with the Adidas theme, you can't go wrong with a pair of Adidas Boost running shoes that will work great if you have to run through an airport to catch a flight.
Luxurious Layers
Layers are your friend when you travel almost anywhere. It is pretty common to go from boiling to freezing in a matter of minutes while shuttling through airports and getting on and off planes. The outfit above seamlessly combines both comfort and subtle style with some great layering pieces.
The Eileen Fisher pants are another excellent travel pant since they are comfy, don't wrinkle, and hold their shape even after sitting on a plane for hours. The Tory Burch flat is perfect for travel since it packs small, has elastic in the back for a custom fit, a cushioned footbed, and a versatile rubber sole for traction.
Another unique piece to get for travel is a lightweight down jacket like the Uniqlo style shown above. This is a warm jacket with hardly any bulk that packs down into a minimal carrying case when you don't need it. The cashmere sweater is thin and lightweight yet also very warm. You can add or remove the layers as needed and store them in your carry-on luggage.
Classic Trench Style
A trench coat is a perfect option for travelers who want to look a bit more put together during their flight but still stay casual and comfy underneath. Jeans are great for almost anything and finally looser cuts are back in style (thank goodness!), these bootcut Levi par well with the trench coat. You can wear any sweater you love with this look or even just a tee.
Travel scarves or pashminas are often overlooked when packing but can be hugely useful when on a trip. Not only can they be used as scarves, if you get one that isn't super expensive you can use it as a blanket on the plane or to sit on in a park or use as a table cloth in a pinch.  If you love luxury try a travel wrap from White + Warren, they are a little pricey but they are a high-quality cashmere. You can get them in almost any color you can imagine, and will keep you warm and cozy.
Loose and Comfy Dress
If you are going to a warm climate or looking for a summer airport outfit, you may want to consider a dress.  If you prefer to wear a dress when you travel probably one of the best options is a simple t-shirt dress, you can get them from lots of different retailers especially if you are shopping in the summer months. They can be dressed up or down and easily add a jacket, scarf, or sweater for an extra layer. Check retailers like H&M, Target, Old Navy, Gap, Amazon also has tonnes.
I'm a sucker for silk clothes, so this silk dress from Nordstroms looks perfect to cruise through an airport. It has a lovely long length, beautiful color, and pockets. I'd wear it with a belt, but you can skip that if you don't want the extra bother taking off the belt when going through security. Silk is an excellent fabric that helps regulate body temperature, so if you overheat, it should help keep you cool, or if you are prone to being cold, it will help you stay warm.
It is also versatile for the rest of your trip. I would take another layer with this style to ward against overly enthusiastic air conditioning or when the plane gets too cold. This cropped cashmere cardigan from J Crew would do the trick. Try a beautiful straw hat with this look that you can use when you reach your destination and if you wear it saves it taking up space in your suitcase. The Rothy loafers can easily be transitioned from colder climates to warmer and look great with a long dress.
Hopefully, you got some outfit inspiration for your next trip and happy travels.