I aim for Comfort Nerd to be the go-to source for all comfort-related recommendations, and to help make your life more pleasant and enjoyable.
For over 3 years, Comfort Nerd has helped people find the coziest clothes, home basics, and footwear for life, work, and travel. We've tracked down and shared the essential items for ultimate comfort.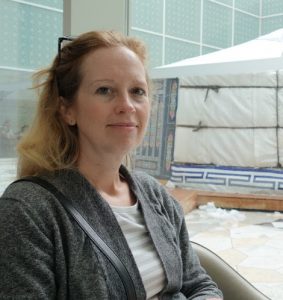 Hi, I'm Molly! I have what some might call an obsession with comfort. Shoes, shirts, towels, bras – no matter what I'm buying, I always want the most comfortable option possible.
In 2010, I quit my job in the tech industry after finding the fast-paced, relentless hours made it difficult to manage with a young family.
By May 2013, with no desire to return to the tech world, I started to write freelance for various websites on a range of topics from pets to music to clothes. When one of my writing assignments led me down the rabbit hole of trying to find the most comfortable bra (a difficult but not impossible task), I realized that comfort is a topic that I was actually quite an expert on. After all, I had already been spending an incredible amount of time researching the softest/warmest/coziest things I could find.
I wondered why there wasn't a website that just catered to this need (and yes, people, comfort is a need.) Wanting to expand on what I already knew, I created this blog – to research and report on all the best-feeling stuff that's available for all my fellow comfort nerds out there.
This isn't one of those sites that just grabs the first ten things they see when creating a 'best of' post. I take a personalized approach to uncover and share the best products and topics.
My audience-first approach means I keep links up to date, and I'm constantly changing my lists and posts to make sure they include all of the comfort classics (and soon to be classics.)
In order to make Comfort Nerd as accessible and inclusive as possible, I've always tried to pick photos for the site that provide representation for all groups and races. I try to empower users by including information about sustainable, as well as budget-friendly choices.
I continue to share my finds on ComfortNerd.com to help women and men everywhere find comfort in their own lives. I hope you find it useful!
If you have any questions or want to know more? Send us a message!
Stay in touch and sign up for the monthly newsletter below.