The Best Comfortable and Beautiful Silk Dresses Available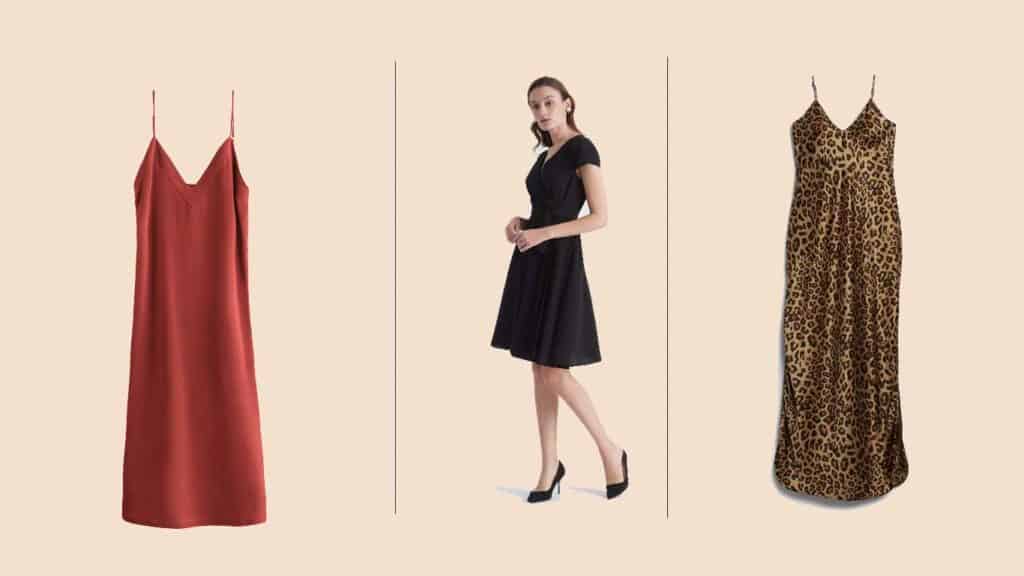 Silk dresses are one of the most comfortable types of dresses you can wear. Not only did they look fantastic, they felt amazing too. You can get all different types of silk dresses, from very conservative to super sexy.
As you know, silk has an incredibly soft and smooth feel to it, but it also has properties like being thermoregulating, so it allows air to circulate through the material, making you more comfortable, especially on hot days. It can even keep you warm on cold days.
It is a perfect fabric to wear if you have sensitive skin and are prone to skin irritations from fabric or find certain materials uncomfortable.
Silk is one of my favorite fabrics to wear, especially for dresses and blouses, so I've rounded up some of the very best silk dresses to keep you cool and comfortable but also look beautiful.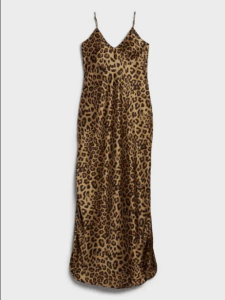 One of the most classic silhouettes when shopping for silk dresses is a slip dress. Sometimes they end up looking like a sexy nightgown, but they don't have to. Instead, you can accessorize them with a jacket, cardigan, or belt to elevate the look and even, in some cases, wear them to work.
Banana Republic currently (fall 2021) has an excellent selection of silk dresses. One of their most popular choices is out the Banana Republic Silk Maxi Slip Dress.  You can get it in basic colors, but it also comes in the leopard print pictured above, which is a fun twist on a slip dress.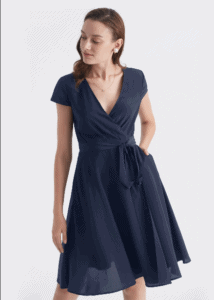 LilySilk is a fantastic place to find a whole range of fabulous silk dresses and blouses. A great style that is timeless and elegant is the LilySilk Figure Flattering Silk Wrap Dress. It comes in nine different colors, and you can snag it for a very reasonable $115.
This beautiful wrap design is easy to wear from day to night, and the lightweight, wrinkle-resistant silk will keep you looking and feeling great.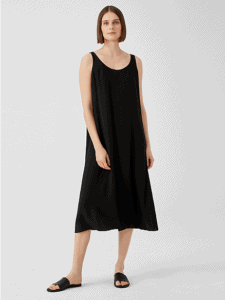 Eileen Fisher has some beautiful dresses that sell out reasonably consistently. If you are looking for a simple, versatile design that is high quality that you may be able to wear for a summer wedding (if you dress it up with accessories), the Silk Georgette Crepe design may be the style for you. Women love the flow and the length of this classic style that is perfect for wearing layered or on its own.
Eileen Fishers Silk Georgette Crepe is an 'uncommon silk.' It is lightweight but durable, with a slight texture and a natural stretch.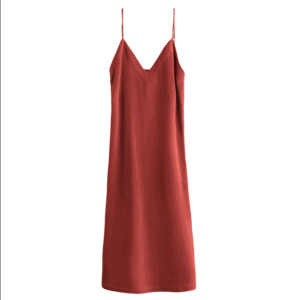 The Silk Slip Dress from Cuyana is a perfect choice for comfort, style, and longevity. It is a unique slip dress design with a silk band in the back to make it bra-friendly. It also has side and back slits at the hem to elevate the look and avoid it looking too much like a nightgown.
You have to be slightly careful with this design since it is a slim fit at the bust, so it may not be the best choice for everyone.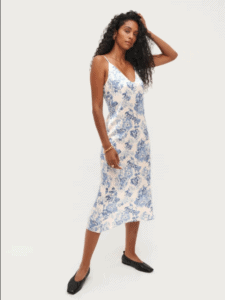 Another beautiful look that comes in a lovely print or basic dark colors is The Sofia from Reformation. This design has a cleavage-bearing low-cut scoop neck which some women will love and some not so much. It has adjustable straps to get the best fit. The Sofia is unlined and cut close to the body, so you will want to consider that if you are thinking of purchasing it.
If you are looking for comfortable glamour, this is the dress for you.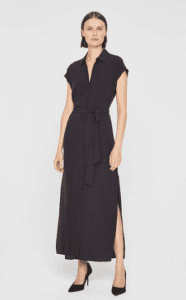 Club Monaco usually has a couple of excellent silk options available, especially in the warmer months. Meghan Markle famously wore a Club Monaco 'Dremah' Silk Dress during a 2019 Tour of South Africa. Since she wore this dress, they have had similar styles each year with slightly different fabric patterns and design elements.
The dress pictured above, the Danielle Silk Dress, is a basic t-shirt style you can wear anywhere, depending on how you style it. It has an easy fit to be comfy from top to bottom. It looks great on and can be casual or dressy. I own this style and love it. It's pretty long, but the side slits don't make it feel like a maxi dress.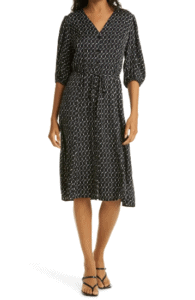 If you are looking for a silk style to wear to the office, look no further and the Nordstrom Signature Button Front Stretch Silk Dress. This design comes in a beautiful selection of patterns in soft and stretchy silk. In addition, it has puffed shoulders to give it a somewhat vintage vibe.
The mid-length hem and flattering v-neck that isn't too low make it ideal for almost any occasion.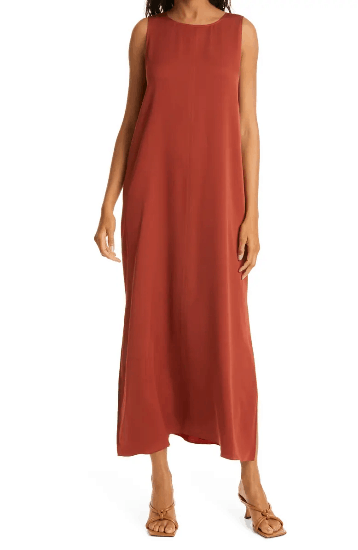 Another silk dress from Nordstrom to look out for is the Stretch Silk Tank Dress. This dress is flowy and pretty and can be dressed up with pumps or worn with sandals or sneakers.
The high neckline means that you won't show too much cleavage, and the long length covers the legs, but the lightweight material means you will stay comfy and cool.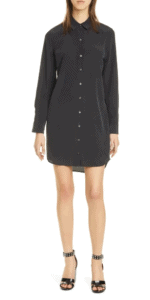 Most silk dress options are slip-dress designs that can be a little revealing in the bust or arm and shoulder area. However, if you prefer a little more coverage in your attire, you could try a silk shirt dress. A shirtdress combines all the best elements of a beautiful silk dress shirt but then converted it into a dress.
The Equipment Essential Long Sleeve Silk Shirtdress is a perfect example of this. Reviews note this is a comfy, roomy style that has excellent tailoring.
What to Look for When Buying Silk Dresses
Dry Clean Only- When shopping for silk dresses, you will want to know whether the silk is dry clean only or you can wash it at home. Many of the newer silk fabrications allow you to either hand wash or, in some cases, machine wash on a gentle cycle. If you don't want the extra expense of dry cleaning, keep that in mind when you're considering purchasing any silk dress.
Lined or Not Lined– One problem that you can run into with silk dresses is that they can feel a little bit flimsy and revealing. The way to get around this is by finding a lined dress. You don't need anything too thick, just something that will give you a little more professional look that you could wear to the office.
Neckline- Some of the slip styles of dresses can be pretty cleavage-revealing. If that isn't the look you want, maybe try one of the higher-neck styles like the Nordstrom Tank Dress.
Read More: 12 of the Best Comfy Summer Dresses for under $40 on Amazon.

Latest posts by Molly London
(see all)