The Most Comfortable Sleep and Lounge Shorts for Men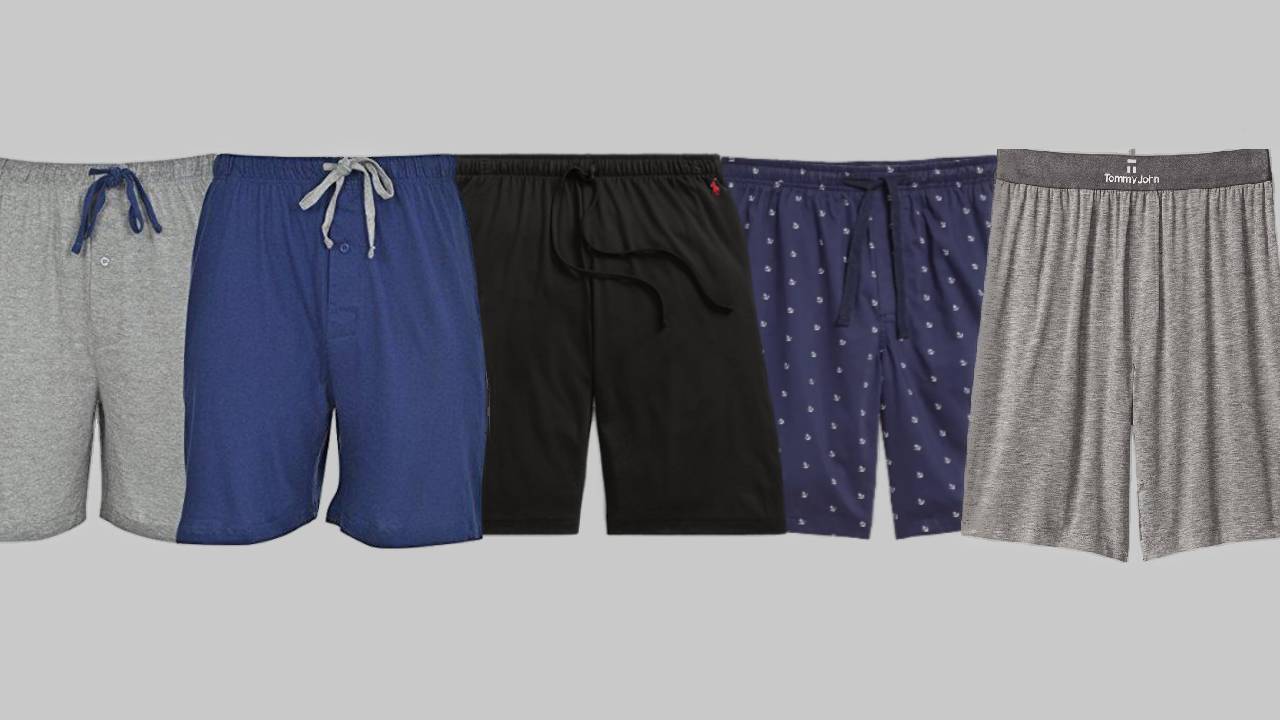 Every man deserves a pair of ultra-comfy lounge or sleep shorts, so if you are looking for a sleepwear upgrade, we have found some silky soft alternatives that will keep you cool in the warmer months. Whether for bed or for around the house, designs made from lightweight fabrics like modal or light cotton are great to help you relax in warm weather.
When worn on their own or with a t-shirt, these amazingly soft and cool styles from great brands like Tani and Tommy John make for the ultimate sleep or loungewear. Men's sleep and lounge shorts are definitely more than worn-out baggy gym castoffs or boxers. They have been updated with high-performance fabrics that are comfortable and flattering.
Read on to find out our picks for the most comfortable sleep and lounge shorts for men.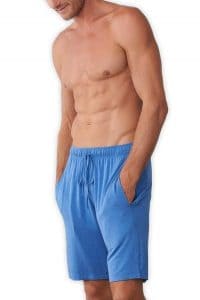 The Tani USA SilkCut Lounge Shorts have a reputation for being one of the softest, coolest, and most comfy styles going. They are made with a Micro Modal that is thinner, finer, and more durable than silk. This fabric is also breathable, sweat-wicking, and biodegradable.
This Tani design is a little pricey, but most men who own it feels like it is worth every penny. It has a loose, drapey fit that most men agree feels fantastic. Men also love the rise on the waist and find the length to be flattering and great for comfort.
The pockets are deep enough to be perfect for a phone or wallet (if you wear them out for errands). If you are looking for something that has a light and barely-there feel, yet is still stretchy and durable, this may be the sleepwear for you.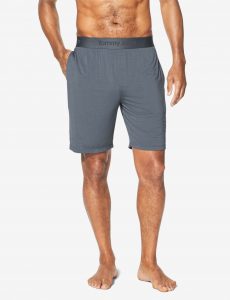 Tommy John's Second Skin Sleep Short is another excellent choice if you are looking for an option that is ultra-soft and comfy. Like the Tani design, they are also made of micro modal fabric that is stretchy and ultra-comfy.
These have a little bit more of an underwear look to them so they wouldn't be able to pass as regular shorts, but they are still perfect for sleeping or lounging in the spring or summer, especially if you are a hot sleeper.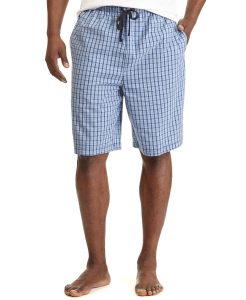 For those who like a more traditional looking design, a popular option is these Nautica Men's Woven Sleep Jam Short. They are made with breathable cotton, have a drawstring waist so you can get a good fit, and has side pockets.
These Nautica shorts are easy to care for and come out of the laundry looking great with the cotton getting softer with wear. They have a nice length to them, so they work exceptionally well for those who are tall and want the hem to hit close to the knee.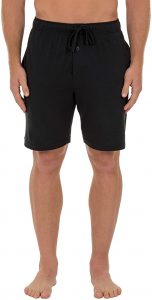 An excellent budget option that is a popular choice for a lot of men is the 100% Cotton Fruit of the Loom Men's Jersey Knit Sleep Short. These are a relaxed fit style that is made from knit cotton that is nice and stretchy.
The fabric includes moisture-wicking properties, so it will keep your body temperature regulated in warmer weather. Since they are Fruit of the Loom, they are affordable, and you can expect the shorts to be well-made and durable. Most men find that they fit true to size, and the elastic waistband is comfortable and flexible.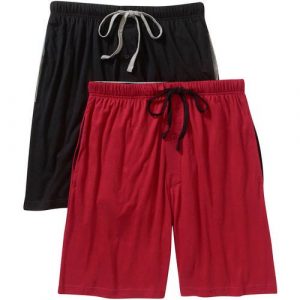 Another excellent budget style is this Hanes Men's 2-pack of ComfortSoft Jersey Knit Sleep Shorts. They work out to less than $10 per short, so you can't really go wrong with this option.
They are reportedly very comfortable and also durable. You can wear them for relaxing around the house or for sleeping. They have side pockets, a drawstring comfort-fit waistband, and a button fly.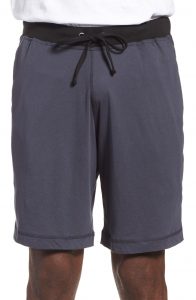 A great high-quality designer option to consider are these Daniel Buchler Peruvian Pima Cotton Lounge Shorts. Daniel Buchler makes a trendy pair of men's lounge pants that everyone loves, and their lounge shorts feature the same Pima cotton as the pants. So they can make a nice warm-weather option if you happen to be a fan of the Daniel Buchler lounge pants.
Apart from the buttery-soft Peruvian Pima cotton, there are two other noteworthy features of this style. One is the contrasting color of the wide waistband and drawstring that adds a nice design element, and the wide band helps make the fit comfier. The other somewhat unique feature is that it has a back pocket (along with the two side pockets). These shorts are incredibly soft, lightweight, and comfortable, so they are great for the summer.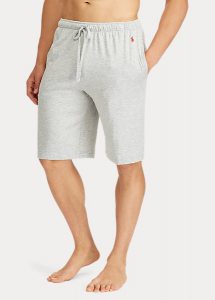 Since Polo Ralph Lauren always has comfy, good-quality sleepwear, it isn't a shocker that they also have excellent sleep shorts. The fabric is a nice mix of Pima cotton and modal, so as you can imagine, they are soft, breathable, and enjoyable to wear.
This design looks so much like a regular pair of shorts that you can easily wear them out and about for errands if you want, but they are so soft and breathable that you may want to save them for relaxing during the day or for sleeping at night.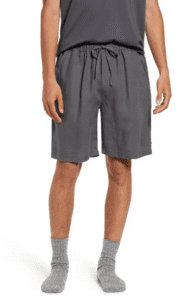 If you are a fan of the Parachute brand sheets, you may want to check out the Parachute Linen Lounge Shorts. This is a fantastic style that is equally good for lounging or for sleeping. They are made from 100% linen that will keep you cool in the heat. The fabric takes a few washes to soften up to, but once they do, they are incredibly soft and comfortable. Men love the excellent quality of the material and the fit of this design.
What to look for:
There are lots of great options for sleep shorts for all different budgets. A few things to keep in mind when you are finding that perfect pair for you include:
Length– Sleep shorts tend to be longer lengths. Longer lengths are ideal for those who want a fair amount of coverage if you are wearing them around the house or in front of other people.
Fabric Type– Modal or micro modal is a popular option for sleep or loungewear. Not only is thin, breathable, sweat-wicking, and cooling it is also silky soft. The other most popular fabric is cotton that is (depending on the weight of the fabric) usually breathable and cool.
Fit– Due to the popularity of slimmer pants, many regular shorts (that you would wear out of the house) are also now a trimmer fit. Lounge shorts are an exception to that; they are generally a looser fit and not made to be slim or fit too close to the body.
Price– You can buy inexpensive styles for less than $15 on Amazon or at Walmart. Some of the pricier options can cost well over $100 if you prefer designer brands.
Pockets– Most sleep or lounge shorts have pockets. It is pretty hard to find styles that don't have pockets now, perhaps due to everyone's dependence on their cell phones.  A pocket can sometimes cause discomfort if you sleep on your side (even when empty) but are super handy for storing your phone or whatnot if you are wearing them around the house or if you slip out for an errand.

Latest posts by Molly London
(see all)