Review of Old Navy's EveryWear V-Neck for Women
Old Navy's EveryWear V-Neck for Women is a 100% lightweight cotton jersey fabric that costs around $8. It comes in sizes extra small to 2 XL.
You can usually get it in a few different colors, with availability being a bit hit or miss depending on the time of year.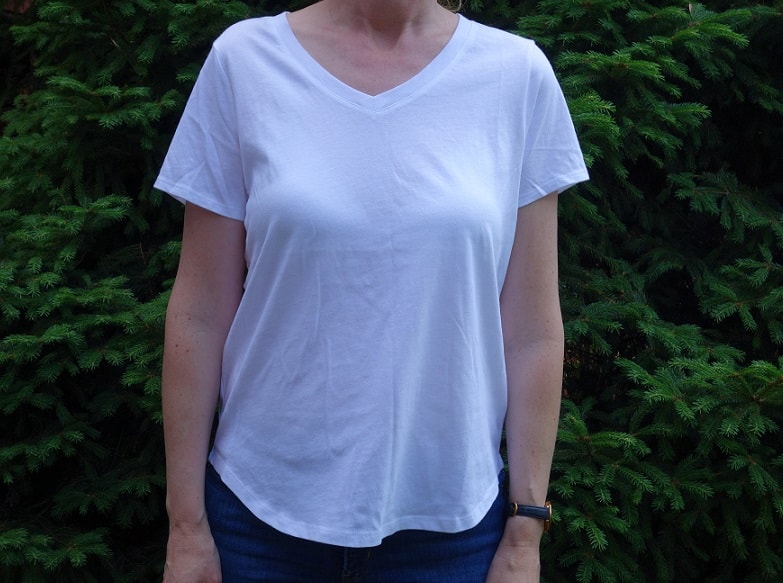 Comfort
As far as comfort goes, this tee is great. The 100% cotton is soft enough for most women. It has a very standard cotton t-shirt feel, not super silky or anything, but what you would expect from a budget cotton t-shirt from Old Navy. The fit is pretty loose, so this is a great style if you don't want anything too tight-fitting or body con.
Quality
This is an $8 tee that is great value for the price. It isn't going to knock your socks off or anything in terms of quality, but the stitching is decent, and the fabric feels like it will most likely last at least a season. At this price, you can easily stock up.
Breathable
The fabric is moderately thin, and I wouldn't wear the white in this design without a tank or at least a skin-toned bra. The knit is relatively loose, which adds to the transparency but makes it more comfortable in terms of allowing air to escape and keeping you relatively cool.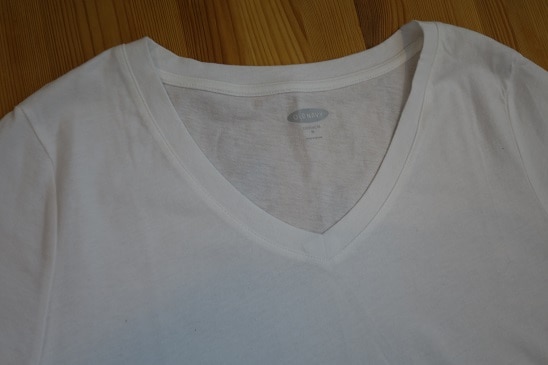 Fit
This is tee doesn't really have the most flattering fit. It is very loose and a little shapeless. If you love a baggy fit and just want a lot of room to move around and not hug your curves, this is an excellent choice. It has a curved hem at the bottom which is nice if you like to wear your tees untucked and have a little bit of extra coverage.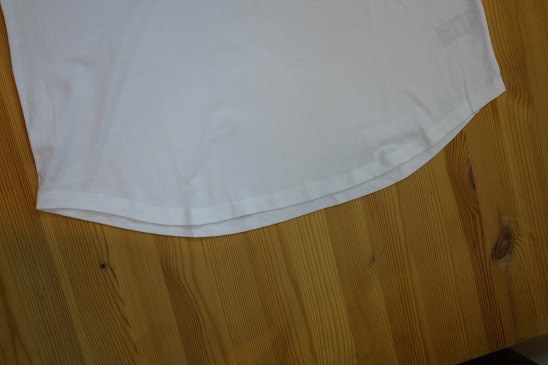 Thickness
The cotton is soft and not very thick- you will most likely want to wear a layer underneath or at least a skin-toned bra since it is a bit transparent, at least with the white. It doesn't feel like super high quality or anything, but it is fine for the price.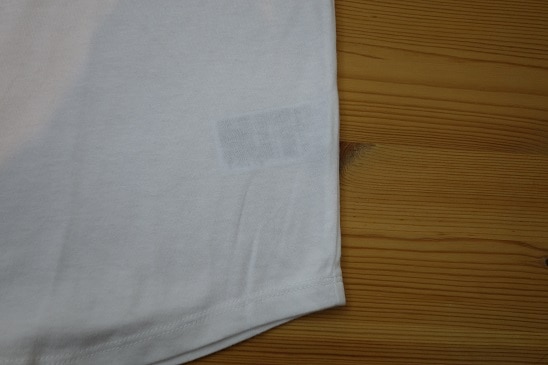 The design is a simple v-neck, with the v-neck having a slight curve. It is definitely a loose cut and is pretty comfy as far as fit goes. The length is a little bit longer, and with the curved hem mentioned above. The sleeves are good, not super long or tight.
What to look out for:
This isn't the most flattering women's t-shirt – at least on me anyway. Some women will love this fit, but it doesn't work that great for my body shape wouldn't be the first t-shirt I would reach for.
Overall they are a pretty good t-shirt for the cost. If you just want a tee that is cheap and comfy, this is a good choice.
Read More: 15 of the Most Comfortable Women's T-Shirts

Latest posts by Molly London
(see all)