14 of the Most Comfortable Sweatpants for Women 2021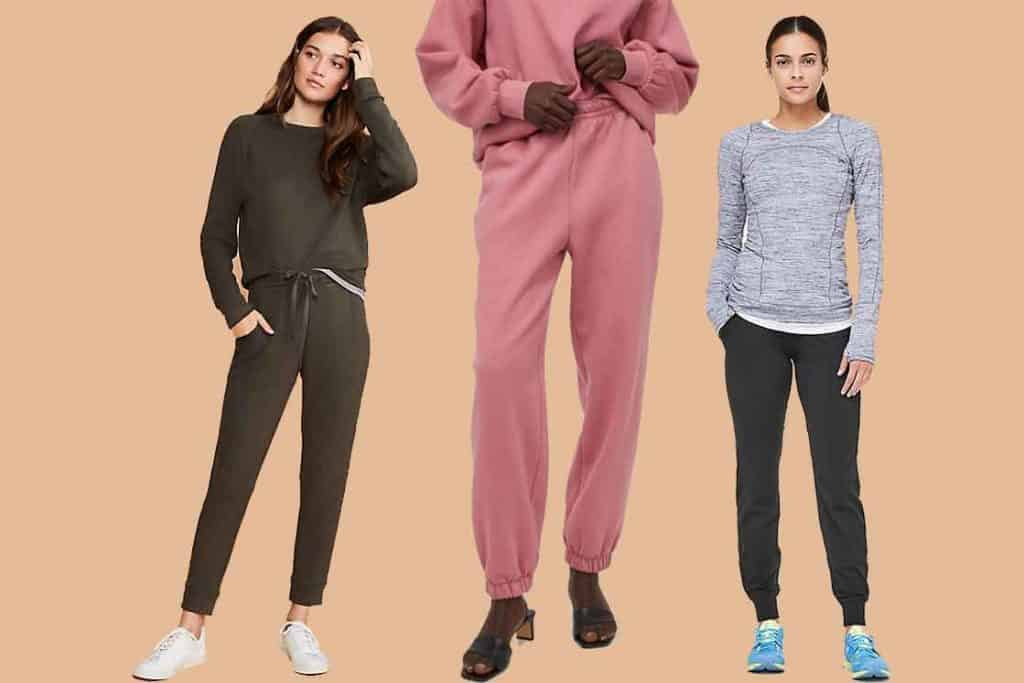 A good pair of sweatpants is a must-have clothing item for any comfort-loving woman's wardrobe. Luckily these days, most women's sweats are not only comfortable but can be flattering and even stylish. The key to finding the most comfortable sweatpants is the fit and the softness of the fabric.
Whether you like your sweatpants big and baggy, or a little more tailored, there are many great options available. We've found ten of the most popular comfortable sweatpants for women.
Since this past year was basically the year of the sweatpant, there is a whole new crop of perfect styles for lounging, working, or whatever else it is you are finding to do at home.
Read More: The Most Comfortable Women's Joggers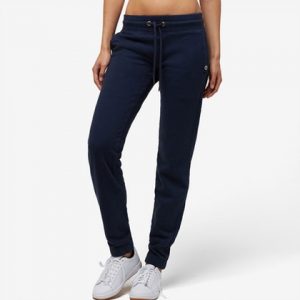 American Giant makes some pretty thick and warm sweatpants. Their Classic Sweatpant comes in a wide array of subtle, muted colors and have a relatively slim fit. They have a few different cuts and styles of pants to choose from.
They aren't cheap, but they're made in the USA, and generally regarded as being high quality. They're also very durable since they use high-quality cotton and different techniques like a "cover stitch" for reinforcement. The type of fabric that is used may feel a little stiff at first but will soften quickly with wash and wear.
Even though the price may be a little higher than you might usually pay, it is tough to find clothing made in the U.S.A. without having to spend a little more than your average garment.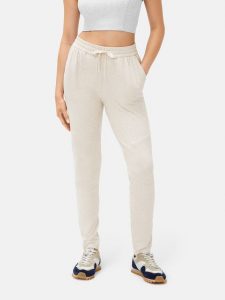 A lot of women regard the All Day Sweatpant as being the most comfortable sweatpants you are going to find anywhere. Women love this style because the fabric is very soft ('startling soft' according to New York Magazine), they have a very flattering fit, and a lovely taper at the ankle- so they don't look sloppy.
The All Day Sweat comes in five subtle colors that work well with almost any top. Despite having one of the softest fabrics going they hold up well to washing and don't lose their shape. The material is often described as being cozy, but light so they are a style that you can wear year-round.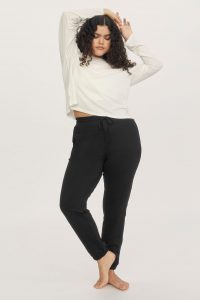 Another design that has been really popular this year is the Girlfriend Collective R&R Jogger, Travel and Leisure called them one of the Best Loungewear pieces for Winter 2020. This is a jogger that you can feel good about because it is made from recycled material that doesn't feel like what you expect recyclable material to feel like-it is ultra-soft and comfy.
Girlfriend Collective has designed a jogger that is very luxurious, cozy, and warm despite being somewhat thin. Women also love the fit of this style that is loose and flowy but with enough structure to also feel durable.
The Lululemon Ready To Rulu Pant is a popular, soft jogger that's a favorite of many women (including the writers at Refinery29). It uses the breathable Rulu™ fabric, which is fantastic for sweat-wicking as well as comfort.
The Ready to Rulu have a bit of Lycra added to the material that gives it some stretch, so they work well for working out or lounging. They are reasonably fitted for a jogger style. If you want a looser feel, you may want to consider sizing up. One other thing to note about this style is that it's a high-rise waist that gives you a little extra coverage if you're moving around.
Overall, the Ready to Rulu is a versatile, generally flattering design that'll work well for most body types (if you like a tight fit.)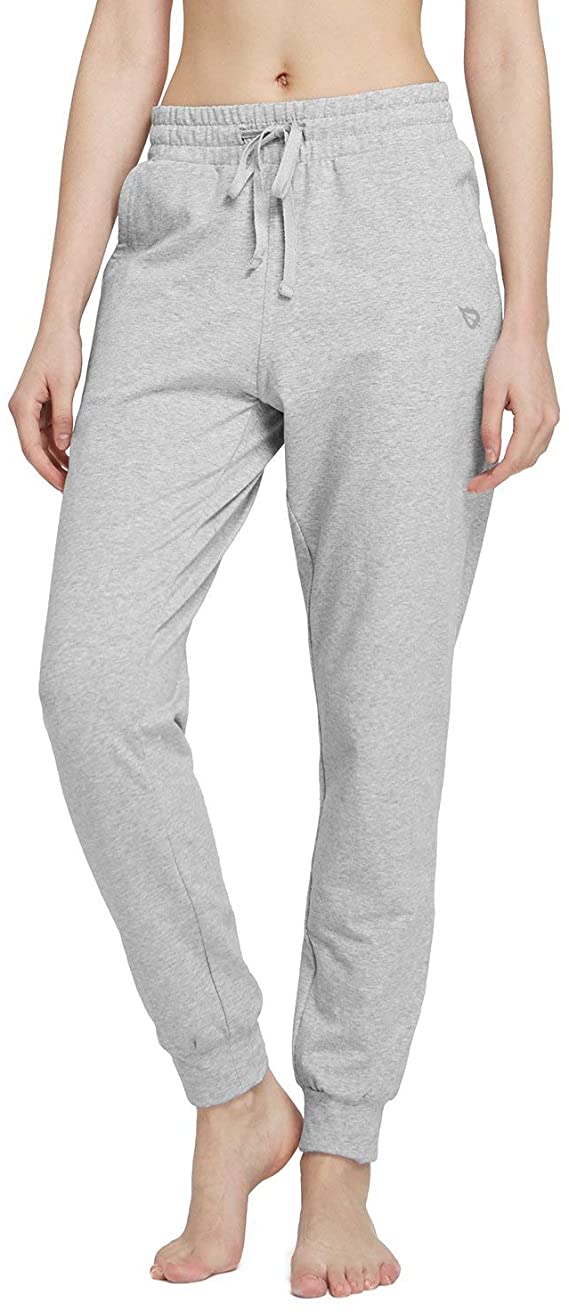 These Baleaf Sweatpants have over 7000 glowing reviews on Amazon, with many of the reviews mentioning how ultra-comfortable these sweatpants are. They're inexpensive, come in a large selection of colors, and are ultra-comfy.
Most women find the fit to be loose and perfect for lounging or being active since the material is soft, breathable, and stretchy.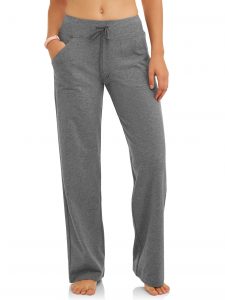 If you're looking for a sweatpant to stay comfy around the house, a great style that a lot of women seem to love for comfort is the Athletic Works Women's Dri-More Core Athleisure Relaxed Fit Yoga Pants that you can find at Walmart.
They are lightweight yet warm, good quality, and a great price (less than $20). The fit is relaxed and flattering for lots of different body types.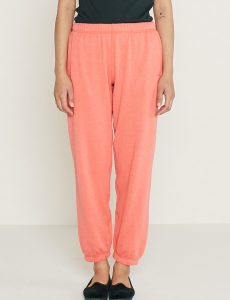 The Entireworld brand focuses on making comfy basics like t-shirts, tanks, and underwear, but their most buzzed-about product is their Loop Back Sweatpant. This is an excellent choice if you want to keep up with the trends as Entireworld's sweats come highly recommended by the fashion insiders at Fashionista.com.
If you can get your hands on a pair (they sell out quickly), you will find yourself with super-soft, slightly vintage looking sweats that are loose-fitting and oh-so-comfy to wear. They come in a few beautiful colors and are made from lightweight cotton that's suitable for year-round wear.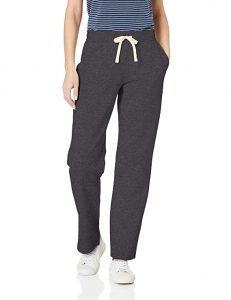 An excellent budget option that many women love lately is the Amazon Essentials Women's French Terry Fleece Sweatpant. They are under $20, come in six colors, and are made from a terry fleece that is reportedly very warm and cozy.
The pants' fit is straight leg (Amazon also has a trendy jogger style as well that OprahMag.com lists as one of its picks for coziest sweatpants), so it's quite forgiving on almost any body type and nice and relaxed for comfort. It has an elastic/drawstring waistband that is great for getting a perfect fit.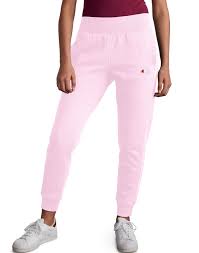 Champion offers a great selection of sweat pant options, with all different kinds of fits and fabrics available. Champion's sweats are inexpensive and pretty good quality for what you are paying. They also have some plus size styles.
Currently, one of their most popular styles is the Champion Reverse Weave Jogger; it has a thicker old-school style feel to it that keeps you warm and cozy. This style was named one of the Best Women's Sweatpants by The Cut.
If you love thick baggy sweatpants, you may also want to check out some of the men's styles that Champion sells. They are often a little bit thicker, and many have pockets, which are sometimes hard to find on women's styles.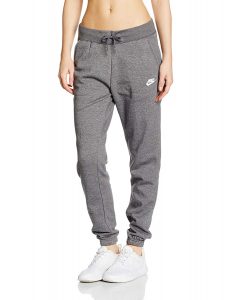 For those who prefer a more sporty design, the Nike Women's Sportswear Regular Fleece Pants are a trendy style known for comfort.
The fabric is a breathable, cotton-polyester blend that's lightweight yet manages to keep you warm. The fit is tapered, and a lot of women find it very flattering. Be aware that the material does loosen up a bit as you wear them.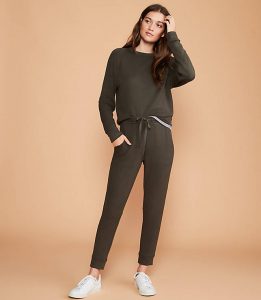 These Selena Gomez approved sweatpants from Lou & Grey are a great option if you're looking for a stylish jogger that is comfy and not too bulky.
They're a little high-waisted and cropped, so they may be slightly short for some women. The fabric is a good weight to keep you warm outside in the winter but doesn't get overly hot when you're lounging around your home.  They have a nice tapered fit and come in about eight modern colors.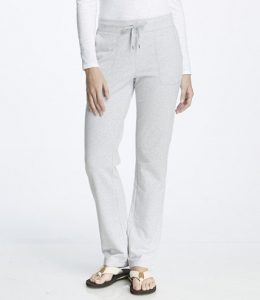 If you like a less form-fitted, straight leg pant that you can wear out of the house, these pants from L.L. Bean are an excellent choice. They're a soft, french terry material with a comfortable modern fit. They also have pockets (both side and back pockets).
Women love them because they're well made, fit well on most body types, and are well constructed. The waistband is quite broad and has ties that you can adjust for the right fit. The fabric is slightly lighter, so these pants are best for milder, and not cold, weather. They come in a range of colors that change slightly from year to year.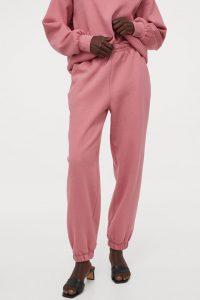 H&M is a great retailer to stock up on inexpensive sweats. They are so affordable that you can almost buy a pair for every day of the week for the same cost as what you may pay for just one pair of some of the other most popular women's sweat pants.
The H&M joggers are very soft, comfortable, and have quite an oversized fit, which is fairly fashionable (WhoWhatWear list this style as one of its top 25 for the year). If you are looking for an inexpensive style that feels nice, cozy, and has a good weight to it, these H&M pants may be a good option.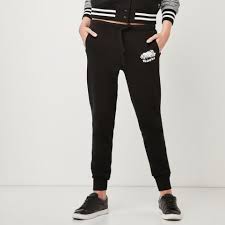 Roots make some of the coziest sweats around. Most of the Roots styles are made from soft fleece that feels super comfy and very thick, so they're perfect for fall or winter in colder climates.
One of their most popular styles is the slim sweatpant (pictured). Even though they're slim-fit, they're a little bit baggy through the hips and the thigh, and then slim through the leg, so they look tailored.
Some of the colors that Roots offer are also a little different. These sweats are always offered in lots of colors, with one of the best being the 'salt and pepper,' which is grey with a little bit of black mixed in. They're a bit pricey for an at-home pant, but if you can get them on sale, they're well worth it and should last for a long time.