7 Comfortable 100% Cotton Nightgowns That Are a Dream to Wear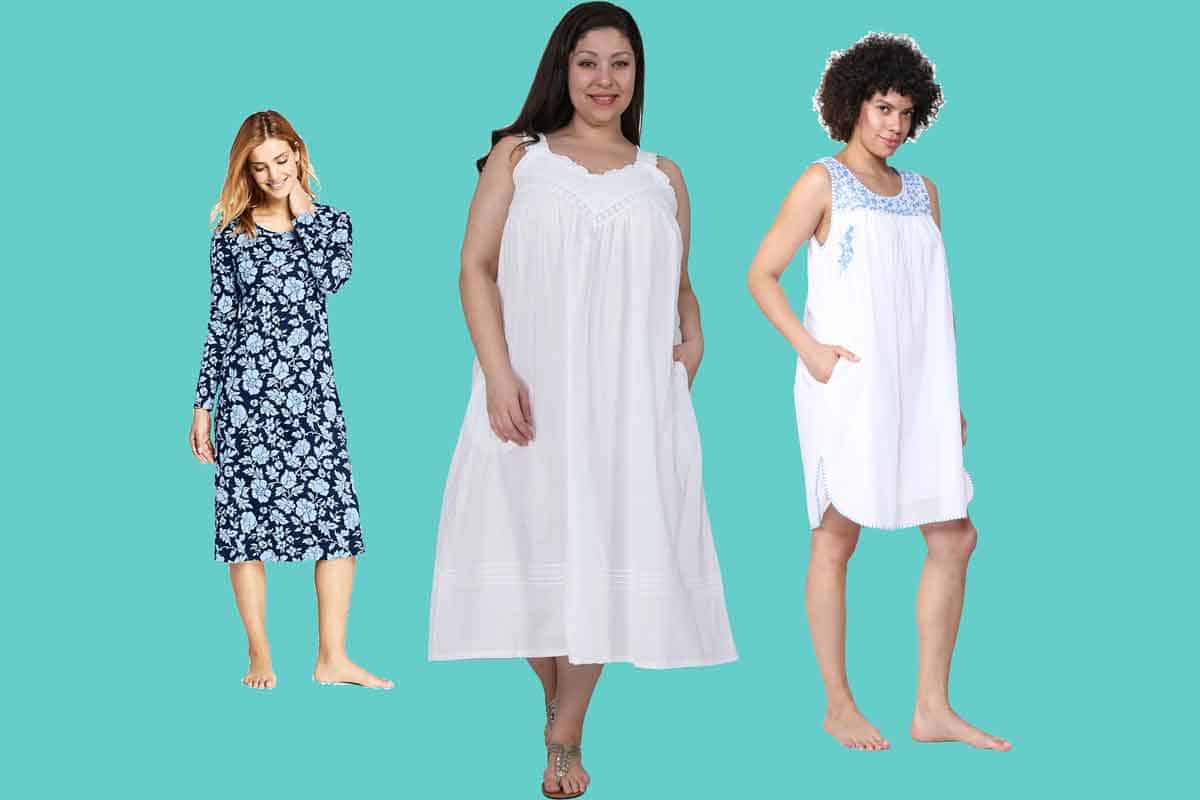 Cotton nightgowns are popular for women who want sleepwear that will be breathable, hypoallergenic, and, most of all, comfortable. Cotton nighties come in a range of designs from very plain to styles with beautiful details like lace, smocking, or embroidery to give them a lovely feminine look.
Lightweight fabrics can go a long way to keep you cool and comfy on a hot summer night, while mid and heavyweight styles are great for those spring or fall nights that aren't too hot or too cold.  We have found some of the best long cotton gowns with both short and long sleeves that come in a wide variety of prints and colors, including white, blue, and pink.
What to Look For:
If you love cotton nightgowns, you probably already have a good idea of what you like and don't like in a gown. If you are new to cotton nighties or you are buying for someone else, here are a few things you may want to consider.
Length- Our list is perhaps a bit too heavy on longer lengths. If you aren't sure what length to get, consider where you would like the hem to fall.  If you like a lot of coverage, you will want to consider ballet styles, but sometimes longer lengths can be more difficult if you are walking around your house or up and down a lot of stairs. If you want shorter options, check out the Lands' End, Hanro, or the Eileen West website for more options.
Sleeves-A preference for sleeve types is also worth considering. If you like long sleeves in a midweight fabric, they may be a good style to keep you warm. If you are looking for a lighter gown for the summer, the sleeveless or short sleeve will make superb options.
Detailing- For a lot of women, the allure of a long traditional gown is partly due to the feminine features that hark back to a different time. Embroidery, smocking, ribbon, and picot or lettuce edging, or cotton lace trimming are all lovely additions to a gown to add to the overall look. These types of detailing aren't for everyone as some women just love a long simple design, but pretty details can go a long way to help you feel feminine and beautiful in your sleepwear.
Sizing-Most of the selections on our list are a generous fit. When you are looking for comfortable styles, looser fits are most often the most comfortable. Sizing is all over the place with some brands running larger some small, so if you are ordering online, it is essential to pay attention to sizing recommendations from the different manufacturers and read a few reviews where people have mentioned their experience with the sizing. Since these nighties are cotton, you can generally expect some shrinkage in the wash.
Fabric– Since this post is about 100% cotton options, you already know what the fabric type will be, but you should also pay attention to the different weights of the fabric. If you want a style that is thin and airy for the summer, look for lightweight material or opt for mid to heavyweight cotton if you want a warmer gown.
Price– Some of these gowns can come with pretty hefty price tags. Once you have gotten over the sticker shock of seeing some of the prices, a lot of women find that the cost in some cases can be worth the investment as they get years of wear from the sleepwear and the luxurious feel of some of these garments makes up for what you have to pay for them.