7 of the Best 100% Cotton Nightgowns That Are a Dream to Wear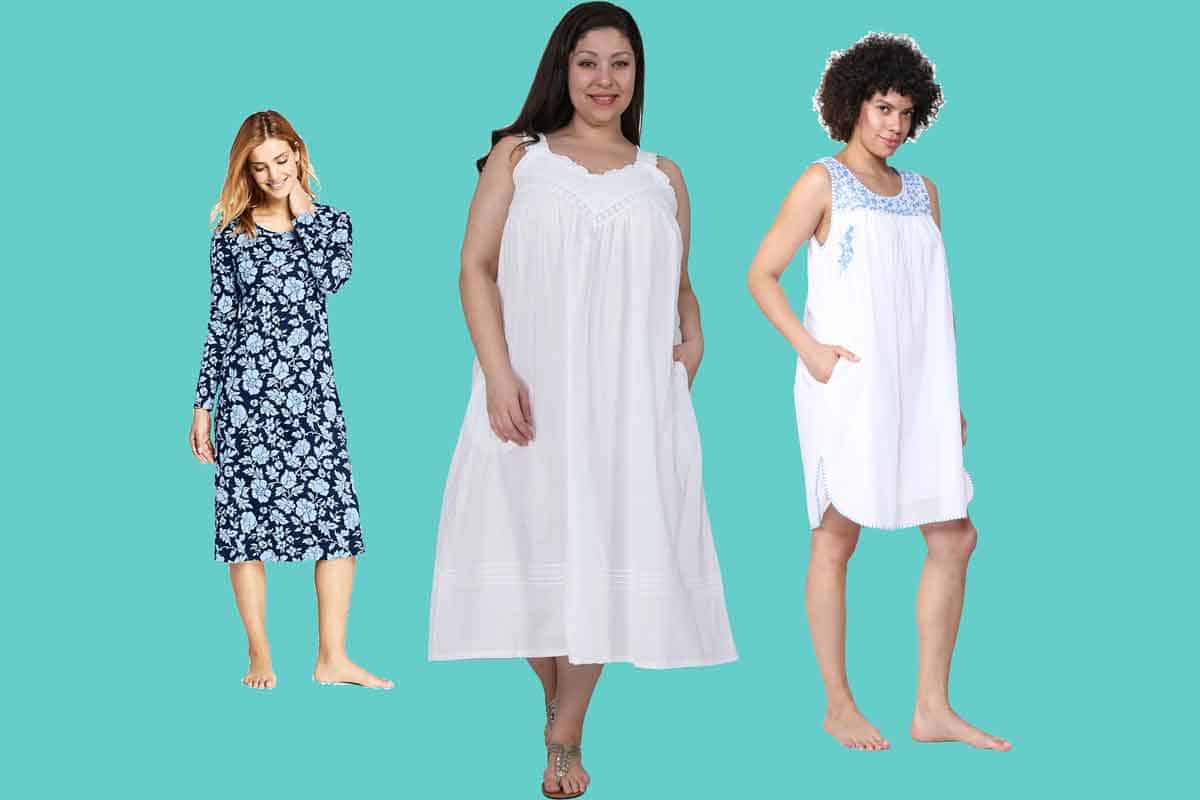 Cotton nightgowns are popular for women who want sleepwear that will be breathable, hypoallergenic, and, most of all, comfortable. Cotton nighties come in a range of designs from very plain to styles with beautiful details like lace, smocking, or embroidery to give them a lovely feminine look.
Lightweight fabrics can go a long way to keep you cool and comfy on a hot summer night, while mid and heavyweight styles are great for those spring or fall nights that aren't too hot or too cold.
We have found some of the best long cotton gowns with both short and long sleeves that come in a wide variety of prints and colors, including white, blue, and pink.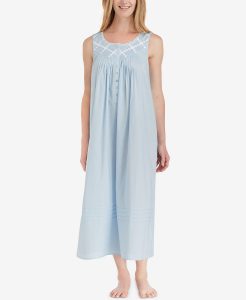 The Eileen West Lace-Trimmed Cotton Ballet-Length Nightgown is a beautiful style to start our list. It is thin and lightweight (it may be a little bit too transparent for some). But it is light and airy for sleeping, maybe not so much for walking around the house without a robe.
It has lovely lace trim and delicate white floral embroidery and also features eight small buttons on the yoke. The fit is generous and loose, making it comfortable for sleeping or lounging. The length is ballet-length, so it is quite long and is intended to fall well below the knee. Eileen West nightgowns are generally an excellent option for most women as they are traditional, beautiful, and so well made that they also tend to last a very long time.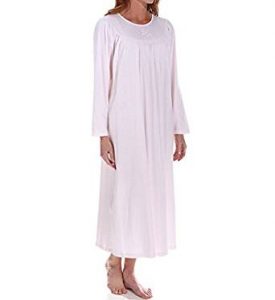 Calida's 100% Cotton Knit Long Sleeve Nightgown is a good choice if you are looking for a simple, unadorned style that is comfy and has a classic look to it. This versatile nightie will work well for much of the year due to the weight of the fabric, it is slightly thin, but is heavy enough for in-between seasons like spring and fall. Not only is the material suitable for most of the year (depending on where you live), it is also loved for being soft, smooth, and lightweight.
Obviously, this is a long-sleeve design, although some women find the sleeves a little short, more like a 3/4 length, so if your arms are on the longer side, you may want to be aware of that. The length is ballet length that is made to hit closer to the ankle than the knee.
You can get this gown in three colors: white, pink, and blue. It is an everyday style with minimal detailing other than an embroidered emblem on the front yoke. Calida gowns are generally known for holding up well to washing without any shrinkage (which is a bit unusual for a cotton nightie), and for the cotton getting softer and comfier, the more you wear them.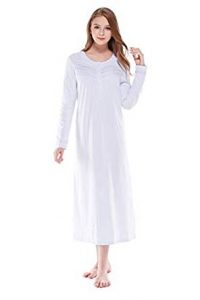 The Keyocean All Cotton Soft Lightweight Long Sleeve Long Nightshirt is a wonderful option if you are looking for a full sleeve. A lot of the premium brand nightgowns can be pretty pricy, so it is nice that there are a few good quality alternatives that are more moderately priced.
This Keyocean nightshirt is medium weight fabric in an elegant design that has a loose fit (if you get the right size). If you are interested in this style to be aware that it does fit small, so you have to order up a size. It is also prone to a bit of shrinkage, so factor that in when you are looking at sizing. If you find that you get bothered by elastic in sleeves or around the bodice, this style has no elastic, so it may be worth considering.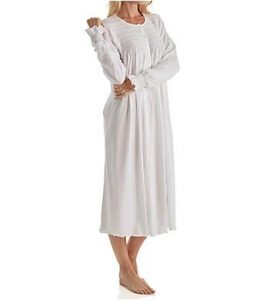 La Cera Women's White Embroidered Night Gown is a pretty style that features embroidery on the bodice. This is a very lightweight and airy gown that is quite sheer in some spots, but the embroidery is beautiful, and most women love the look of it in addition to the comfort.
Fans of this La Cera style like the soft luxurious feel of the fabric and the generous cut. If you are looking for long sleeve sleepwear that will keep you cool, this style may be worth considering. It does wrinkle a bit, so if you don't like to iron your nightgowns, it probably isn't a good pick for you.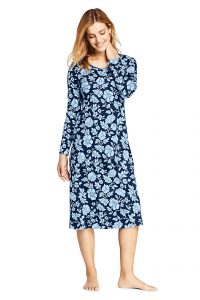 If you don't like the longer traditional cut of nighties of the choices listed above, but you want a cotton option, you should have a look at the Lands' End Women's Supima Cotton Nightgown line. They have all kinds of lengths, colors, patterns in both short and long sleeves. These nighties are made with Supima cotton, so they are incredibly soft, moderately warm, and stretchy and they basically feel like your favorite t-shirt.
The Lands' End styles are known for being durable and long-lasting but also comfy and pleasant to wear. The fabric is midweight, so it works well for moderate temperatures, not too hot nor too cold. They are easy-care, so they wash and dry well, and you won't have to iron them since they never look wrinkled.  The colors are more vibrant and patterns more colorful than other styles on this list.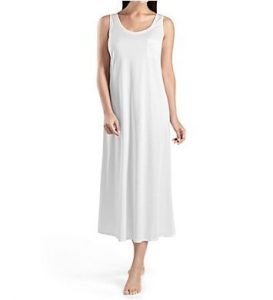 Hanro has several different cotton designs that have a more modern look than the traditional long gown. The Hanro Tank Gown is a favorite of many women due to the comfortable fit and stylish, attractive look. The nightie is quite long (almost ankle length) and is made with lightweight, ultra-fine fabric that feels so soft to the touch. The straps are adjustable so they can help you get a good fit in the chest area.
Hanro sizes are typically pretty generous and will fit most women well and be great for sleeping. Overall this is a great choice if you are looking for an elegant, fashionable design that is very flattering and luxurious.
What to Look For:
If you love cotton nightgowns, you probably already have a good idea of what you like and don't like in a gown. If you are new to cotton nighties or you are buying for someone else, here are a few things you may want to consider.
Length- Our list is perhaps a bit too heavy on longer lengths. If you aren't sure what length to get, consider where you would like the hem to fall.
If you like a lot of coverage, you will want to consider ballet styles, but sometimes longer lengths can be more difficult if you are walking around your house or up and down a lot of stairs. If you want shorter options, check out the Lands' End, Hanro, or the Eileen West website for more options.
Sleeves-A preference for sleeve types is also worth considering. If you like long sleeves in a midweight fabric, they may be a good style to keep you warm.
If you are looking for a lighter gown for the summer, the sleeveless or short sleeve will make superb options.
Detailing- For a lot of women, the allure of a long traditional gown is partly due to the feminine features that hark back to a different time. Embroidery, smocking, ribbon, and picot or lettuce edging, or cotton lace trimming are all lovely additions to a gown to add to the overall look.
These types of detailing aren't for everyone as some women just love a long simple design, but pretty details can go a long way to help you feel feminine and beautiful in your sleepwear.
Sizing-Most of the selections on our list are a generous fit. When you are looking for comfortable styles, looser fits are most often the most comfortable.
Sizing is all over the place with some brands running larger some small, so if you are ordering online, it is essential to pay attention to sizing recommendations from the different manufacturers and read a few reviews where people have mentioned their experience with the sizing. Since these nighties are cotton, you can generally expect some shrinkage in the wash.
Fabric– Since this post is about 100% cotton options, you already know what the fabric type will be, but you should also pay attention to the different weights of the fabric. If you want a style that is thin and airy for the summer, look for lightweight material or opt for mid to heavyweight cotton if you want a warmer gown.
Price– Some of these gowns can come with pretty hefty price tags. Once you have gotten over the sticker shock of seeing some of the prices, a lot of women find that the cost in some cases can be worth the investment as they get years of wear from the sleepwear and the luxurious feel of some of these garments makes up for what you have to pay for them.

Latest posts by Molly London
(see all)