8 of the Best Men's Lightweight Robes That Are Perfect for Summer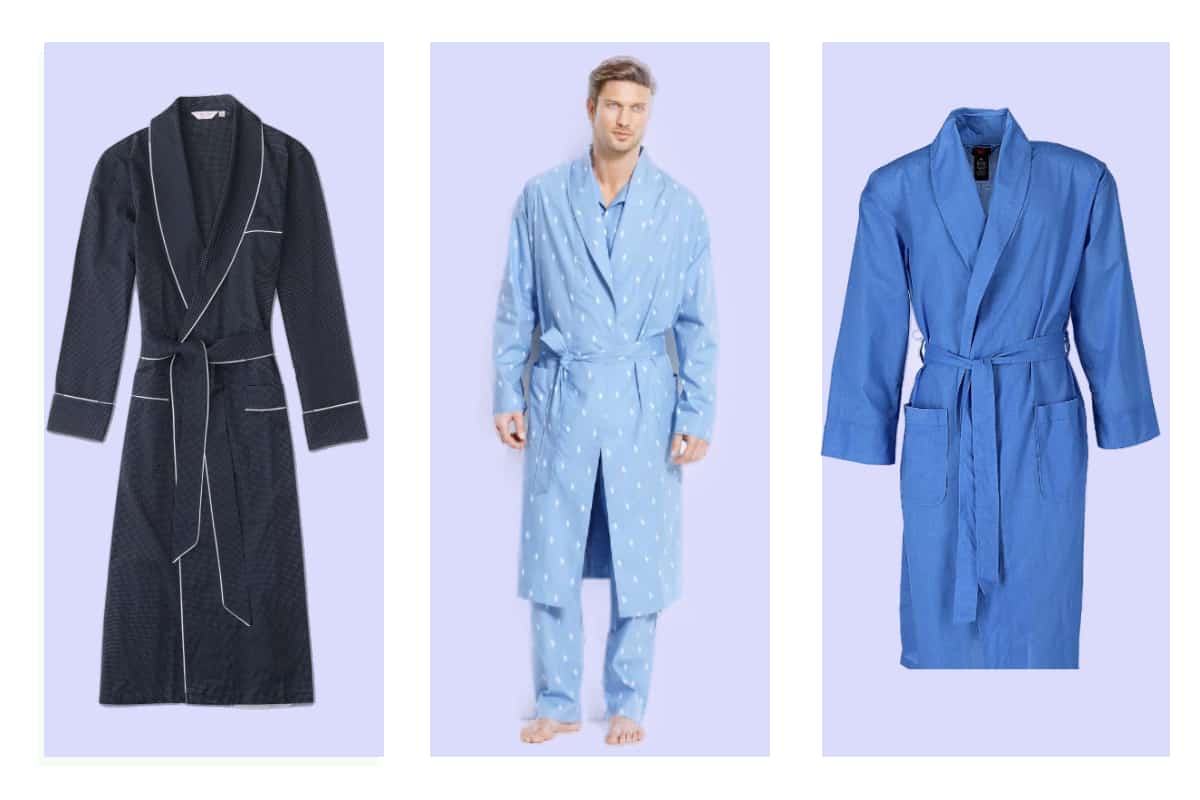 Men's lightweight summer bathrobes can be a difficult item to find. They aren't usually stocked in stores until just before Father Day (they make a great gift) unless you live in a warmer climate, which is too bad since some men find the more common thicker styles are too hot even in the winter.
Whether you need a more refreshing option year-round or you are looking for a good cover-up, we have found the best lightweight robes for summer use to keep you comfortable when you get out of the shower or while having a leisurely breakfast.
Read More: The Best Lightweight Men's Pajamas for Summer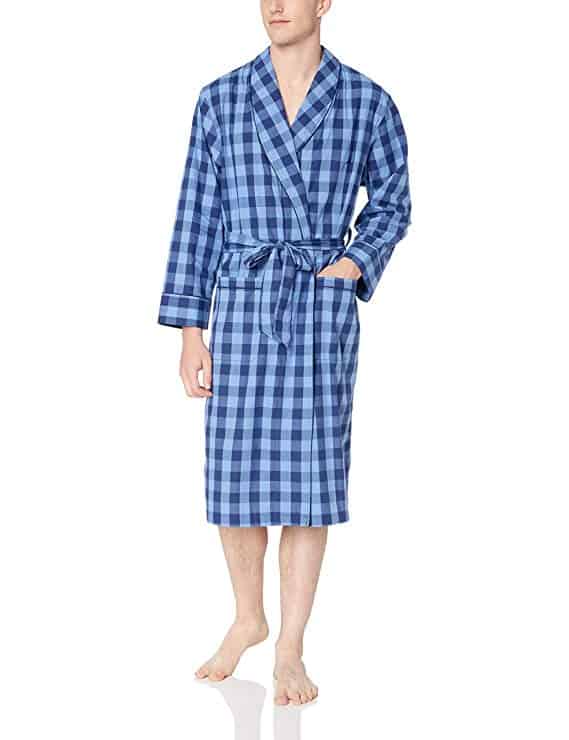 The Nautica Cotton Woven Robe is one of the most popular lightweight designs going. Men like this style because it is light cotton that is comfortable to wear, neither the robe length nor the arm length is overly long, and the quality is quite good.
A couple of other features to note are that it comes in attractive colored patterns and the fabric is super soft. It also washes well, although it does tend to shrink a little bit when you first wash it, and most people find that the sizing runs a little small so if you are interested in this style, you may want to consider sizing up. Overall it makes a perfect summer weight robe.
Pros:
Attractive color patterns
Nice fit
Good length
Cons:
Some shrinkage upon first laundering
Why we love it:
The plaid design and the feel of the fabric make it an excellent choice for the summer.
If you aren't a fan of the bold plaid lightweight styles, Polo Ralph Lauren All Over Polo Player Robe offers a fun all-over polo print that comes in two colors. This is an excellently made design that works well as a lightweight option for the summer. The fabric is cotton that will give you excellent coverage from the shower that is perfect for the warmer months.
Pros:
Fun print
Well made
Great coverage
Cons:
Why we love it:
If you want a longer fuller fit but in a lightweight material this Ralph Lauren design is perfect.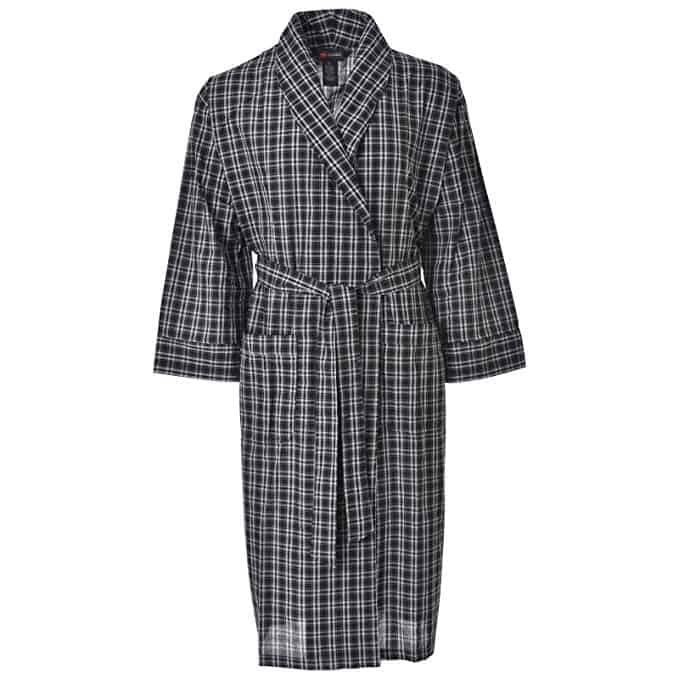 An excellent budget option is the Hanes Men's Lightweight Woven Broadcloth Robe that is the perfect weight for the warmer months. The material is a very light 55% Cotton and 45% Polyester blend, so it isn't as breathable as the 100% cotton options since polyester will help to retain heat a little bit, but it helps make this design wearable in any kind of weather.
The sleeves are the shorter kimono style that helps to keep the overall breezy feel to the robe. This style fits a little big so be careful about sizing if you are interested in it. Most reviews indicate this robe is excellent value for the soft material, fit, and attractiveness of the style.
Pros:
Budget-friendly
Can work for year-round
Kimono style
Cons:
Why we love it:
Nice look, great price and comfortable feel all add up to this being a good choice for a lot of men.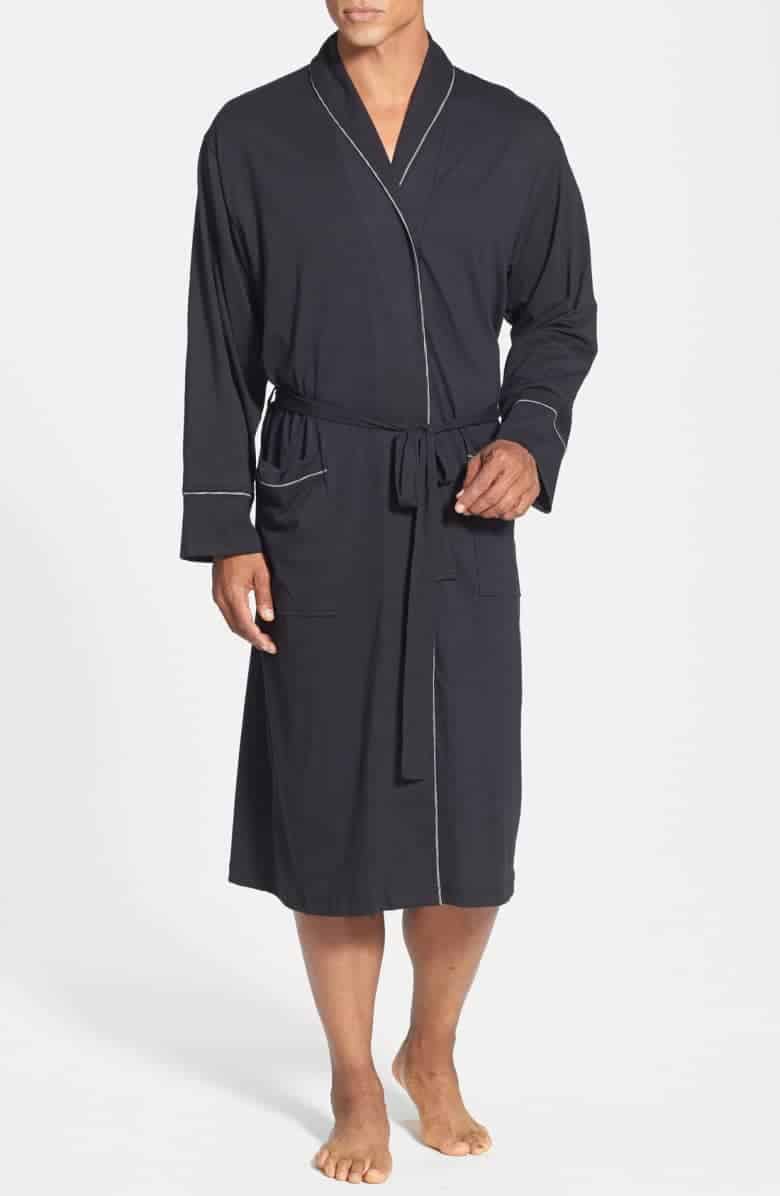 If you are looking to treat yourself, you may want to consider the Daniel Buchler Peruvian Pima Cotton Robe. It is Peruvian Pima cotton that is lightweight, breathable, and ridiculously soft giving you the ultimate luxurious comfort.
Like other Daniel Buchler loungewear, this design is very high quality, well made, and fits well. The fabric is the perfect summer weight, not too heavy, not too light. It is also a very flattering fit that is not too long, and chic looking. Daniel Buchler's products are not cheap, but they are well made and should last for years.
Pros:
Ultra-soft
Breathable
Luxurious feel.
Cons:
Why we love it:
The Daniel Buchler Peruvian Pima Cotton Robe is shockingly soft and looks great, you would be hard pressed to find a nicer design.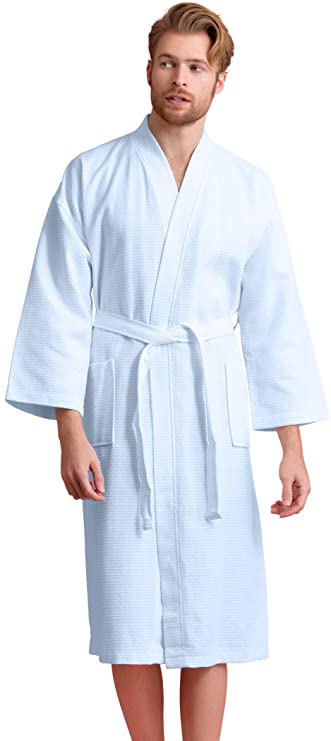 Another inexpensive 100% cotton option that gets favorable reviews is the Men's Waffle Spa Bathrobe from Soft Touch Linen. It is a kimono, so the arm length is a little shorter. The fabric and color options give this design a relatively modern look.
It is inexpensive, easy to care for, and is perfect for the warmer months since the material is lightweight which makes wearing it very comfortable. Most reviews mention that this option makes a good coverup without being too hot.
Pros:
Affordable
Easy to care for
Modern look
Cons:
Some find find the sizing to be off
Why we love it:
This is a nice 100% waffle cotton that has a generous fit and comes in a good variety of basic colors.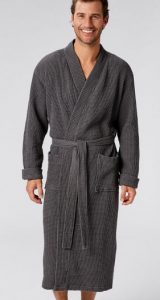 Coyuchi sells several very cozy plush designs that are great for the winter. Most of their robes are relatively substantial, but they have one style that is more of a mid-weight waffle fabric that you can wear year-round. If you want a lightweight style, this isn't the product for you, but if you want something that you can wear to get out of the shower and for lounging without getting overly hot, you may want to give this design a look.
It has a spa-like feel to it, and it is made from 100% organic cotton in a waffle weave that is sourced and woven in Turkey. It comes in white, grey, or charcoal color. People love the soft feel and the weight of the fabric that makes it comfortable and warm but not heavy. It's also very absorbent, high quality, and has a nice length to it.
Pros:
Spa-like feel because of waffle weave
100% organic cotton
Soft feel
Cons:
It may be a little too thick for some men who are looking for lightweight designs.
Why we love it:
It feels like something you would wear at a high end spa with the waffle texture being incredibly comfortable.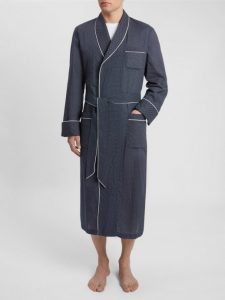 Derek Robe has a few lightweight summer options with the Men's Piped Robe being one of the most popular. The price is a little bit eye-popping but if you are looking to splurge they are quite luxurious, so they make a great gift if you want to treat someone you love.
These robes are known for being high quality and exceptionally well made. They also wash and wear well without a lot of wrinkling.
Pros:
Luxuirious
High quality
Very well made
Cons:
Why we love it:
Derek Rose's robes are a total splurge, but if you can afford it then go ahead and treat yourself.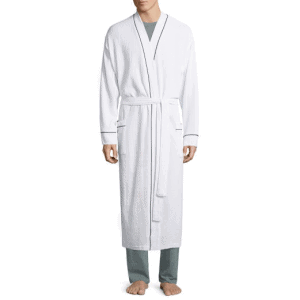 The Stafford® Waffle Robe is made out of a very thin waffle weave, so it is a great style that is recommended for getting out of the shower but not for warmth. Most waffle weaves can be a bit heavy or thick, but this Stafford option is an excellent alternative to thick heavy robes that are popular for getting out of the shower.
People who own this robe mention that it feels high quality and well made for the reasonable price that you are paying. The only downside to this design is that it only comes in one size which is pretty big and slightly long so, it is probably best for average sizes who like a larger fit or for larger men.
Pros:
Thin waffle weave
Great quality for the price
Good for getting out of the shower
Cons:
Why we love it:
This is one of the better thin robes for putting on when getting out of the shower because of the fabric's abilty to absorb water.
Tips on Finding the Perfect Men's Lightweight Robe:
The following are a few of the things you should pay attention to when shopping for warm weather robe:
Weight of the fabric
The critical element to getting the right summer style is to find a robe made from a lightweight yet breathable material. 100% cotton is the most popular fabric for summer styles.
Length
Robes usually come in a short, mid-length, or longer length. Before purchasing any design, you should think about other robes you have owned and what length you like. You can get products that are slightly above the knee, fall at the knee, or below the knee; everyone has their preference. Your height also makes a difference in where the hem will fall. If you are concerned about length, pay attention to the length listed on the garments product information
Sleeve length
A nice-to-have feature on a summer style is the 3/4 length or kimono style sleeves; they help to make the entire garment feel cool and comfortable while still maintaining the coverage that most men love.
Belt loops
One feature you may want to pay attention to if you are reading reviews is where the position of the belt loops fall. If you have a belly, you may find the loops either too high or too low, and it may make it uncomfortable to fasten.
Shower or lounging?
If you are looking for a design just for getting in and out of the shower you are probably going to want a slightly different material than if you are wearing it for lounging. A shower style should be somewhat absorbent and possibly a little bit warm, while a lounging option can thin or silky and usually very soft. The best choices, if you are looking for something absorbent, are the Stafford® Waffle or the Coyuchi Unisex Organic Waffle options.
Cleaning
Cotton is a beautiful, breathable fabric for the summer, but sometimes it can wrinkle quite a bit once you have put it in the dryer. If you would prefer not to have to iron your clothes, there are a couple of options that don't get wrinkled after washing, including the Majestic International Summer Shell.
Read More: The Most Comfy Lightweight Sleep Pants for Men

Latest posts by Molly London
(see all)