The Most Comfy Jersey Sheets for that Perfect T-shirt Feel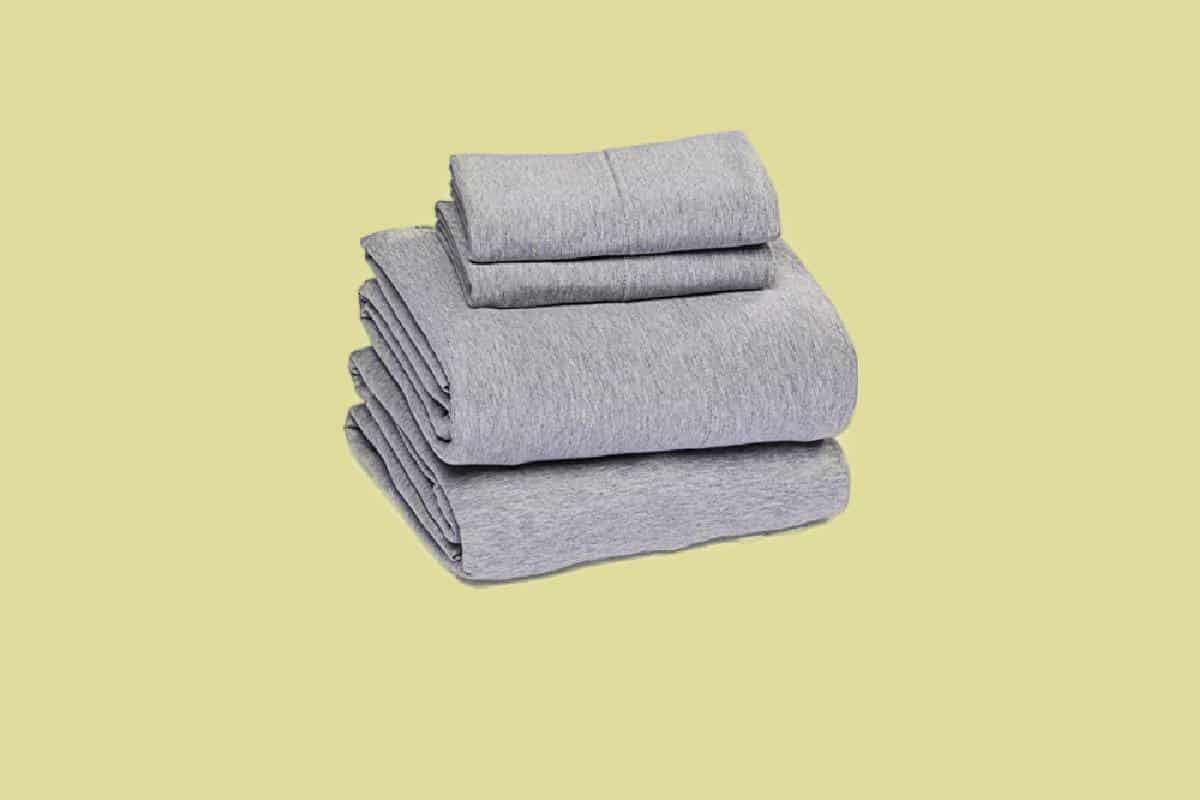 Needless to say, if you are a fan of comfy broken-in T-shirts, you are probably going to love sleeping in jersey-knit sheets. Soft, breathable, and affordable, there's a lot to love about the best jersey choices. Generally, they are warm and make a great alternative to flannel for the winter months for those who love to stay warm but find flannel to be a bit too heavy.
Since they are so stretchy, they tend to fit most mattresses well, and you don't get the sizing issues that can be so frustrating with other types of sheets.  Jersey sets are wrinkle-resistant, easy to care for, and unbelievably comfortable.  They make an excellent option for almost anyone in the family due to the high comfort level and low cost.
Relax, get comfortable, and get a great sleep with the help of our list of the most comfortable jersey sheets. Scroll down to shop the most comfortable T-shirt sheets from brands like Pure Beech, Brielle, Garnett Hill, and more!
Read more: The Internet Says These are the Most Comfortable Bedding Brands
What to Look For:
Jersey knit has an extraordinary softness that is hard to beat. It is usually a good option for colder months but perhaps not the right choice for warmer weather. They make a great alternative to flannel if you find flannel a bit too warm or heavy for your liking. The following are a few other things to keep in mind when you are shopping for sheets.
Feel– As you probably know, jersey knit feels like a comfy worn-in T-shirt. The various brands offer slightly different weights of the fabric. Some are very thin and other thick enough to compete with flannel in terms of warmth and thickness. If you are looking for a light thickness, you may want to try the Pure Beech® Set, while a thicker option would be the Garnet Hill set or the Carbon Loft set all listed above.
Durability– Unfortunately, jersey sheets aren't the most durable, and don't tend to last all that long. They often develop holes when they are laundered, and some products will pill, although that isn't typical of most jersey knits.
Thread count– Jersey knit sheets don't have a thread count since it is a different kind of fabric.
Cost– One of the best aspects of jersey-knit sheets is the affordability. Most higher-end bedding retailers don't sell this type of knit, so you can avoid the temptation to spend hundreds of dollars to ensure you are getting the 'best.' Most sets are in the $50 range, but you can get options on Wayfair and Amazon for $20-$30 that have great reviews.
Fit– If you have a very deep mattress, You will need to ensure that the fitted sheet will fit your size of bed properly by measuring the pocket size of your mattress.
Movement– If you are someone who tosses and turns quite a bit when you sleep, you should be aware the jersey knits tend to get bunched up, and you can get a little bit tangled in them. It can get difficult to straighten them out once this happens.