The Most Luxuriously Comfortable Silk Sheets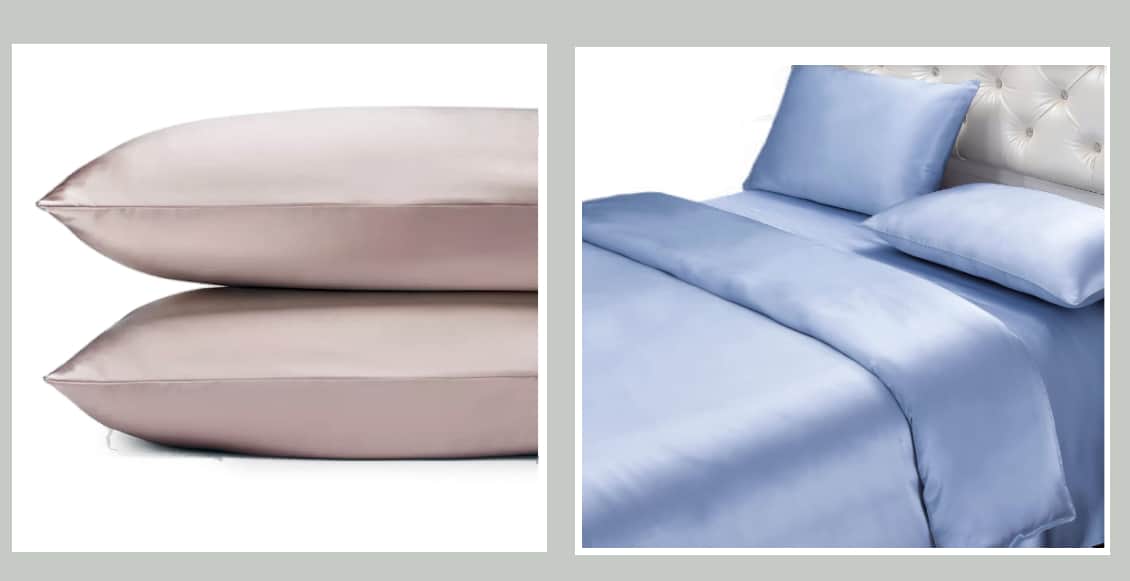 If you are looking for luxury, you can't get more luxurious than a fantastic set of silk sheets. Silk makes an incredible fabric for bedding since it is durable, natural, environmentally friendly, and super comfy. The silk sheen of the sheets looks beautiful and adds an attractive decor element to any room.
While silk sheets are often more expensive (especially a set with a high thread count), they will last longer than cotton sheets, and they are an excellent investment for your comfort. Probably surprisingly to many people, silk is also naturally insulating, has sweat-wicking properties, and is also breathable. So it is perfect for regulating body temperature when you are sleeping, so you neither get too hot nor too cold.
Silk sheet sets come in different types of silk fabric. The most used type for consumer use is mulberry silk, which comes from a particular variety of silkworm bred for industrial purposes. The most common type of mulberry silk you can purchase is called charmeuse.
If you are looking for beautiful sheets that are a perfect balance between indulgent and practical, you can't go wrong with silk. Read on to check out some of the most comfortable silk sheets on the market and then shop your favorites.
Read more: The Internet Says These are the Most Comfortable Bedding Brands
Things to Keep In Mind:
Silk can make wonderful bedding fabric for a lot of people. Consumers may love the look and feel of silk but may not realize all of the other benefits. It can be quite an investment, so the following a few things to keep in mind when you are shopping.
Durability- A lot of people think silk is a rather delicate fabric that you need to take special care with; however, silk is generally considered one of the most durable natural fabrics that is used for bedding. It is stronger than linen or cotton, although not as strong as some synthetic materials.
Benefits- The benefits of silk are numerous. It is breathable, a natural temperature regulator, natural insulator, hypoallergenic and natural fungal repellant. It is also great for skin care and anti-aging.
Hypoallergenic- One reason why silk is a good choice for sensitive skin is that it is hypoallergenic. Silk is a natural fiber that repels mold, fungus, dust mites, and most other sources of allergens.
Sensitive Skin- Silk is also a great option if you have sensitive skin or have eczema and topical dermatitis since it has a cooling sensation and is less likely to irritate the skin and reduces moisture loss.
Natural temperature regulator. One of the best things about silk bedding is that because it can regulate your body temperature, you can use it all years long as it will be warm in the winter and cool in the summer.
Cleaning- Silk bed sheets are often thought of as having to be dry cleaned, but this isn't always the case. Many sets on the market can be machine washed and dried as long as you use a detergent designed to be used with silk.  If you are machine washing, you should use cold water and the delicate cycle, or consider hand washing.
Stains–  You need to take a bit of care with silk as it is difficult to remove stains, and you can't use many of the stain removal products that are available.
Price- The biggest downside to silk is the cost. It is expensive to manufacture, so you can easily spend well over $500 for a sheet set. On the positive side, they will last for years, especially if they are well cared for. The benefits of these types of sheets are generally considered worth the high initial investment, especially if you are an allergy sufferer.
Momme Weight Rating- Silk isn't measured by thread count but rather Momme Weight rating. This is the weight in pounds of a length of silk 100 yards long and 45 inches wide. The value corresponds to the Momme (mm) so that a 19-pound length of silk would be rated as 19mm. You will want to be looking at bedding that is at least 19 Momme weight.
If you haven't found anything on our list to suit your needs or your budget doesn't allow you to spend $500 and up on sheets, Nordstrom has cotton-silk blends that are a bit more budget-friendly. You can also find sets on Etsy.
Or if you aren't sure you want to commit to a full set, you could also just try silk pillowcases; a wildly popular option is the Slip Silk pillowcases that you can find at Anthropologie or Sephora.
Read More: The Internet Says These Are the Most Comfortable Bedding Brands