The Most Comfortable Women's Flip Flops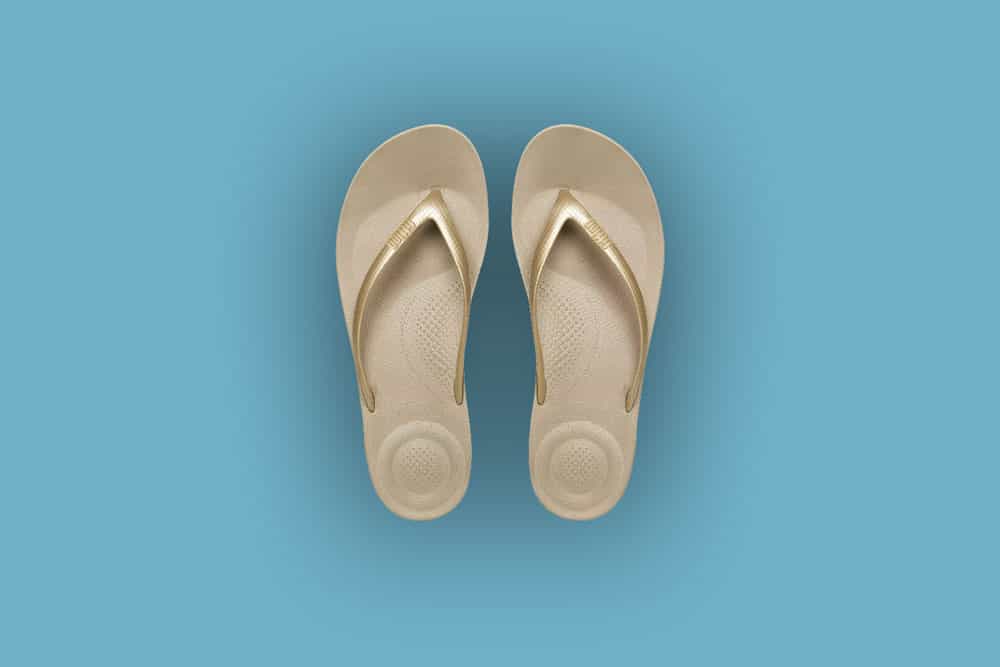 There is nothing better than a comfortable pair of good quality flip flops to help you enjoy the summer fun. If you have been wearing cheap drug store flip flops, now is the time to ditch these inferior styles that can lead to everything from lower back pain to plantar fasciitis.
Podiatrists have long discouraged women from wearing unsupportive footwear that can cause issues with their gait, posture, and pain in their legs. One of the worst offenders is thong sandals, but not to worry, though, because there are lots of supportive and well-cushioned women's flip flop that are comfortable enough to keep your feet happy.
If you are worried about your foot health, a simple trick is to look for styles that are are podiatrist recommended and have achieved the APMA Seal of Acceptance, so you know you are getting flip flops that feel good and are good for your feet.
It is easy to find flip flops that will be kind to your feet as long as you look for sturdy soles, good arch support, soft to the skin straps, and a deep heel cup. We have found the most comfortable flip flops for women that have comfort like you won't believe but are also cute and versatile, so you can wear them from day to night without your feet getting sore.
Read More: 14 of the Most Comfy Women's Underwear Available
What to Look for When Shopping for Flip Flops
If you are on this site, probably your primary concern is finding comfortable footwear. Luckily there are a lot of really great styles to choose from. You need to look for a few different things to find the comfiest shoe for your foot. Think about when you will be wearing a particular piece of footwear, whether it is for work, hiking, or by the pool or beach.
Also, consider the footbed material and style, as well as the strap material and style. One thing podiatrists recommend is to bend the flip flop from end to end to make sure the bend falls ball of the foot. If you can fold it in half, this is not a good thing; you should move on to another style. When looking for a great pair of flip flops the following are a few things to consider before you go shopping:
Support
Not surprisingly, according to experts, the key to comfort is getting a shoe that has excellent arch support. Support is critical if you have any foot issues such as plantar fasciitis. Yes, it is easy to wear a pair of cheap flips around in the summer, but in the long term, we all know they aren't great for your feet, and it is well worth investing in a little bit of support. Look for contoured footbeds to help support your arches, such as the OluKai Ohana or Birkenstock designs. Your feet should be well supported. Completely flat soles are unhealthy; there should be a bit of curve to support your arch, but it doesn't have to be super contoured.
Straps
The straps are another critical feature to consider when looking for a great sandal. You can get all types of different materials for the straps: leather, rubber, many kinds of fabrics.
According to podiatrists, the best material to look for is high-quality, soft leather to help minimize skin irritations like blisters. Generally, the material of the straps is made to feel comfortable; some of the rubber that is used these days is pretty soft (compared to cheap drugstore brands). Also, consider the width of the straps. For the most part, more extensive is generally found to be better for comfort compared to thinner straps.
Weight
If you have ever worn a heavy flip flop, you will understand just how much easier it is to wear a light shoe. The most comfortable styles tend to be lightweight designs. If you need firm support for conditions like Plantar Fasciitis, you will probably be looking for a design that has a more substantial sole.
Style
There are lots are variations of the standard flip flop style that we all know and love. If you want something a little more stylish, check out the Sanuk. If you are looking for sporty, try the Reef, Teva, or Olukai. If you would like more of a classic design, Clarks has some great options.
Can they get wet?
Depending on how many water-related activities you plan to get up to in your flip-flops, you may want to consider how water resistant the different sandal styles are going to be. Sandals like Birkenstocks that have leather and suede do not mix well with water. The Teva's and Crocs are great if your feet are going to get wet as they will dry quickly, or in the case of the Crocs, they can be wiped dry.
Grip
If you have ever been wearing cheap flip-flops and come across a bit of wet floor or pavement, you will know just how slippery they can become; that is why for safety, a good grip on the soles of your sandals is essential. Most of the styles listed above have excellent traction (except for the Sanuks) due to the treads and rubber that is used.
Sizing
Getting the right size of shoe, goes hand in hand with how comfortable they will feel. Sandals often only come in whole sizes so women generally size up one flip flop styles.
The footbed's width is also essential for fit and sizing if your feet are wide or narrow. It is a good idea to ensure that the sole is a little larger than your foot, not too big, just a bit bigger.
You also don't want your heel to hang off the back of the sole, so make sure there is a little space as well between your heel and the end of the sole.
Versatility
A lot of people wear their flip-flops all day, every day in the summer, it is excellent to get a design that is versatile enough to work with any activity you may find yourself in. A versatile style that works well for most summer activities is the Olukai Ohana Sandal.
Break-in period
As with a lot of shoes, you will need to give yourself a bit of time to break in your flip-flops, especially if you don't wear them much. Some people find it extremely difficult to get used to the strap between the toes and avoid the y-strap style altogether. It is best to break them in by wearing them around your house for a few hours at a time. No matter how comfy you find your footwear, it is never a good idea to wear a new pair on a long outing right away.
What will you be wearing them for?
– Even with the most comfortable well-supported flips flops you should never wear them for playing sports or for outdoor chores like mowing the lawn. They also aren't generally recommended for wearing if you are walking long distances even if they have a lot of support.
Source: APMA