14 of the Most Comfy Women's Underwear Available
The quest to find genuinely comfortable underwear can be long and frustrating. Many women don't even realize how unpleasant their underwear is to wear until they come across a pair of soft, great fitting panties that change their whole idea about what it means to be comfy.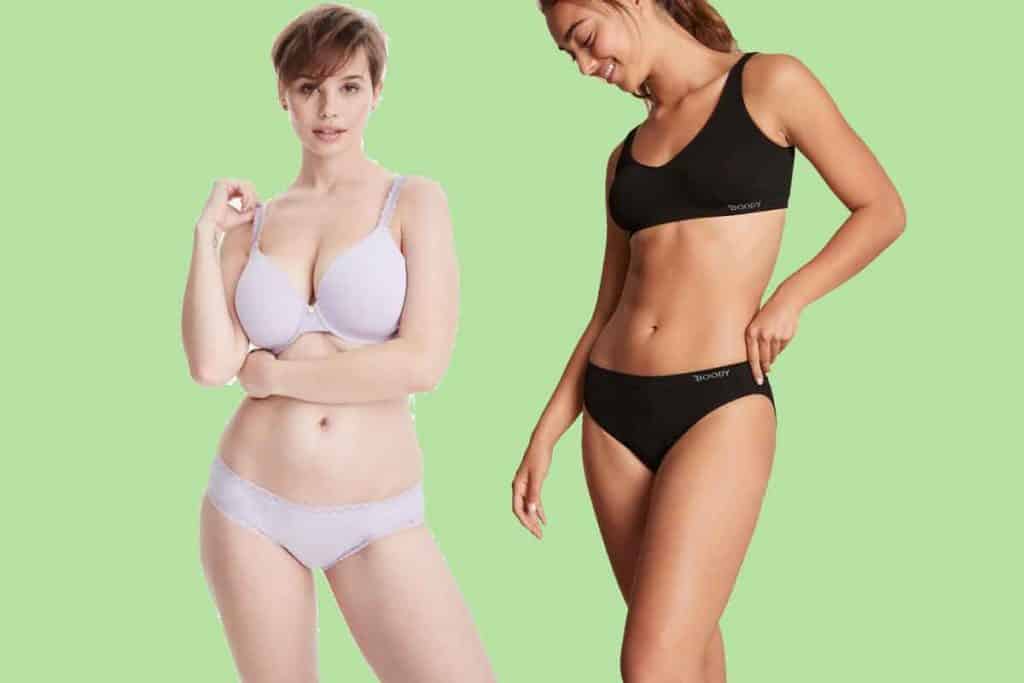 The most comfortable underwear for women doesn't tend to be the sexiest or the prettiest, but it is usually made from soft, breathable material that fits in such a way that it won't ride up or bunch at the waist. The styles chosen for this post are styles that will work well for everyday wear that won't leave you wanting to get out of them as soon as you walk in the door.
If your goal is to find a panty that is so soft and light that you forget you are even wearing it, we have come up with a list of the most comfortable underwear for women. Scroll down to find out more.
Read More: 19 Comfortable and Cute Women's Flats That You Can Wear All Day
Bali Comfort Revolution Seamless Brief Panty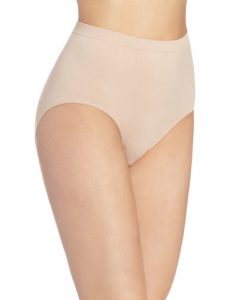 Like most women, I used to scoff at the idea of ever wearing a granny-style of panty.  They aren't even a little bit sexy, but for pure comfort, they are pretty good. The Bali Comfort Revolution Seamless Brief Panty is one of the most popular styles if you are looking for absolute luxury that happens to be a little bit granny style.
They are a seamless design that won't show panty lines through your clothes. They also have a soft waistband, so they won't cut into your waist or leave any marks. The fit has a beautiful stretch to it, so they also won't ride up or slide down. The fabric is 100% nylon that is soft, lightweight, and breathable, even in the heat.
The other bonus about this style is that it will cover your tummy, so you can minimize any bulging that might show making them one of the best underwear for curvy ladies. Overall this style is an excellent option if you want something that won't ride up, won't show panty lines, and will fit well.
Amazon Essentials Women's Cotton Stretch Bikini Panty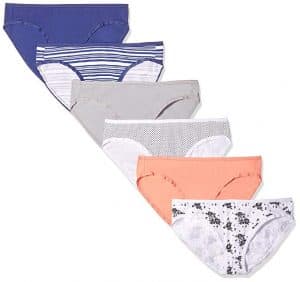 If you are looking for some soft cotton options that are budget-friendly, this style from Amazon Essentials is very popular. These are classic cotton, high-cut briefs that come in a multi-pack with an assortment of colors.
They are made from 95% cotton and 5% elastane, so you are getting the breathability and softness of a good cotton undie. They are high cut on the leg, but the back has full coverage and won't ride up. These aren't super sexy, but if you want a comfy, inexpensive, cotton style, they will work well.
Natori Bliss Cotton Briefs
If you are a cotton lover, you will love these Bliss Cotton Girl Briefs from Natori. The fabric on this underwear is so thin and soft; it makes you feel like you aren't wearing anything. It has a pretty lacy elastic around the top and the leg openings that is super soft and not itchy at all. They have great coverage, so you don't have to worry about them bunching up, and they will stay in place as you go throughout your day.
Sometimes cotton panties can be a little bulky, but you don't get that feeling with this style, you also shouldn't see any panty lines because they are so thin. FYI these aren't 100% cotton because of the lace trim, but the majority of the garment is cotton, making them breathable even in the heat.
Warner's Blissful Benefits No Muffin Top 3 Pack Hipster Panties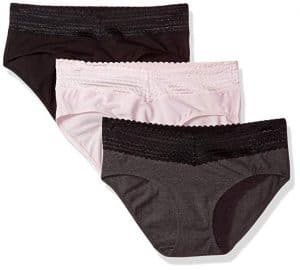 Warner's Blissful Benefits No Muffin Top 3 Pack Hipster Panties is a style that is pleasant to wear, and the lace around the top makes them very sexy (for full coverage panties). Full coverage and sexy are hard to find. It is a pretty flattering fit on most figures since the fabric is very forgiving, but it doesn't dig into your waist or the top of your legs. They are especially great if you have a little bit of a belly or sometimes get a muffin top since the waistband is a little lower, so it doesn't cause muffin top.
The waistband is also quite pretty with the lace,  although the wide waistband isn't for everyone, so beware of that if you are considering this style. The fabric is a soft and stretchy microfiber that is breathable and can absorb moisture in hot weather.
Boody Classic Bikini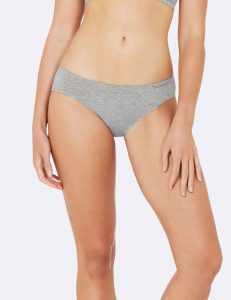 If you are a fan of soft breathable fabric, you have to check out the Classic Bikini from Boody. Fans of this style love these panties for the look and many consider them to be one of the most comfortable women's underwear going. They are soft and stretchy and have such a lightweight feel you hardly know you are wearing them. Boody offers quite a few different underwear styles including full, midi, and classic briefs as well as hipster, boyleg, and g-strings in their amazingly soft and eco-friendly viscose made from bamboo material.
A lot of people find that once they try the Boody signature bamboo they have trouble going back to other types of underwear fabrics. Women also love them because they are seamless and they look amazing on women of all sizes and all ages. The other key features of this style are that they are breathable enough to wear in any type of climate, and they stay in place well, even if you move around a lot during your day.
Jockey Women's Underwear Elance Brief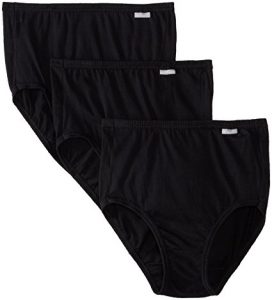 The Jockey Underwear Elance Brief is another classic cotton brief that you can get for a great price. It comes in regular as well as plus sizes. It has a fabric-covered elastic at the waistband and legs, so they won't cut into or pinch your skin, They are full coverage, so they cover your behind well and easily stay in place all day, they also sit high at the waist.
Women love this style because they are of good quality at a reasonable price. If you want a loose-fitting, breathable style that will wash well and retain its shape, the Elance Brief is a great style to check out.
Calvin Klein 3 Pack Carousel Bikini Panty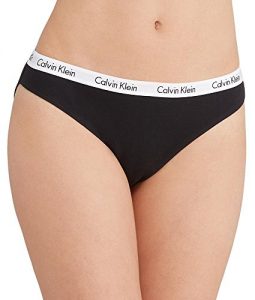 Calvin Klein has a bunch of different styles of women's underwear to choose from, with the Carousel Bikini Panty being one of their most popular. They are 90% cotton and 10% elastane, with the elastane being the waistband. You can get them in multi-packs with assorted colors if you like a bit of variety. Despite being a bikini cut, they have a decent amount of coverage at the back, so they don't bunch or bind.
Cotton underwear can sometimes shrink a bit, but you don't have to worry about that with these Calvin's. The cotton is soft yet durable, so it will last for quite a while without losing its shape. The only issue with this style is if you are wearing tight clothes, they may show a panty line.
Wirarpa High-Waisted Cotton Underwear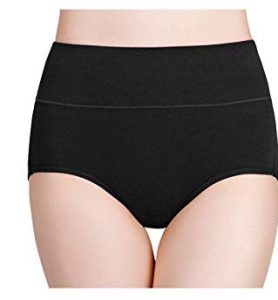 One of the most popular styles on Amazon is the Wirarpa High-Waisted Cotton Underwear that is so comfortable that they are worth considering as everyday underwear. They are an excellent inexpensive design, but that has many things going for them. They are breathable, so you keep cool in warmer weather, lightweight, and durable so the fabric won't stretch out and lose shape.
If you want a style that fits great, is easy to care for, and comes in fun colors, give the Wirarpa High-Waisted Cotton Underwear a shot.
Maidenform Comfort Devotion Lace Back Tanga Panty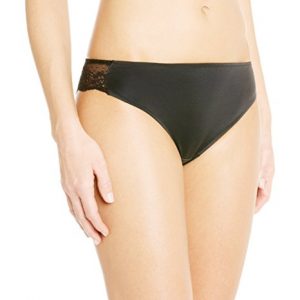 Since this list is a little granny panty heavy, I wanted to try to find a few more styles that are both cute, and that feels good to wear. The Maidenform Comfort Devotion Lace Back Tanga Panty fits the bill perfectly. They are a little sexy while still feeling soft and comfy. The fabric is 80% Nylon and 20% elastane, plus the lace, which is mostly Nylon. They come in lots of colors with some cute patterns.
They should fit well and be suitable for most body types. If you wear them with very tight clothes, they may leave a slight panty line. One thing that gets mentioned about this style over and over is that they are very flattering when viewed from the rear for all body types. So if you like the look of lace, but would like a style that is wearable every day, these are a great option.
Available at HerRoom.com
Maidenform Dream Boyshort Panty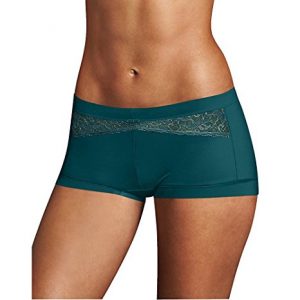 Not being a massive fan of the boy-short myself, I thought I should at least include a couple of pairs that have a reputation for being comfortable. One popular option is the Maidenform Dream Boyshort Panty that a lot of women seem to like. It is primarily made of Polyamide, also known as Nylon, so it is stretchy, durable, and soft. The elastic at the waist is covered, and it has hemmed leg openings.
They are supposed to be seamless, but some people mention that they do show through certain types of clothes. They have good coverage and an excellent reputation for not riding up in the back or bunching at the waist.
Available at Amazon
Vanity Fair Illumination String Bikini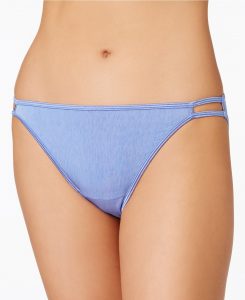 I owned a pair of these Vanity Fair Illumination String Bikini panties years ago and loved them, but forgot about them until I started researching this post. This style has been around for a while and is a classic. The material is super comfortable nylon and very soft. It has the right amount of front and back coverage, so they stay in place well. You may think the straps on the side would dig into your skin and cause irritation, but they don't at all. Instead, they create a super flattering fit.
The Illumination comes in some cute colors, and they feel silky soft. They are an excellent style for everyday wear because they are breathable, well-made, and durable. The thicker band does show a slight panty line in thinner clothes, but overall they are a fantastic choice if you are looking for a sexy option.
Available at BareNecessities.com
Aerie Boybrief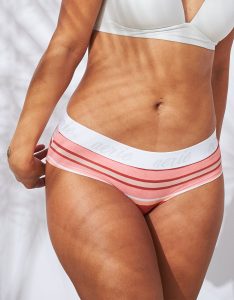 The Aerie Boybrief is one of the most popular styles for comfort, especially if you are in your early twenties or younger. They are a pretty nice fit, come in cute, modern patterns and are made with soft, breathable fabrics. They also have good coverage for most shapes. The elastic waistband is kind of thick, but most agree that it is super comfy and doesn't dig into your hips.
This underwear is so popular it comes in tonnes of different styles, sizes, and colors, so there is something for everyone.
Wacoal B-Smooth High-Cut Panty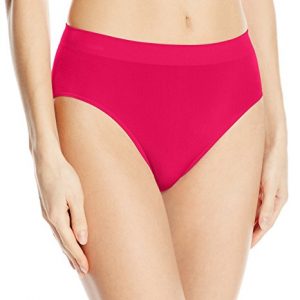 The Wacoal B-Smooth High-Cut Panty is good for women who would like a bit of support but aren't willing to sacrifice comfort to get it. They have a generous fit that is a little bit firm, but not so firm that they feel tight or will pinch any areas. They are good quality, durable and will smooth out any bulges if you are wearing tight-fitting clothes.
Fruit of the Loom Beyond Soft Bikini Panties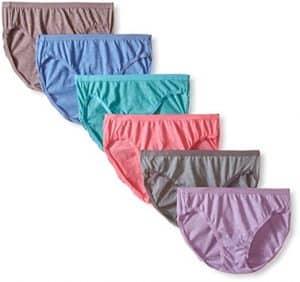 The Fruit of the Loom Beyond Soft Bikini Panties are probably the least attractive undies on our list, but they are one of the best budget options. If you want something that you can wear lounging around the house that will offer you pure comfort, these are the panties for you.
They are a larger fit, so you are fully covered in the back. They come in nice cheery colors that help make it a great style for warm weather as the cotton-polyester blended fabric is light and soft. Beyond Soft Bikini Panties are a great value and one of the most popular budget styles for comfort.
Available on Amazon
Women's Underwear- The Basics
Fabric
Cotton is one of the most common underwear fabrics. It is excellent for everyday use since it is breathable, lightweight, and soft. You generally don't want to wear cotton undies if you are exercising, because the cotton will hold the sweat and become uncomfortable.
Nylon is also a ubiquitous fabric used in women's underwear. The latest nylon fabrics are great for wearing to the gym or for staying cool in hot weather. The notable features of Nylon are that it is quick-drying, durable, and easy to care for.
Polyester is also often used in the production of underwear. It is usually very thin, light, and works well for wicking moisture away from your skin. It is also durable, easy to care for, and will hold its color well.
Modal has been gaining in popularity over the last ten years. It has a very soft luxurious feel to it and is usually blended with other fabrics. It is a natural fabric (like cotton) that is made from the fibers of the beech tree, but it is more sustainable than cotton since it uses much less water than cotton to cultivate,
Microfibers are usually very breathable and lightweight and have similar qualities to natural fibers. They are easy to care for, moisture-wicking, and breathable. They work well for high activity sports or going to the gym. The fabric fibers are usually fast drying, making it an excellent option for travel.  Microfiber undies can be thicker than cotton, so there may be some issues with panty lines showing through clothes.
Style
There are lots of different underwear styles available. Our list is pretty heavy on briefs; high cut briefs are one of the best for pure comfort. But many women love the more modern styles of hipster, bikini and boy shorts for comfort. Some ladies love tanga, thongs, and g-strings, but we don't cover those this post.
Price
Price is an essential factor for most women when purchasing undergarments. You can spend as little as $3 on a pair or go well up to $50 plus for designer brands. The cheapest options are usually sold in multipacks with the various color combination that is generally a pretty good deal.
Sizing
Sizing for women is all over the place. It is best to check sizing charts for any brands that you are considering.
Waistband
A key feature of comfort is the waistband. The best styles are usually elastic that is covered with cloth. Some styles have very thick waistbands that work well for some shapes and some not so much. You may also want to pay attention to where the waist falls if you like your stomach covered, look for a high rise waist.
Seams
Most females don't want a visible panty line, so they look for seamless designs. There are a lot of great seamless styles. Most seamless are Nylon, as cotton tends to be a little thicker and can show through clothes a bit more.
Tummy control
For the most part, the panties on our list don't have much in the way of support to keep stuff tucked in. If you are looking for a little bit of tummy control, but still want to be comfy, you could try the Wacoal Women's B-Smooth High-Cut Panty or the Warner's Women's No Pinching No Problems Modern Brief Panty.

Latest posts by Molly London
(see all)