15 of the Most Comfortable Pumps and Heels According to Customer Reviews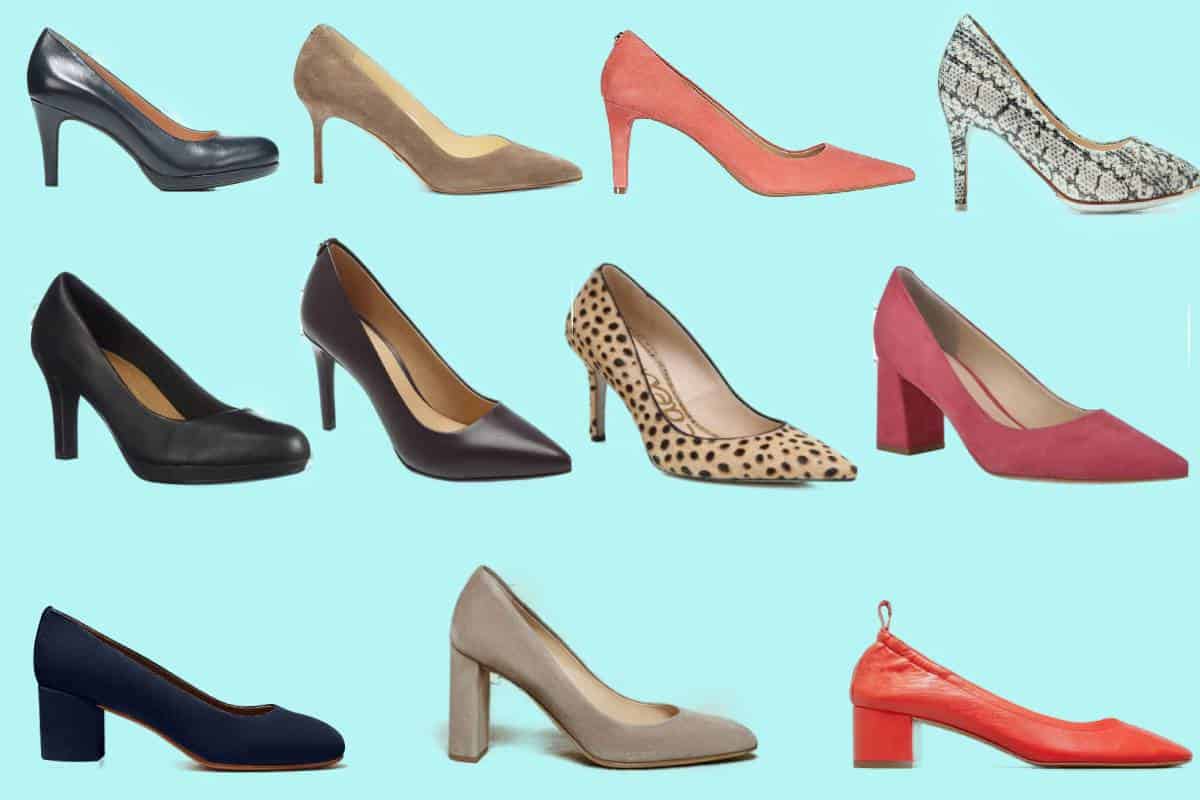 One of the most challenging shoe styles to get a comfortable fit is a women's dress pump, luckily footwear technology is improving year after year, and it is now easier than ever to find a heel that you can wear for hours.
While podiatrists don't generally recommend wearing high heels, there are a few things that you can do to minimize foot and ankle issues and help make your shoes more comfortable. Making sure you get pumps that are the right size with the best fit and best support for your foot type will go along way to avoiding some of the concerns that can arise from wearing heels.
Since everyone's feet are different, what you find comfortable isn't going to be the same as what your friends like. Some styles come up over and over again as the best for fit and feel, especially if you are going to be on your feet all day at work.
To make this list, I looked at all the most positive reviews (4.3/5 or higher) and paid special attention to customers who praised the comfort level of the shoes.
Here are the most comfortable heels available right now, according to real women's reviews.
*Ratings last updated April 24, 2023.
How to Find a Comfortable High Heel
Sizing– As podiatrists like to stress the most critical aspect of finding a comfortable shoe is getting the right size. Many women get their feet measured for size when they are in their late teens or early adulthood and then stick with that size throughout their life. Your shoe size can change with things like pregnancy or if you gain or lose a lot of weight. It is a good idea to get your feet resized if your body has been through any significant changes or you find a lot of your shoes to be uncomfortable (you may be wearing the wrong size).
If you are shopping for heels, the measurement that you should ensure is correct is the heel-to-ball measurement that can be determined by being measured correctly by the Brannock Foot-Measuring Device (that thing that every shoe store has). It measures heel-to-toe and heel-to-ball or arch length.  This is important for high heels because of the different lengths of the toe boxes. If the heel-to-ball measurement is correct, then there will be more contact between the foot and the shoe, and you will get better support and feel comfier.
Fit– Fit is also key when shoe shopping. It is best to try shoes on before buying since dimensions are not standard across different brands or even within brands. Take your time trying different shoes on, make sure you walk around, your toes should be flat against each other and not squished.  When you get the right fit, you will most likely have the most comfortable option for your particular foot type.
Material– Leather or suede are excellent materials for comfort in a shoe. Unfortunately, leather is also more expensive than synthetic materials. The better quality the leather, the more you will pay. Leather is good because it will be able to conform to your feet in a way that a synthetic material will not. Leather styles also tend to last longer.
Padding– Comfort technology is improving all the time; there are new and innovative ways to provide padding that didn't exist ten years ago. Look for memory foam, high-density foam, gel pods, or any other type of filling that will go a long way to making it feel much more pleasant to wear for long periods.
Height – The higher the heel, the less comfortable any footwear is going to be. If you will be on your feet all day, a kitten heel is the best option as it will be the most comfortable. If you don't like kitten options, a 2″ or 3″ height may also be fine for a lot of women depending on the brand. If you absolutely must have a 4″ style, the most comfortable will be those that have platforms. A platform will lessen the feeling of the 4″ and make it feel more like 3″.
Style – Another interesting thing to think about when looking for shoes that will feel the best to wear is the style of the heel. Wedges and block designs are more comfortable than stiletto type options that have a skinny width.
Colors – All of the pumps that we listed above are very popular and come in a wide range of colors. You should be able to find most styles at your local stores (obviously, depending on where you live) in black and maybe beige since it is so popular these days. If you are looking for a less common color, try online, as the color selection tends to be much better.
Price– For the most part, to get comfortable shoes, you need to invest a bit of money. Comfort often (not always) goes up with the amount that you are willing to spend.  A significant exception to this is the Comfort Plus by Predictions line that offers very comfortable pumps for around the $25 mark. Generally, if you want a good quality, leather, padded shoe that will last, expect to pay at least $80-$100.
Width– If you have a wide or a narrow foot, it can be especially challenging to find a great fitting shoe. Some of the most popular styles do not come in narrow or wide. If your foot is narrow, a lot of people like Calvin Klein, Vince Camuto, or Nine West pumps, if your foot is wide, you may want to try LifeStride, Aerosole, Rockport, or Stuart Weitzman.
Toe Box – If your feet are wide (especially in the toe area), you should also pay attention to the style and the size of the toe box on the shoe. Some styles (often pointy toe designs) can be very uncomfortable in the toe area because the toes end up being squished into the toe box.
To get the most out of your pumps
Break-in Period– Hardly any shoe is going to be comfortable to wear right out of the box. At the very least when you first get your shoes, wear them around your house for short periods for a few days. If you are planning on wearing them to work, you should probably wear them for a few hours and bring another pair of shoes to change into. It is unrealistic to expect to wear a pair of pumps without breaking them in a little bit. You can get shoe stretchers that is made specifically for high heels if you need the shoe to stretch out.
Other products that can help with comfort– If you do invest in shoes that you are finding to be less than fun to wear, there are a few options that you can try to help with different types of problems you may have. Foot Petals and Dr.Scholls have a whole range of different types of cushioning and pads that you can insert into your shoes for added comfort as well as to prevent slipping and sliding out. You can also get a lot of other contoured foam inserts that can make a huge difference. If your foot is slipping out of the shoe, you may need to get some inexpensive heel grips.
High Arches– If you have high arches, it is difficult to find designs that can support your feet. You may see that it limits the brands and types of styles you can get, so you may want to invest in some additional arch support products. These types of inserts allow you to shop for different brands without having to worry about the amount of arch support a particular shoe has.
References:
Read More: Comfortable and Cute Work Dresses