How to Find The Most Comfortable Clothes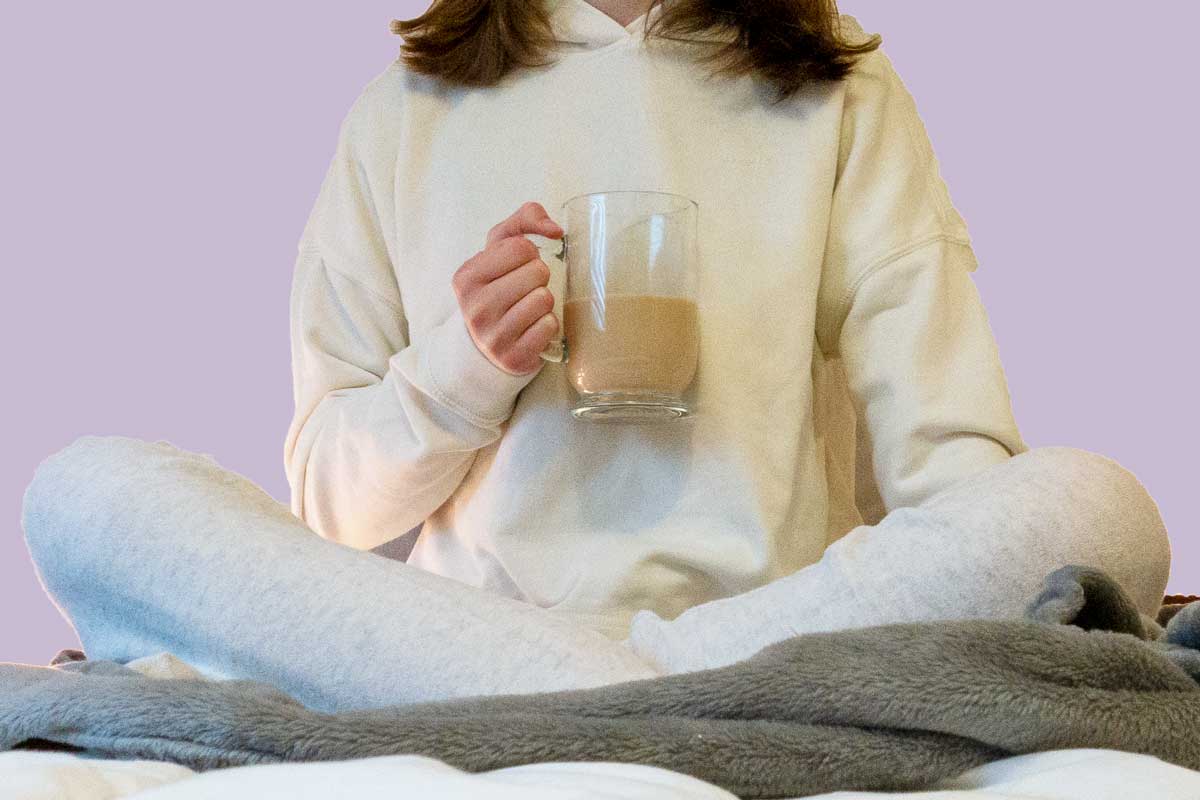 One thing that has really come out of this year is the need to feel comfortable in your clothes, especially when spending so much time at home, whether you are WFH or just lounging.
Being comfortable doesn't mean that you have to wear sweatpants all day, every day, although that is totally fine by me. There are tonnes of fantastic clothes that are comfy, practical and fashionable. As someone who dresses for comfort first and style second, there are a few things I've learned over the years that may help you find the clothes that will make you feel good (and look good too)!
There is no one item of clothing the is the absolute most comfortable thing that will work for everyone. Since comfort is such a broad term and everyone comes in different shapes and sizes with different preferences for fabrics, fits, and styles, it is impossible to have a single most comfortable item that everyone will feel good in.
The following are what I think is important when I'm trying to find the most comfortable clothes possible.
Fabric
If you aren't super up on fabrics, it is worth taking a moment to think about clothes you already own that you like the feel of.
Maybe you have a favorite t-shirt or sweats that hit all the right spots as far as your comfort level goes. Check the labels and see what they are made of. This is a good place to start. Also, look at clothes you don't like the feel of and make a mental note, these are probably fabrics that you are going to want to avoid.
Natural Fabrics
Traditionally when you are looking for feel-good fabrics, the advice has been that natural fibers like cotton, silk, linen, alpaca are the best options for clothes that are soft and breathable.
While synthetic or human-made fibers are best avoided. This isn't necessarily the case anymore as a whole new wave of ultra-soft polyester, modal, and rayon blends are being used that are both super soft and breathable.
Human-made Fabrics
The evolution of the human-made fabric has really come into play with a lot of the high-performance fabrics that have been used for workout gear for years that are now being used for loungewear, t-shirts, dress pants, and even dress shirts.
Natural fibers are still the better option for most people with skin sensitivities and are also great when looking to stay cool or to keep warm. However, these days there is no reason to lump all synthetic fabrics into the stiff polyester of days past since they have improved significantly over the last few years.
Sizing
Most people have probably at some point worn clothes that don't exactly fit, whether you bought that last size small on sale and were pretty sure you could squeeze into it because you loved the style so much, or maybe you lost a lot of weight and didn't get around to updating your wardrobe.
Let's face it; ill-fitting clothes are uncomfortable, so it is well worth trying to get a good fit.
There are a few things to pay attention to with sizing especially when you are shopping online. It is important to read sizing guidelines and reviews with a focus on how a particular garment fits on other people with similar measurements.
Clothing websites often encourage reviewers to enter sizing info and most websites offer advice on whether a particular clothing item fits true to size or not- don't ignore this advice. Wearing the right-sized clothes makes a huge difference as far as feeling good about what you are wearing.
When your weight or height falls outside the average sizing, it can also pose a challenge to getting a good fit.  There is usually less choice, and what is available hasn't necessarily been designed properly for larger or smaller body types, its basic design has just been increased or decreased based on standard fits but without any nuanced adjustments for different body types.
Fortunately, many new size-inclusive brands are getting a lot of attention, making established brands forced to include a better range of sizes and proper fits. Universal Standard, Girlfriend Collective, Good American, and Warp + Weft. are a few of the newer brands that are doing an excellent job with their sizing and making sure they have options to fit everyone.
The other thing to consider if you are having trouble with sizing is getting your clothes altered. It is an extra expense but can make all the difference in terms of look and feel.
Fit
In the last five to ten years, there have been greater choices for different types of fits. Many people love the slim cuts and skinny fits, but if you are a child of the 80s or 90s, you may long for the days of the looser classic fits (guilty!). Thankfully baggier cuts coming back into style (at least for women) with mom jeans and very baggy sweatpants looks that became really trendy during the pandemic.
Generally, different types of clothes have different options for fit; dress shirts, jeans, regular pants, sweatpants, sweaters all have various versions of slim, classic, regular, and occasionally loose fits. Depending on what you are shopping for, if you come across a type of fit that you aren't sure about, it is worth taking a bit of time to look into exactly what a manufacturer means by a certain type of fit. You can usually uncover this in the product information or description.
Stretch
This may be a little bit of a controversial viewpoint but in my experience, the one really key thing to look for in a lot of different clothing items is stretch in the fabric. Everyone is probably familiar with stretchy jeans; some people love them, some not so much, but for the most part, they are pretty comfy.
There are a lot of brands that are taking that stretchy material idea and running with it. Companies are making comfortable regular looking clothing using the fabrics that have been used in workout wear like yoga pants for years. Brands like Duer, Betabrand, and  Mizzen+Main are just a few businesses creating workwear and casual clothes out of 'performance' fabrics.
In some cases, stretch can have the downside of getting a little bit saggy as the day wears on, depending on what you are wearing, and while it may not look that great, my goodness it can be so comfy.
Quality
Quality is pretty important when you want comfortable styles. The best fabrics as far as feel are often the most expensive. Egyptian cotton, cashmere, and silk are good examples of paying more to get the softest, longest-lasting, and most comfortable material. Other regular fabric like flannel often goes through processes like brushing (or double brushing!) that add extra expense to the garment's processing but end up feeling like better quality.
Weather Appropriate
This seems like a simple thing but if you want to feel good, wear clothes that are appropriate for the weather. Being hot or cold plays a huge part in being comfortable.
Everywhere I go, I'm constantly surprised at the strange choices people make in various settings. Is it a good idea to wear a Canada Goose parka walking around a mall, leather pants in the summer, or shorts in the dead of a northern winter? I would have to say no. If you aren't sure what to wear in certain weather conditions, layers are always good, depending on what you are doing.
Activity Appropriate
In the same vein as wearing the right clothes for whatever temperature you are in, you also need to wear the right clothes for the activity you are doing. Again it seems fairly obvious, but for some reason not always done.
You can pretty much buy clothes for any type of activity that can fit into most budgets. It can be as simple as wearing lighter clothes in hot weather or breathable fabrics when you will be working up a sweat. Or if you love shopping, you can get special traveling clothes that are designed to see the world (lots of pockets, either don't need to be washed or can be washed in a sink overnight). If you are lounging, you don't need to wear those old ratty sweatpants anymore; you can get beautiful lounge clothes made of the softest fabrics you can imagine. Are they necessary? Not really, but that can add that extra level of comfort that some people are looking for.
Work clothes are another entire subject to address. The pandemic work from home issue has both made life more comfortable since you generally only have to dress work appropriately from the waist up, but it has also made it a bit more confusing. You really shouldn't be wearing your flannel pajamas on a Zoom meeting or at least not the shirt. If you need to look professional but don't want to wear anything constricting, you may want to check out some of the brands using performance fabrics for work clothes (see the section on 'Stretch').
Personal Style
The style or how a garment makes you feel can be an overlooked aspect of comfort. A comfortable outfit is something that makes you feel good in your skin. It is important to wear what you like to wear, especially when you are at home. Also, make sure you wear colors that make you feel good and don't worry if it is fashionable or not. If you feel confident wearing a particular item that is a whole next level of comfort.
In some situations, comfort and confidence can go hand in hand. When you are having a lazy day, there is nothing better than oversize sweats or lounge pants when you don't have to worry about running into people you know.   However, it is hard for some people to feel completely comfortable unless they are dressed in clothes they don't mind other people seeing them in. This could be a nice pair of pajamas when house guests are over or what you wear to work. You don't want to get clothes that make you feel bad about yourself or your body because you won't be comfortable. The same thing applies when you have to go into the office to do a presentation; you want to look good and feel confident in whatever styles that you choose.
Sustainability
This doesn't apply to everyone, but for many people, it is becoming increasingly important to shop for ethical or environmentally sustainable brands, and this, in turn, can lead to feeling better about your choices. Unfortunately, the clothing industry works in such a way that for you to get those super cheap clothes, someone somewhere is most likely working for a shockingly low wage and most likely pretty terrible, possibly dangerous, working conditions. Because so much of where your clothes are made is hidden from consumers, most people don't think about the background of why certain clothes are so affordable.
Most processes to produce clothes are also not great for the planet, and a few brands are now doing something about it. Consumers are taking notice and supporting these more sustainable brands. If this is something you are interested in, try brands like Patagonia, Everlane, PACT, Girlfriend Collective, Eileen Fisher, or Reformation.
You have to be somewhat careful when shopping for sustainable options; occasionally, larger established brands may list a particular item as 'Eco' or imply it uses recycled fabric when they use something like '10% recycled polyester," which really isn't going to make a huge difference in the big scheme of things. Read the product info to be sure you are getting what you think you are getting. If you are really concerned about making sustainable choices, then you are going to want to start thrifting, which leads me to my next point.
Buying Second Hand
Not only is buying second-hand clothes great for the planet, it can be a shortcut to getting amazing clothes that are already broken, I'm thinking specifically of jeans but it can work for other garments.
The other great thing about thrifting is that occasionally you may also be able to score some cashmere sweaters or higher-end brands made from soft cozy fabrics for excellent prices. If you aren't fully into the idea of thrifting but you'd love a deal on great quality soft fabrics on designer clothes you could also check eBay or consignment shops and look for NWT (new with tags) items.
Sensitivity to Clothes
Sometimes people seek out comfortable clothing brands because they have a health condition that makes certain fabrics, seams, or fits feel painful against the skin. People who are allergic to certain materials may also find some clothes difficult to wear.
If you have sensitive skin or have trouble with the feel of seams, there are a lot more options in terms of comfortable fabrics and seamless designs than ever before. You could try some of the breathable performance options that are light as air and buttery soft. Brands that have a good selection of organic cotton also seem to be good choices for those who are sensitive to either feel or type of fabric. A few brands to look out for are Outdoor Voices, Duer, Hanna Andersson, and Universal Standard.
Anyway, these are some of the things that I think about when looking for new clothes for myself that are going to make me feel good.  If you have any tips on finding comfortable clothes, leave them in the comments below. I'd love to hear them.

Latest posts by Molly London
(see all)