13 of the Most Comfortable Cotton Underwear for Women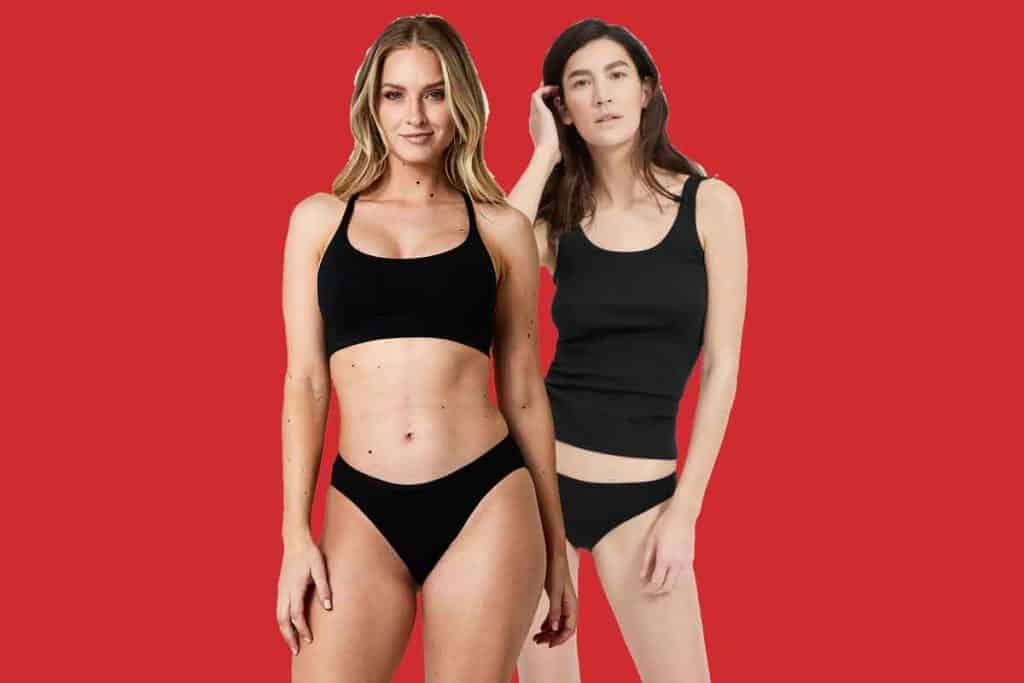 Cotton is generally recommended by experts as the healthiest and most comfortable fabric for underwear. Not only is it soft, but it is also breathable, so you are less likely to overheat and feel uncomfortable in a great pair of cotton undies. It can be a challenge to find fully 100% cotton styles since many cotton options are a little over 90% cotton with the rest of the fabric blend being spandex or elastane to help stop the fabric from stretching out.
If you are looking for some high-quality cotton and mostly cotton undies, we have found the best styles from full coverage granny options to flattering bikini styles to affordable design you can buy in bulk, that are the most comfortable cotton women's underwear, scroll down to find out more.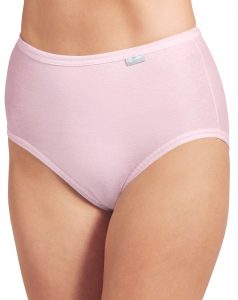 If comfort is what you are after, you are going to want to check out the Jockey Elance line. The Elance underwear comes in brief, french cut, bikini, string bikini, and hipster styles. These are probably the most popular 100% undies going.
The Elance is sold everywhere and is just an excellent 100% cotton style that works for all types of body shapes. They come in several plain or patterned fabrics with lots of different color options. These are a lot of people's favorite cotton underwear not only because of the comfort level but also because the cotton is thick and durable enough to last quite a while. Elance styles are also generally very highly rated. Currently, the plus-sized French cut design has over 4,000 five-star reviews on Amazon.
Depending on what you are wearing, the Elance will most likely show a panty line due to the fabric-covered elastic, so if you are looking for a no-show, these are not the underwear for you. Most of the designs in the Elance line are full coverage, and since they are 100% cotton, can stretch out a little bit as the day goes on. Elance styles come in a massive range of sizes and can be machine washed and dried.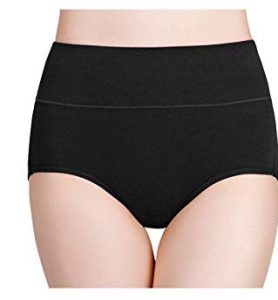 When a style of underwear has over 50,000 glowing reviews on Amazon, many of which mention the high comfort level of the underwear, you know they are worth trying out. The Wirarpa Women's High Waisted Cotton Underwear is such a style.
It is a wonderful full-coverage option that is made with 95% combed cotton that is known for being breathable, along with 5% spandex for a little bit of added stretch. They feature the all-important comfort features of being tag-free, along with a fabric-covered waistband that stays in place all day. This Wirarpa design comes in a 4-pack with various color options.
Most reviews indicate that these have an excellent full-coverage fit made with very soft cotton that is stretchy and fantastic in hot weather.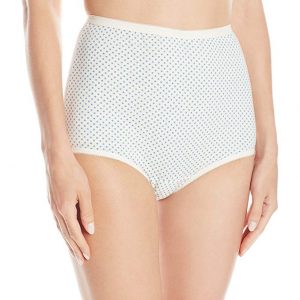 Vanity Fair Tailored Cotton Brief is 100% combed cotton. These are a somewhat granny style, but if you want full coverage, this style is one of the best. They fit well on most women and won't pinch at the waist since they have a soft elastic on the waistband and leg openings.
What you are getting with this underwear is a well-made product that uses high-quality fabric that is soft and won't pill. They are a high-rise style, so they will cover your belly button, and the coverage in both the front and the back is extensive. The great thing about this style is that they won't sag. Sagging can be a big issue with 100 percent cotton designs due to the nature of the fabric, but you don't have to worry about that with this Vanity Fair brief.
This panty comes in a few different patterns and colors, so you aren't stuck with only the basic colors. Overall these are an excellent option that is durable, affordable, and that wash and wear really well.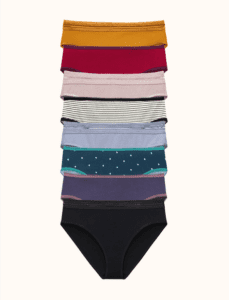 Thirdlove offers an Everyday Cotton that comes in XS, S, M, L, XL, 1X sizing, so it is easy to find a good fit for most body types.
What is cool about this undie is that comes in lots of fun colors and has great ratings. Thirdlove undies need to be hand washed and line dried, which is a bit of a pain, but it helps to keep the fabric in good shape for longer.
The Thirdlove underwear is known for being lightweight, flexible, breathable, and very, very comfortable. Reviewers mention that the bikini fits well and is true to size, which is essential for everyday wear.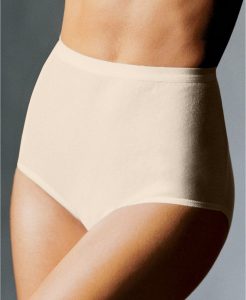 Back to the full coverage briefs, The Bali Full-Cut Brief is 90% cotton and 10% spandex blend. This style has a reputation for staying in place and having proper coverage, especially in the rear. They can be machine-washed and line dried.
The 10% spandex stops them from stretching out in the same way that 100% cotton options can and allow them to conform to the body in a flattering, seamless way. The elastic doesn't dig around the legs or waist but is strong enough to keep the underwear in place well, with no rolling and no riding up in the back.
For the most part, they are smooth under clothes, but if you are wearing something very tight, there may be a slight VPL.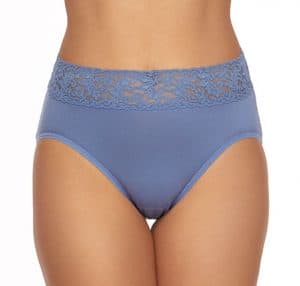 If you are a fan of the insanely popular Hanky Panky thong (if you are looking for 100 cotton undies, there is a good chance you aren't), you may want to check out the Hanky Panky Organic Cotton Brief. It is a pretty and comfortable panty that is flattering and has the soft stretch Hanky Panky lace that gives them a little bit of pretty detailing.
This style, unfortunately, only comes in four colors currently. Hanky Panky designs are known for their excellent fit and their durability, they wash well and are great everyday underwear. It is also worth mentioning that they are made in the USA from USA-grown Supima® cotton spandex.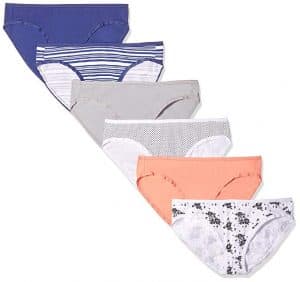 The Amazon Essentials Cotton Stretch Bikini is a popular budget style with over 25,000 five-star reviews on Amazon. They are inexpensive, working out to only a few dollars a pair since you buy them in a six-pack.
You can get them in a wide variety of colors, and the fabric blend is 95% cotton and 5% elastane, so they are comfy with a little bit of stretch. The waistband and leg open have a thin elastic that keeps the panties in place without being constricting or uncomfortable.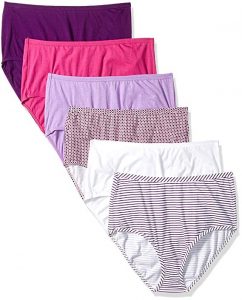 You can always count on Fruit of the Loom to provide some excellent budget undies that are functional and easy to wear. The 100% Cotton Fruit of the Loom Women's Underwear Cotton Brief Panty is a no-fuss, machine washable, non-binding, tag-free design that is super affordable. They are known for fitting true to size and giving lots of coverage in the front and the back.
These are a popular option for those who like to sleep in their undies since they are so light, soft, and the elastic isn't very tight that makes them perfect to wear to bed for the extreme comfort level they provide.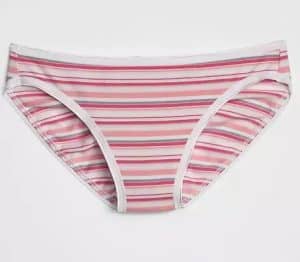 An excellent bikini style to check out is the Gap Women's Stretch Cotton Bikini. They are flattering, stay in place well, and have excellent stretch, so you don't get any binding.
Reviews are overwhelmingly positive, with very few having anything bad to say about these undies. Reviewers love that they fit true to size, the material is very high quality, and hold up well in the wash.
They have a moderate amount of coverage for a bikini and still look flattering. Best of all, they come in cute patterns and pretty colors.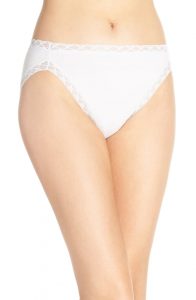 The Natori Foundations Bliss Cotton French Cut Brief is one of Nordstrom's best-selling panties. It is a pretty style with a fabric blend of 94% Pima cotton and 6% Lycra® spandex. The fabric is very soft and a little bit delicate, so it will need to be hand-washed to preserve the life of the undie.
This French brief is a flattering design that looks great on pretty much anyone. They are comfy to wear because the fabric is lightweight, silky, and breathable, making them great for warmer climates.
The other noteworthy feature of this design is that they don't cause visible panty lines because the edges lay flat. This brief has excellent coverage without being too matronly. It comes in several pretty colors plus the basic colors that you would expect in a panty. Refinery29 called this style the 'prettiest cotton' underwear in their round-up of best styles. Overall this is a great style that is made from fine quality cotton that does show through, won't bind, and are ultra-comfortable.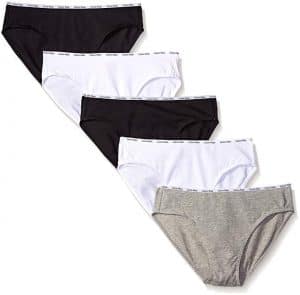 Calvin Klein is a reliable brand to get high-quality underwear, so it is no surprise they have some excellent cotton options. One of their best styles is the Women's Cotton Stretch Logo Bikini which is 95% cotton and 5% elastane. They can be machine washed and are relatively affordable since you can buy them in a five-pack.
They feature the famous CK logo waistband, which is known for being soft and comfy. They come in vibrant colors that hold up well to washing with no pilling or stretching out after a lot of use.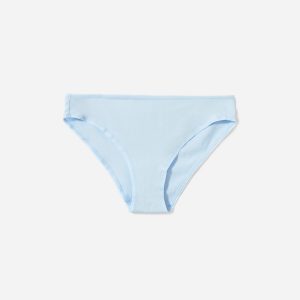 Everlane has a few different styles of undies that are almost all cotton. They make their undies with Supima cotton and a bit of spandex, so they are very soft and have a bit of stretch to them. The styles are very basic, with no frills or detailing with a few different color options. If you want a modern, simple style that is well-made and not overly expensive, then you may want to have a look at Everlane.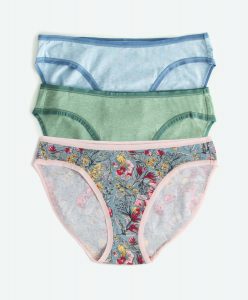 A great brand to check out for organic cotton underwear is PACT Apparel. Organic cotton is a great fabric to look for with many benefits, especially for something that is worn so close to your skin. They offer bikini, boy shorts, hipsters, and thongs, all in super soft organic cotton that are sustainably made. Most styles sell in multipacks, so they are affordable and are offered in sizes up to XXL. Some designs offer pretty patterns and different color options.
References:
1. Healthline.com
Read More: 7 Comfortable 100% Cotton Nightgowns That Are a Dream to Wear
What to Look for When Shopping for Cotton Underwear
You probably already have a pretty good idea what to just look for, but just in case, remember to keep in mind the following when shopping for cotton underwear:
Fabric quality: Look for cotton underwear made from high-quality, durable cotton that will stand up to repeated washings and wearings.
Comfort: Choose underwear that is soft and breathable, with a comfortable fit that stays in place throughout the day.
Style: Cotton underwear comes in a variety of styles, including briefs, bikinis, thongs, and boyshorts, although some styles are harder to find than others.
Coverage: Some women prefer full-coverage underwear, while others prefer something more minimal. Think about what you're most comfortable wearing and what will work best for your body type.
Color and design: While cotton underwear is often available in basic colors like white, black, and nude, you can also find them in a range of fun colors and prints.

Latest posts by Molly London
(see all)