May 25, 2017
16 of the Most Comfortable and Stylish Pumps and Heels
One of the most difficult shoe styles to get a comfortable fit is a women's dress pump, luckily shoe technology is improving year after year and now it is easier than ever to find a heel that you can wear for hours.  Since everyone's feet are different what you find comfortable isn't going to be the same as what your friends like. There are styles that come up over and over again as the best for fit and feel, especially if you are going to be on your feet all day. The following are the most popular and best brands if you are looking for a comfortable heel for any kind of budget.
Rockport Total Motion Pumps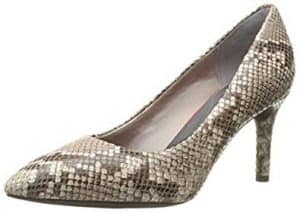 I personally love the Rockport Total Motion line of pumps, if you have a chance you should definitely try them on. To me they feel significantly more comfortable than most 3 inch heels in other brands. They have a comfort system that provides lightweight shock absorption; they also have a heel that has a foam-backed lining with a really flexible sole. The Total Motion line has a couple of comfortable pump options, with the most comfortable being the Rockport Women's Total Motion Pump Pointed Toe Pump (pictured).
If you prefer a lower heel, check out the Total Motion Kalila Pump with a 2 " heel. They come in a wide range of colors, the material is leather and you can get them in narrow, wide and extra wide shoes.
Price Range – $100 – $120
Everlane The Day Heel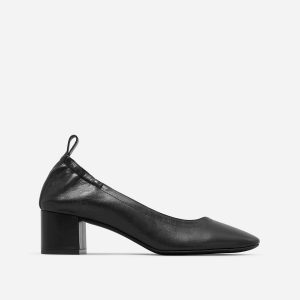 Everlane are known for there amazingly comfortable clothes, but they also have comfortable shoes that are great for the office. The Day Heel comes in ten different colors and is  made of 100% Italian leather. As you can see from the picture the heel is a block heel style, which is the most comfortable style of heel if you are on your feet all day. They have a definite ballet style look to them, but they are beyond comfy, especially if you are wearing them for long periods of time.
Calvin Klein Women's Gayle Pump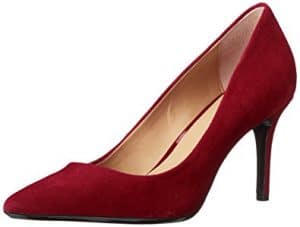 Calvin Klein Women's Gayle Pump is one of the more comfortable 3 inch heels that you are going to come across. Obviously the higher the heel the more difficult it is to maintain comfort levels, but the Gayle includes comfort gel pods that work really well to prevent your feet from getting sore. This pointed-toe pump with a sculpted heel design is great to go from day to night, since it falls on the fancier side of pump styles. This isn't a great design if you have wide feet, as it runs a little narrow. There is a metal Calvin Klein logo on the top back of the heel, so be aware of that if that isn't your kind of thing.  They really are a stylish looking shoe that manages somehow to remain comfortable for long periods of  time.  The Gayle comes in a huge variety of colors and fabric types.
Price Range – $90-$110
Comfort Plus by Predictions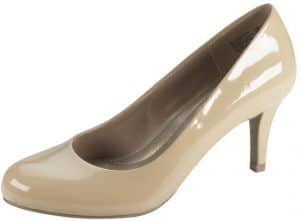 For those who want a comfortable budget option, your best bet is the Comfort Plus by Predictions line. Originally sold at Payless, but now also on Amazon, these shoes are renowned for their comfort level and low price. It's not often you get a cheap pair of shoes that also feels great to wear, but the Comfort Plus line is definitely an exception to the rule. The two most popular styles in the line are the rounded toe Karmen Pump (pictured) and the Janine Pointy Toe Pump. You can usually get them for less than $25 making them affordable for almost everyone. They have a soft jersey lining, memory foam insole, and a 3-inch heel. They come in half and wide sizes and they have a good amount of arch support. The shoes also have a good grip on the bottom and a flexible outsole that helps to make walking easier.
Price Range – $25-$35
Cole Haan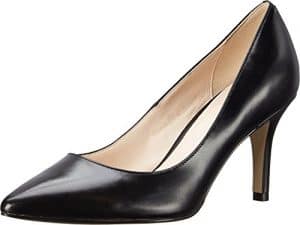 If you can afford it, the Juliana 75 Dress Pump from Cole Haan is a beautiful leather dress pump that is a great shoe for the office. Obviously they are a somewhat pricey, but the excellent quality and material make up for the price tag . The toe is a little pointy and tends to run narrow, so it isn't the best option if you have wide feet. The heel is around 3″ and the shoe contains something called Grand OS technology that is designed to reduce weight and mimic your foot's natural flexibility while at the same time providing a decent cushioning. Cole Haan shoes are known for being very comfortable and well made. If you like this style but would prefer a shorter heel there is a Juliana design that has a 45mm heel rather than the 75mm heel.
Price Range $110-$200
 Aerosoles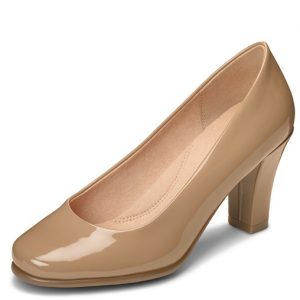 Aerosoles has so many popular comfortable pumps I had trouble choosing just one. Most of Aerosoles shoes have special comfort technology that includes a 'heel rest design', so the shoe is designed to distribute your weight onto your heel and not the ball of your foot. They also have flexible rubber composition soles and some of the designs have memory foam insoles.  If you like a higher heel one of Aerosoles best-selling styles is the Major Role (pictured). It has a 3 " covered heel with an angled toe. It comes in a few different color and fabric combinations, and you can get them in medium or wide widths. If you like the design but prefer a shorter heel, you can try the Shore Thing style that has a 2.25 " heel. If you need a pump and are purely motivated by comfort my favourite is the A2 by Aerosoles Women's Redwood Dress Pump, they aren't the most stylish but for my feet this is the most comfortable Aerosole style. The heel is only 2″ and they have memory foam.
Price Range – $50-$80
LifeStride Women's Parigi Pump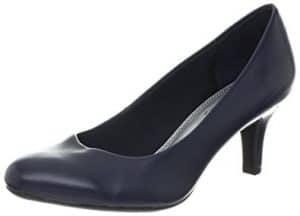 LifeStride is a brand that is all about comfort. The brands tag line is 'The intersection of comfort and style', so you know they are serious about making shoes that you can actually wear. LifeStride have a few different pumps, but one of their most popular is the Parigi Pump. This is a much loved and very reasonably priced round-toe pump that can be either casual, business, or formal. It is super comfy because it has high rebound foam insoles, highly flexible soles and is designed in a way that gives you great arch and foot support to help to make it super comfortable. The heel on the Parigi is 2.625 inches, so it has a bit of height to it, but it isn't so high that it makes it difficult to walk.  The other great thing about this design is that you can get it in narrow, medium or wide widths which is super helpful when you are trying to get the best fit. The upper material is either a faux leather or fabric, and it comes in 12 different colors. You will love the sole on this design because it has a traction rubber bottom with little anti-slip bumps that provide a fantastic grip and it isn't noisy when you walk on a hard flooring or tile.
Price Range- $40-$60
Clarks Brier Dolly Pumps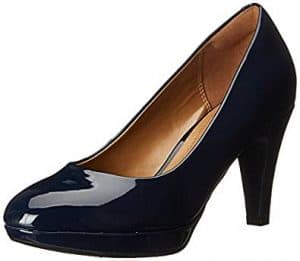 Clarks have a few really good options if you are looking for comfort pumps, one of their most popular styles is the Brier Dolly Pumps.  This is a shoe that is going to give you a lot of height, not only because of the height of the heel (3.25 " – one of the highest on our list), but because it also has a platform that is .75″ on the soles. Oddly, the platform thickness seems to lessen the feeling of the height, they feel more like you are wearing a lower heel so they manage to be decently comfortable for a lot of people.  The platform also makes them look quite stylish. They come in a wide array of colors and the material is either leather or a synthetic, depending on the color/style that you choose. Wearers of this shoe find it to have a very comfortable insole that works great for standing or walking for long periods.
Price Range – $70-$100
Stuart Weitzman Chicpump Pump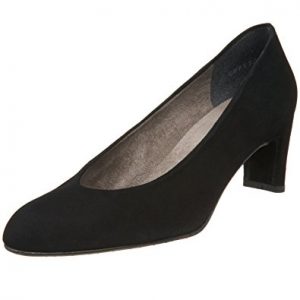 If you don't mind spending a bit of money on a high quality, professional, round toe heel a good one to check out is the Stuart Weitzman Chicpump Pump. The heel isn't too high, only 2.25″ so it is great for work and is stylish enough to transition to evening outings. It has a reputation for being comfortable, chic, and well fitting for most women's feet. Women who own this particular design mention that the patent leather or suede they are made of seems to be very good quality that molds to your feet. The shoe also has great support, especially if you are on your feet all day. They come in narrow, medium or wide and have an ultra-suede insole and a rubber sole.
Price Range – $350-$400
Corso Como Del Pump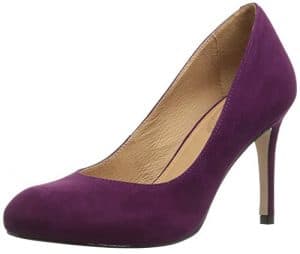 Corso Como is a comfort conscious brand that have built up a loyal following. They are an Italian company that is focused on designing fashion forward shoes that are also luxuriously comfortable. They are also a brand that is commitment to social-environmental best-practices in their shoe factories that are located in Brazil where the shoes are hand assembled. The Corso Como Del is a fantastic pump that does manage to be super stylish and comfortable at the same time despite its 3.5 " heel. It is hard to see in the picture but the Del is designed to have a more round toe area, which is often one of the most painful areas when wearing a high heel. The Del also has a really nice, leather padded footbed that has extra foam and a gel pod in the heel. It comes in a lot of very pretty colors as well.
Price – $99
Michael Kors Flex Mid Pump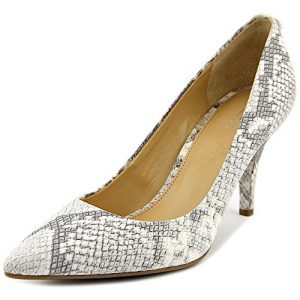 The Michael Kors Flex Mid Pump is another really good 3″ heel that is reported to be one of the most comfortable heels around. If you go to a downtown business area on any weekday you will see lots of ladies wearing this pump. This style has a distinctive metallic button at the heel that says Michael Kors. It is a classic pointed toe design that makes this a chic style for the office or for a night out. The height of the heel is stylish, yet isn't too high to be uncomfortable. Many women find the fit and the feel of this style to be very comfortable due to the memory foam insoles.  The Flex Mid Pump also has built-in non-skid bottoms to help prevent slipping. The fit is a little bit narrow, so this is not the best choice if you have wide feet.
Price Range- $80-$120
Sofft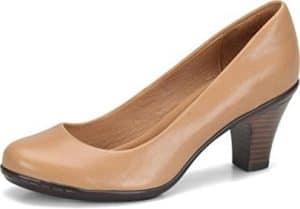 Sofft Shoes is another European shoe company that is focused on creating shoes that are both fashionable and that contain the latest in comfort technology. They are known for their wearable heel heights that come in a wide range of sizes and widths for all levels of comfort. They are also known for their luxurious comfort padded footbeds. Their Velma design is their most popular work pump. It has a fairly low 2.5 "  heel, and comes in a few nice, slightly different color options.
Price Range-  $80-$120
Franco Sarto Aziza
Block heels are considered by many to be more comfortable than a regular heel. A great choice if you are looking for a block heel is the Franco Sarto Aziza. This style comes in leather, suede, or patent upper. It has a very classic silhouette with a 2 and 3/4 inch block heel. This is a style that works well with either pants or a skirt. Despite being kind of a bulky looking shoe, they are very lightweight and easy to walk if you have the correct size and fit.
Price Range $90-$120
Nine West Margo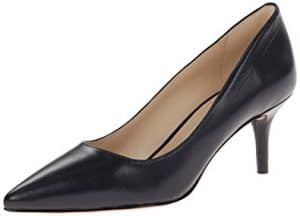 I personally don't find Nine West shoes to be particularly comfortable for my feet, but many women have had a good experience with the Nine West Margo design. It is a classic pointed toe style, that is often best suited for those with medium to narrow feet. The heel on the Margo is only 2.5 ", so it isn't so high that it will make your feet hurt. The Margo is one of Nine West's most popular styles, so it comes in a number of different colors and hard to find sizes. It works well with business attire or more casual outfits.
Price Range – $80-$110
Vince Camuto Women's Kain Dress Pump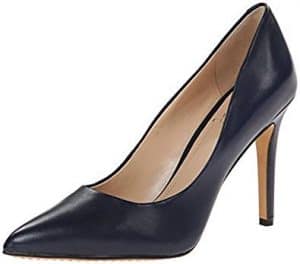 The Vince Camuto Women's Kain Dress Pump has the highest heel on our list at 4″. Generally if you are looking for comfortable footwear, a 4″ heel isn't going to be your first choice.  I haven't personally tried this shoe as there is no way I'm getting into a 4″ heel, but women who own this shoe swear that it is comfortable. Vincent Camuto pumps are known for being comfortable mainly due to their padded footbed. They also have a rubber sole so don't have to worry about slippery floors. Although the heel height is 4 inches, many women say that they are easy to walk in.
Price Range – $100- $120
Naturalizer Women's Michelle Dress Pump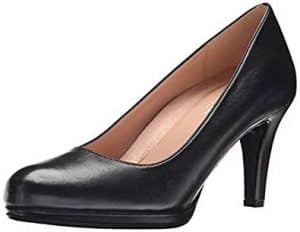 The Naturalizer Women's Michelle Dress Pump is another best-selling comfortable heel that you can find all over the place. Naturalizers are typically very comfortable, but when I was trying out the Michelle they seemed to fit kind of tight especially around the toe area, so I didn't find them all that comfortable but I did like the style of them. Since everyone's feet are different there are a lot of people who do find this style to be very comfortable though. The heel is 3″ and the platform is approximately 0.5 inches, some people find that the platform height minimizes the heel height making the shoe more comfortable to wear.
Price Range – $60-$90
AK Anne Klein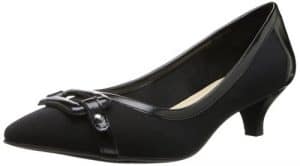 If you are looking for something comfortable that is a little different, have a look at the AK Anne Klein Women's Melanie Fabric Dress Pump. This is cute kitten heel with a buckle style on the front. The lower the heel the more comfortable shoes tend to be and by all accounts the Melanie is a classic looking, low heel (1.75") that works great as an everyday office heel. This is a good style if you are used to flats, but are looking for something a little different but not too drastic.
Price Range- $60-$100
What to Look for in a Great Pump
Material– Leather or suede are great materials for comfort in a shoe, unfortunately leather is also more expensive than synthetic materials. The better quality the leather the more you will pay. Leather is good because it will be able to conform to your feet in a way that a synthetic materials will not. Leather shoes also tend to last longer.
Sizing and Fit– The single most important aspect of finding a comfortable shoe is getting the right size and right fit. Obviously it is best to try shoes on before buying, since shoe sizes are not standard across different brands. Take your time trying different shoes on, make sure you walk around, if a style doesn't feel comfortable then don't buy it.  It is always odd to me to see women walking around in shoes that are clearing too big for them; this is especially obvious when wearing heels. When you get the right fit your will most likely have the most comfortable shoe for you.
Padding– Comfort technology is improving all the time, there are new and innovative ways to provide padding that didn't exist ten years ago. Look for memory foam, high density foam, gel pods, or any other type of padding that will go a long way to making the shoe feel much nicer to wear for long periods.
Height of the Heel -The higher the heel the less comfortable any shoe is going to be. If you will be on your feet all day, a kitten heel is the best option as it will be the most comfortable. If you don't like kitten heels, a 2″ or 3″ heel may also be fine for a lot of women depending on the brand. If you absolutely must have a 4″ heel, the most comfortable will be those that have platforms. A platform shoe will lessen the feeling of the 4″ and make it feel more like 3″.
Heel style -Another interesting thing to think about when looking for shoes that will feel the best to wear is the style of the heel. Wedges and block heel are more comfortable than heels that have a very thin width.
Colors – All of the pumps that we listed above are very popular and come in a wide range of colors. You should be able to find most styles at your local stores (obviously depending on where you live) in black and maybe beige, since it is so popular these days. If you are looking for a less common color try online, as the color selection tends to be much better.
Price– For the most part to get a comfortable shoe you need to invest a bit of money. Comfort often (not always) goes up with the amount that you are willing to spend.  A great exception to this is the Comfort Plus by Predictions line that offers very comfortable pumps for around the $25 mark. Generally if you want a good quality, leather, padded shoe that will last, expect to pay at least $80-$100.
Width– If you have a wide or a narrow foot, it can be especially difficult to find a great fitting shoe. Some of the most popular styles do not come in narrow or wide. If your foot is narrow, a lot of people really like Calvin Klein, Vince Camuto or Nine West pumps. If your foot is wide you may want to try LifeStride, Aerosole, Rockport or Stuart Weitzman.
Toe Box – If your feet are wide (especially in the toe area) you should also pay attention the style and the size of the toe box on the shoe. Some styles (often pointy toe designs) can be very uncomfortable in the toe area because the toes end up being squished into the toe box.
To get the most out of your pumps
Break-in Period– Hardly any pumps are going to be comfortable to wear right out of the box. At the very least when you first get your shoes, wear them around your house for short periods for a few days. If you are planning on wearing them to work you should probably wear them for a few hours and bring another pair of shoes to change into. It is unrealistic to expect to wear a pair of pumps without breaking them in a little bit.
Other products that can help with comfort– If you do invest in shoes that you are finding to be less than fun to wear, there are a few options that you can try to help with different types of problems you may having. Foot Petals and Dr.Scholls have a whole range of different types of cushioning and pads that you can insert into your heels for added comfort as well as to prevent slipping and sliding out of your heel. You can also get a lot of other contoured foam high heel inserts that can make a huge difference. If your heel is slipping out of the shoe, you may need to get some inexpensive heel grips.
High Arches– If you have high arches it is difficult to find pumps that can support your feet. You may find that it really limits the brands and types of styles you can get, so you may want to invest in some extra arch support product like these from Dr.Scholls. These types of inserts allow you to shop different brands without having to worry about the amount of arch support a particular shoe has.