The Most Comfortable Men's Travel Pants for Every Budget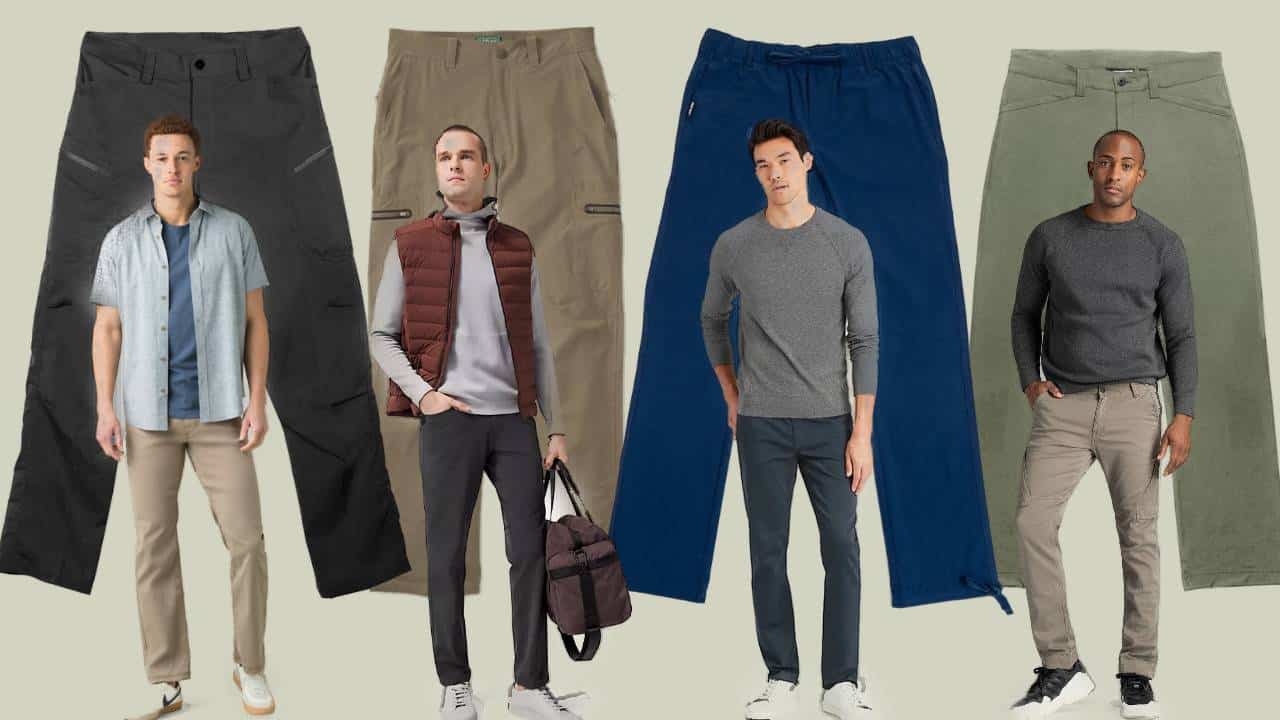 The best travel pants are stretchy, durable, and comfortable enough to wear on long, unpredictable days on the road. They can be dressed up or down, and they are easy to get more use out of than an average pair of trousers.
Depending on the type of travel you do, most men are looking for designs that are versatile yet functional options that can adapt to whatever activities you find yourself doing.
There is a lot of dispute about which are the most comfortable travel pants for men, but the following designs are all considered some of the best options. This is a fairly extensive list, so take a browse through it as there is definitely a style, brand, and price point for everyone.
Read More: 11 Tips for Staying Comfortable When Flying
What to look for:
Stretch– If you are looking for comfort, you are going to want to get a style that has some stretch to the fabric that makes the design more comfortable to move in.
Versatile– If you are only taking only one or two pairs of pants on a trip, you want the design to be adaptable enough to do a hike in the morning and to wear out to dinner in the evening. A lot of the most popular choices these days are designs that you can wear for everything, including not looking out of place in a business environment.
Pockets-Pockets are a pretty important feature in any travel outfit. If you like a lot of pockets, you may want to consider cargo styles. If you use your pockets a lot, you will want to ensure you get styles with deep pockets. You may also want zippers on your pockets to store your phone or passport securely.
Dries fast/Water repellent– A quick-dry fabric is great to help you adapt to different weather conditions, but it is also useful to let you wash your clothes in the sink at night and then leave them to dry overnight, so you have something clean to wear in the morning
Breathable -Many of the travel choices are pretty high tech materials- a lot of which are synthetic. Often synthetic material can be quite stifling and uncomfortable if you are in hot conditions or you are physically exerting yourself.   If you are vacationing in tropical climates, ensure you look for styles that have breathable, lightweight fabrics.
Easily packable– A key feature on any item that is made specifically for travel is that it is easy to pack and doesn't take up much room.  Apart from taking up only a small amount of space in luggage, good pants should not be wrinkled when you unpack, or if they are wrinkled, then they should release the wrinkles quickly.
Convertible – Some of the designs come in convertible or non-convertible styles. That means that you can remove part of the leg to turn the pant into shorts. A few styles that have convertible options are Prana's Zion, Columbia Men's Silver Ridge Convertible Pant, and Carhartt Men's Force Extremes Convertible Pant.
Reflective Elements -Depending on the type of activities you do when you are away from home, a nice to have feature is integrated reflective elements that tuck away when not needed, but offer a reflective strip for increased visibility if you are out at night.