The Most Comfortable Women's Cashmere Sweaters for Every Budget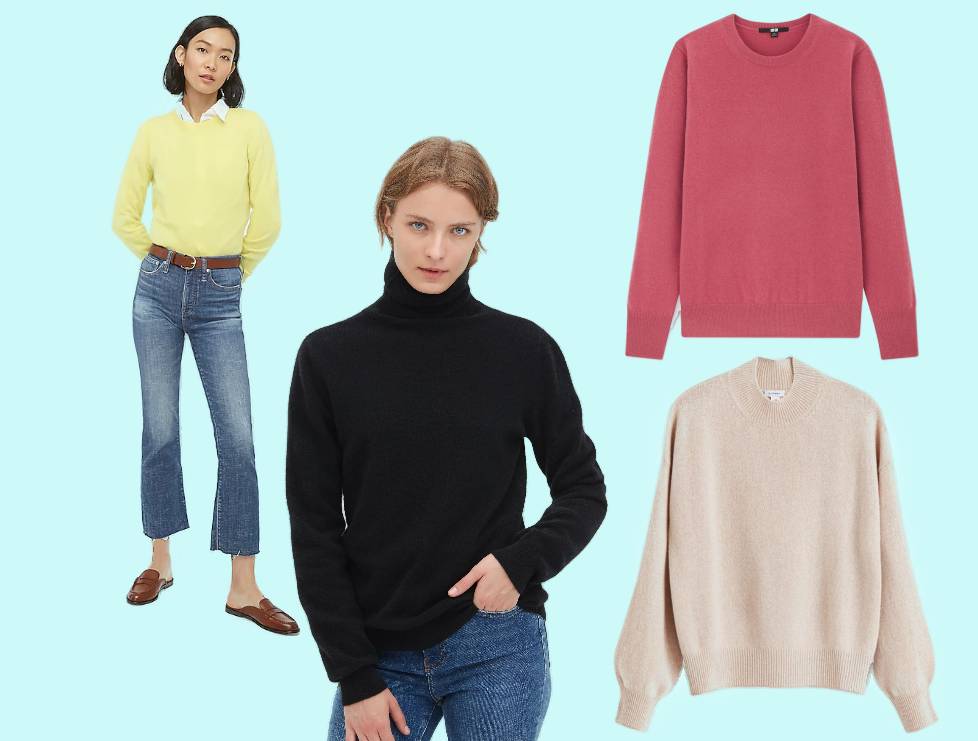 From turtlenecks to the classic crew and v-neck styles, we have rounded up the most comfortable cashmere sweaters for women. No matter your budget, we have found the greatest places to get good quality, super comfy, warm cashmere pullovers for women.
This wonderful yarn is three times warmer than wool, making it a closet staple for many women, especially in the long cold days of winter. Luxurious cashmere wool is the softest that you can get, making a perfect chic yet practical layering piece.
It has also become much more affordable over the last few years, with good quality low-cost options available at many retailers. Just keep scrolling to find out the best women's cashmere sweaters that would make a lovely addition to your wardrobe.
What to Look for:
It wasn't that long ago that cashmere garments were regarded as the ultimate luxury; times have changed, and there are now many options in the $100 range.
Since there are so many cashmere pullovers available these days, it can be a little bit difficult to know where to start. Generally, there are a few different indicators of quality when shopping for this luxurious yarn. The following are a few things you should be aware of.
Price
You can pay anywhere from about $60 to about $2000 on a cashmere sweater. The difference between the different price points stems from a few different things. Where the yarn was sourced, where it was processed or manufactured, and brand-specific factors like markup and the number of units that are made all affect price.
Fibers
If you are trying to get the best quality for your budget, you will also want to look at the type of fibers that the product is made from.
Less expensive cashmere uses short-staple fibers that are more likely to pill and that are less durable. They can feel soft but generally won't feel quite as smooth as higher-end brands and won't last as long.
Most higher-end brands use long-staple fiber that is rarer and more expensive that are known for being softer and more durable.
Yarn- Higher-end brands typically use 2 or 3 ply yarn for softness, durability, and warmth.
Feel- Pure cashmere is one of the softest fibers in the world. If well cared for, it can get softer over time.
Pilling
Pilling can happen to all cashmere fabrics but is more likely on the less expensive options that use the short fibers. If you are worried about pilling, you can look for brands that use long fibers, and if you do have pilling, you can use a cashmere comb to fix the problem.
100% Pure
People can get a bit confused by the 100% pure cashmere label. There is a 'Wool Products Labeling Act' that ensure only pure cashmere can be labeled 100% pure. Where it gets tricky is whether the brand has used the less durable shorter staple fibers or the rarer long-staple fiber that is more expensive. A $100 cashmere sweater made from the shorter fibers isn't going to have the same quality, durability, or softness as a $300 or $500+ design that uses long fibers.
Care
You will want to check the label whether your sweater can be hand washed or will need to be dry cleaned. Hand washing is generally the preferred method. You may also want to invest in a comb to de-pill your clothes occasionally.
Brands
With the abundance of low-cost cashmere available these days, you will want to ensure that you buy from a retailer that you trust the quality and materials they use. The cashmere market does have many fake or misleading claims, mainly when dealing with blends.
Source
You will want to look into where your cashmere is sourced from.  Mongolia is generally considered to have the best goats, with other significant producers being China, Iran, Afghanistan, Kazakhstan, Kyrgyzstan, Pakistan, and Turkey. Most of the world's cashmere comes from China.
Read more: The Most Comfortable Men's Cashmere Sweaters