The Most Comfortable Bermuda Shorts for Women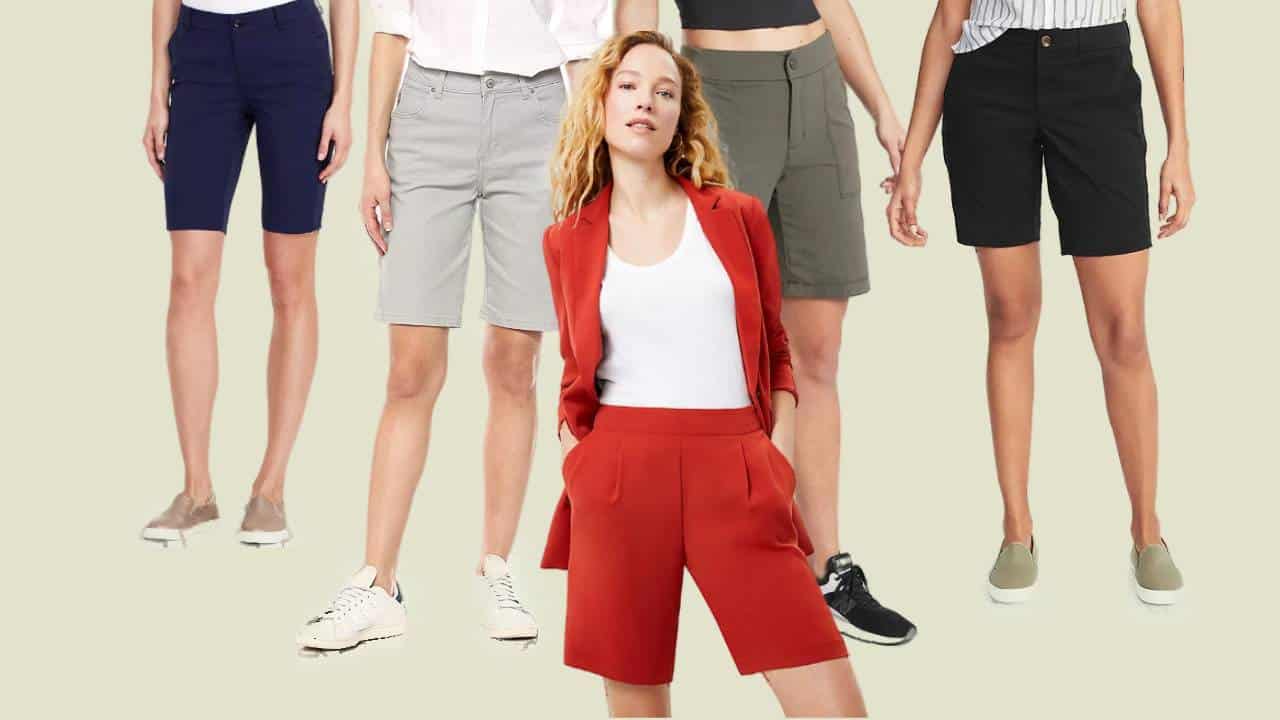 Bermuda shorts are an excellent option to help women stay cool while also giving a little extra coverage. They are generally relatively casual and are great for travel, walking, or everyday wear in the summer, but some options are stylish enough to wear in business casual offices.  The inseam length of a Bermuda can run from 9″ to 12″ and is usually knee-length.
What is excellent about longer shorts is that they can often be dressed up or down, depending on the occasion, even if it is a casual style. Thankfully knee-length designs are becoming trendy, and many of today's best Bermuda shorts have flattering, high-rise waists and comfy fits. We have chosen a few of the most comfortable Bermuda shorts for women who want the best styles, so read on to find out more.
Read More: 7 of the Best Women's Denim Bermuda Shorts
What to Look For:
Bermuda shorts are a great option if you don't want to show too much leg, but you would like to stay cool and comfortable in the heat. Finding the perfect short is relatively easy, especially since they have come back into fashion over the last few years, but if you aren't sure where to start considering some of the following:
Material– As far as comfort goes, especially for items of clothing that are generally intended to be worn in the warmer months, the weight of the fabric and the fabric blend is pretty essential when finding the right style. Cotton is a classic material for shorts that has been improved with the addition of stretchy fabrics like spandex and elastane to give them a little bit of stretch. You will have to find the right weight of materials for your comfort level. Thinner fabrics will be more cooling, but your underwear may show through if it is too thin. If you get a thick cotton twill option, you may find they are a little too hot for whatever activities you may be doing.
Pull-on or Zipper– If you need something that is easy to get on and off, there are quite a few excellent pull-on styles, including the Women's Croft & Barrow® design, The Gracie from Jag Jeans, or Hanes Women's French Terry option listed above. The only downside to pull on styles is that you won't be able to wear a belt with them to get that perfect fit.
Inseam length– The length of Bermuda's can go from about 9 inches to about 13, with the most popular styles being about 10 inches. Where the hem will fall on you will depend on your height and the length of your legs. Some manufacturers change the length slightly depending on the size you get, so if you are particular about where you want your hem to fall, you will want to pay close attention to the inseam length.
Color– Most of the colors you will see are relatively standard: black, tan, navy, or grey. If you like something a little more colorful, you could try Talbots or Gap as they often offer more vibrant colors.
Pockets– Pockets are fantastic for storing your phone or keys, but they can add extra bulk and change the fit in a way that you may not like. Some choices have fake pockets or no pockets at all, but generally, you will find at least front slant pockets on most Bermuda designs.
Fit– It is also a good idea to pay attention to the description of the fit, especially if you are ordering online. Brands will say whether the design is loose-fitting or more of a close fit. You will also want to pay attention to the rise. Since the high-rise waist is more stylish these days, that is sort of turning into the new normal on many of the most popular choices.