Let's Talk about the Different Types of Denim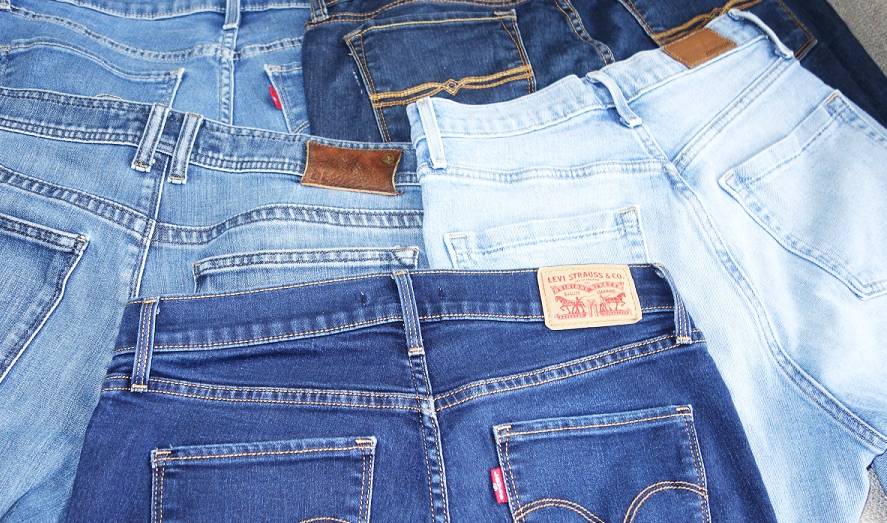 Finding jeans that have the best quality, most comfortable fabric can be challenging these days, not because there is a lack of great choices available, but quite the oppose. There are so many different types of denim available it is hard to know what exactly to look for when finding that perfect pair of jeans. Whether you are looking for stretch, nonstretch/regular, or rigid denim, we have put together what you need to know about the difference in denim fabrications that you will see in the most popular jeans styles.
Denim traditionally refers to a 100% cotton twill weave that is is generally rugged and super durable. Modern "denim" can now refer to jeans that have less than 50% cotton in the blend and even have a different weave than the classic twill.
Read on for a breakdown of some of the different types of denim you will come across and some of the things to look out for with each fabrication.
What are the Most Popular Types of Denim for jeans?
Stretch Denim
Due to the skinny leg and slim fit styles that have dominated the jean market over the last 10-15 years, it was pretty tough to find jeans that didn't have some amount of stretch material in them.
Stretch jeans are made from denim blends of cotton with a small amount (usually 1% to 3%) of elastane like Spandex or Lycra. Elastane is just a synthetic fiber that is very stretchy and allows the fabric to move with your body and recover well after stretching out.
Stretch denim works best for tight, body-hugging designs like skinny jeans and slimmer cuts.  If you are shopping for stretch jean you will generally see the following fabric blends:
99% cotton and 1% Elastane (either Spandex or Lycra)-Having only 1% stretch material in the blend will give the jeans a little bit of give and make them comfortable to move around as long as the fit of the jeans is relatively comfy to the wearer.
98% cotton and 2% Elastane (either Spandex or Lycra)- Jeans with 98% cotton and 2% elastane are one of the best styles to get if you want a little room to move around but not so much stretch that they may stretch out too much and become baggy
97% or less cotton with 3% Elastane (either Spandex or Lycra)- If you are getting a form-fitting style but want to stay comfy this is probably the most popular fabrication blend in terms of comfort.
4 Way Stretch Denim
Four-way stretch means the fabric stretches and recovers in both directions (width and length). Fabrics using nylon or Lycra are often four-way stretch fabric.  4-way stretch fabric is usually very soft and a favorite for people who love the look of jeans but not the feel of classic denim.
Super Stretch
Super stretch jeans may be defined as jeans that have 30% or more stretch fabric in the fabric blend. These types of fabrications have a large amount of stretch and softness. In some cases, they may get baggy as the day wears on because they have too much stretch in them, but it varies on what is used in the blend and quality of the garment.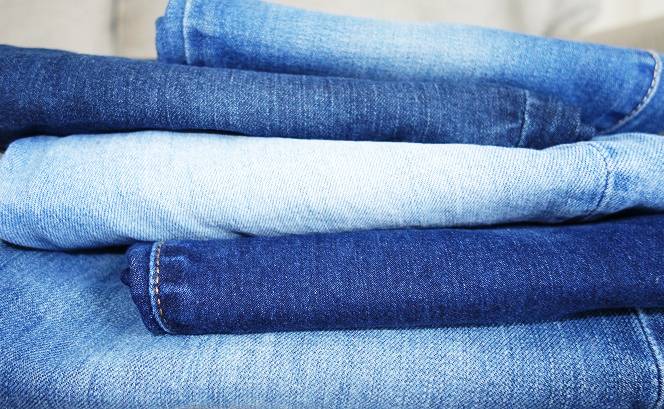 100% Cotton
Traditional denim is 100% cotton, which means that it doesn't have the artificial stretch added to the fabrication to make them easier to move around it. 100% cotton options will stretch out a bit and mold to your body as you wear them and break them in, but they definitely do not have that instant stretch that the current blends with elastane or spandex have. 100% cotton jeans will be more durable than flexible styles and will last longer.
Rigid
Ridgid denim is another term for 100% cotton denim, with the caveat that the denim is raw and unwashed. You need to be a little bit patient with rigid styles because they will mold your body's shape, but it takes time. The term 'rigid' is a little misleading as doesn't necessarily mean that the fabric will be super stiff.  It could just be that it is heavy-weight denim that will soften up with wear.
Raw
Like rigid, raw is just a term used to describe denim that hasn't been washed, processed, or treated before it is sold to the consumer; it is also called unsanforized denim. Generally, shoppers wear raw denim for six months to a year without washing to make sure it forms to the wearer's body. It is often stiff at first with a dark, blue color without any fading or manipulation.
 Selvedge
Selvedge denim is produced so the fabric's edge has tightly woven bands that run down each side. The bands prevent fraying and this type of denim is generally considered higher quality, more durable, and more rigid than regular denim because of the dense weave.
Selvedge jeans are usually worn rolled so you can see the edges of the outseam.
Organic Denim
Denim is one of the worst offenders regarding sustainability and impact that its production has on the environment. It takes hundreds of gallons of water to produce one pair of jeans and huge amounts of pesticides, fertilizer, and energy to grow cotton. To lessen the impact, some brands offer organic denim options that have been produced sustainably and ethically and are safe for consumers. Organic cotton that is turned into denim is grown without chemical and is GOTS certified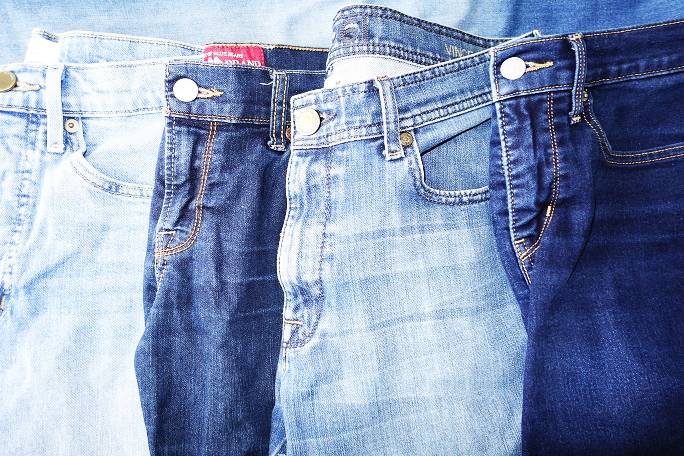 Fabric Weight
When shopping for jeans, it is also a good idea to pay attention to the fabric's weight.  Denim with a lower weight may be more comfortable and easier to wear than a heavier weight, which will be more durable and longer-lasting. Some brands don't list the weight, but it is worth knowing if you are ordering online so you have a better idea of what you are buying.
Lightweight Denim
Lightweight denim usually weighs less than 12 oz. and is soft, comfortable, and easy to break-in. It is a great choice for warmer weather or you just want a lighter touch with your jeans.
Midweight Denim
Most jeans are made from mid-weight denim that falls into the range of about 12-16 oz. It is a good option for jeans that you will be able to wear year-round in most climates.
Heavyweight Denim
Heavyweight denim, also known as Bull Denim, is usually above 16 oz. making it durable, heavy and is often used for purposes that require a solid fabric like home decor, although you can get jeans that are heavyweight.
Interested in some of the most comfortable jeans around? Check out our posts:

Latest posts by Molly London
(see all)