February 18, 2020
The Most Comfortable Women's Skinny Jeans for all Budgets
Skinny jeans aren't by their very nature all that comfortable, although there are a few styles that are exceptions to the rule and are remarkable comfy despite being a close fit. The best selling, most comfortable skinnies are those styles that have a little bit of stretch and are made with a soft fabric. You also need to get a good fit, so they feel good to wear. We have researched all the brands and found the best places to get the best fitting, most popular, and (most importantly) most comfortable skinny jeans.
AE Skinny Denim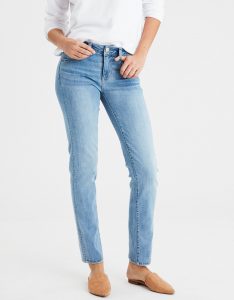 American Eagle has some of the best quality and most comfortable designs going. Their styles change slightly with different lengths and colors year to year, but their fundamental design remains very comfy. One of their best skinny options is the AE High Waisted line. They are affordable, have a fantastic fit on most body types, and can last for years. Because of the stretch of the fabric, you can get a nice snug fit without them feeling tight. The key to AE comfort is that they make their pants with material that is stretchy and soft but still looks like traditional denim. They also still feel like regular pants and not leggings, partly because most of the styles are slightly loose around the ankles, unlike a jegging. The AE skinny comes in different length options for short, regular, long, and extra long. They will fit nicely on most body types. Overall this is a great style to check out as they are durable, feel great, and look good.
Available from AE.com
Old Navy Rockstar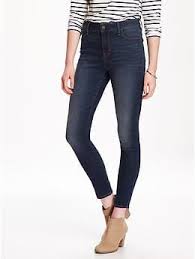 The Old Navy Rockstar line is an excellent option if you are looking for a skinny jean that is also inexpensive. The Rockstar is so famous that the line is available in high, mid or low rise and come in a tonne of colors and different lengths. They also sell a Rockstar Jegging that is pretty popular for many comfort loving women that I know. The feel of the fabric varies quite a bit across the different colors and styles of Rockstar, but they do all seem to have a significant amount of stretch in the material for most of the Rockstar styles. Stretch is essential so that you get the skinny look, but you don't feel that the pant is too confining or challenging to move around in. What is terrific about the Rockstar is that they are so inexpensive that you can get multiple pairs in different colors and lengths, and not have to worry about the cost because they are often on sale. They're a super flattering fit that you can dress them up or down, depending on the style and color you choose.
Available from Old Navy
H&M+ Shaping Skinny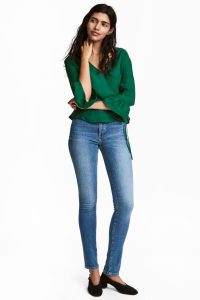 If you are looking for a shaping jean that is also comfortable, the H&M range of shaping skinny styles are well worth a look. What is nice about the H&M options is that they are primarily made from soft cotton that hugs all your curves. The denim includes a little bit of elastomultiester and spandex, so you have stretch, but they are still able to retain their shape. The most popular of the H&M styles has five pockets and comes in three different colors — dark denim, blue denim, and black. The shaping feature of the pant means that it will hold and shape the tummy, thighs, and back, but not in such a way that it is uncomfortable. The ankle has a little bit of space at the opening and isn't skin tight. They come high, regular, or low cut, and you can get them for around $50 a pair.
Available from H&M
Madewell High Rise Skinny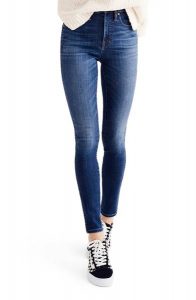 For those of you who are looking for a designer brand, one of the best places to start is with Madewell. Their high rise skinnies are off the charts for comfort and fit. They will make your legs look longer and will shape your body in a way that you will love. The comfort of the premium denim on the Madewell Skinnies feels like leggings, so you can wear them all day long and still be comfortable. The Madewell High Rise Skinny is made from super soft, dark rinsed cotton denim that has strategic shadow creases and fading, so they look like regular denim material, but you don't have the heaviness or the bulk of the thick fabric. Despite its softness, the material remains flexible and can hold its shape. This style is a high rise, so you can move around in them effortlessly and bend over without any worry of showing any skin that you don't want to be exposed in the back. Sometimes high waisted pants can feel constricting when you are sitting, but this Madewell style doesn't have that problem.
Available from Nordstrom
Gap Stretch True Skinny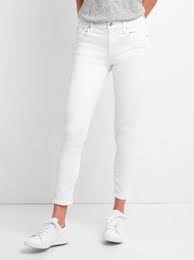 An always reliable place to get jeans is Gap, and their 1969 True Skinny is, as you would expect, a comfortable, versatile style that is great for most body types. They come in a high rise and original, and you can get them in a variety of colors. Women who love this style say that they're super flattering, fit true to size and that they like the stretchy fabric and detailed stitching.
Available from Gap
Topshop Joni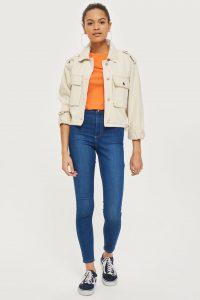 Topshop's skinnies have a large and loyal following. Their two most popular styles are the Joni and the Jamie. Both are modern, comfortable, and form-fitting. The Jamie's style feels more like classic denim than the Joni. Jamie has pockets and is made of denim that has a little bit of stretch. The Jamie doesn't stretch out and is overall pretty sturdy. The Jamie is probably a little more durable than the Joni.
The Joni is also a great option that is stretchy, super soft, and comfortable. They use a different material on the Joni, so they are more stretchy and form-fitting than the Jamie. They also don't have pockets, are ultra skinny and ultra high rise.  They are very close to being a jegging but are still generally considered a jean. The high-elastane means that they can hold you in and hug your curves in a flattering way, and shouldn't stretch out over time. You can get the Joni in all kinds of colors, styles, and lengths. The only downside to the Joni is that they aren't the most durable pants if you are wearing them regularly.
Alina Colored Stretch Skinny from NYDJ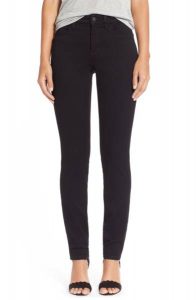 Another designer style that is high quality and has a legging-like fit and feel are the Alina Colored Stretch Skinny from NYDJ. They are made with a lovely black stretch material that makes them a great option if you are looking for a black fitted pant.  They do have quite a bit of stretch, so it is recommended that you size down with this style. The fabric is such that it is thick enough that you can wear them in the winter and still feel warm but without the bulk of regular denim material. They are also the trendy high rise design, so they have good coverage over the tummy and at the back.  A problem that you can run into with a black pant (or most black clothing) is that the color will fade quite a bit after washing, luckily the Alina, by most accounts, can hold its color wash after wash as long as you following the washing instructions.
Available from NYDJ.com
Style & Co Curvy-Fit Skinny Jeans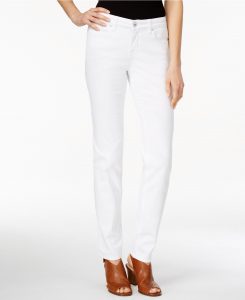 A skinny style that is popular for a curvy fit is the Style & Co Curvy-Fit Skinny Jeans. It has a fitted look to it, but the leg isn't skin tight. It is reportedly super comfortable, soft and should fit well with curves without adding bulk. They are also said to be very flexible so that you can move around in them quickly, even bending over shouldn't cause most women any trouble with this style. It comes in 6 beautiful colors that wash well and will hold their shape as you go throughout your day. The fit is said to be slimming for most body types, and they are inexpensive, especially if you can catch them on sale.
Available from Macy's
AG Legging Ankle Jeans with Raw Hem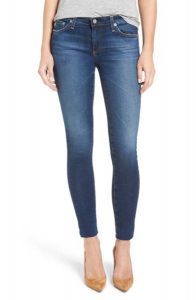 AG Legging Ankle Jeans are a nice pair of dark-blue wash cut with a very skinny fit. They have trendy raw hems and are a low rise design. It is a very fashionable and flattering fit if you love a skin-tight look and feel to your skinnies. The fit is a little tighter than some of the other options on this list, so you won't get the baggy look of the fabric like some leggings with stretch can cause. The raw hem is surprisingly clean and edgy looking, and they are also a great color with a little bit of fading to give them a slightly distressed look. A lot of women say they are as comfortable as wearing leggings because of the soft, stretchy fabric, which is why they have the name that they do. AG pants also generally wash well and don't get baggy after a few wears.
Available from Bloomingdales.com
Butter Denim at Avenue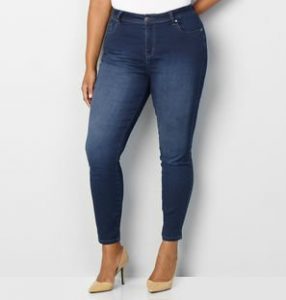 A favorite skinny brand for curvy figures is Butter Denim Jeans. They are made with extremely high-quality denim that feels super soft and stretchy without being skin tight. The high-quality fabric is said to be very durable, so you should get many years wear out of this brand. This mid-rise style comes in a variety of pretty, flattering colors. The design features a zipper and button closure with belt loops. It has no functioning pockets at the front, but there are two pockets at the back (pockets tend to add unnecessary bulk).  The fabric is a blend of cotton, polyester, and spandex.
Available from Avenue
Articles of Society Sarah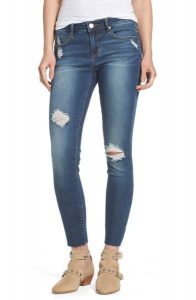 Articles of Society have a reputation for making comfortable pants. If you love a low rise style, then the Sarah Skinny Jeans are worth checking out.  They are both soft and comfortable, and they don't stretch out much as you go about your day  They have nicely done trendy distressed detailing, and the raw edge hem at the bottom makes it easy to trim them a little shorter if they are too long. These are an excellent option for anyone who craves a designer fit with a relatively affordable price tag.
Find them from Nordstrom 
Levi's Skinny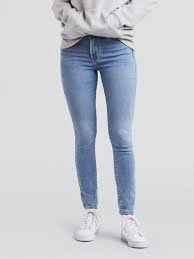 Levi's have a few different skinny jean options in their 700 and Signature Series. The skinny series has styles that are updated and more modern than what you may associate with Levi's. They are made with stretch denim and that are designed to flatter, hold, and lift. You can get skinny, super skinny, and sculpting skinny for all body types. There are lots of options for different rises, including a high rise in both ankle and regular lengths. The fit of most of Levi's skinnies is pretty snug; most styles seem to be particularly fitted at the ankle. The ones I tried on had a beautiful stretch to the material and weren't uncomfortable at all. Levi's skinny jeans feel and look like you are wearing jeans, not leggings, but are still very soft and comfy without feeling too stretchy.
Available from Amazon
What to Look For:
Colors– You can get jeans in a while range of colors, with various washes. Some brands, like Old Navy, often offer their jeans in vibrant color options that go with the season.
Fabric Weight– Another aspect to consider is what type of weather you will be wearing the jeans in. If it is colder weather, look for more substantial material, or if you are wearing the pant in warmer climates or warmer months, ensure the fabric is lightweight.
Sizing– You can get skinnies in pretty much all ranges of sizes. If you are looking for extended sizing, check out Butter Denim at Avenue, or American Eagle is now offering sizes from 00-24.
Stretch– The key to comfort in a skinny pant is to have a stretchy fabric. Some people don't like the stretchy fabrics and prefer the harder feel of more traditional denim, but in a tight-fitting design stretch is the way to go.
Rise– These days the most common rise is mid to high. If you are a fan of the low rise, they are a bit harder to find, although many brands offer various rise levels, so there is something for everyone.