13 Women's Travel Pants to Keep You Comfortable Anywhere in the World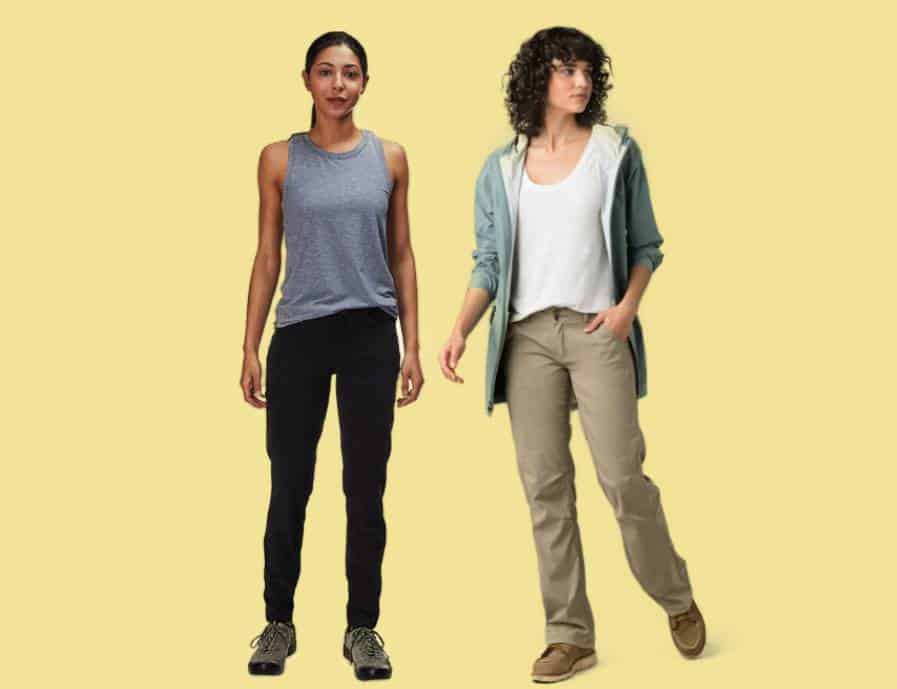 Since traveling can involve quite a bit of discomfort, you at least want your clothes to feel pleasant, and the perfect pair of women's travel pants can do the trick.
For most women, not only do travel pants need to be unbelievably comfortable; they should also be durable, fashionable, lightweight, and wrinkle resistant. Pockets that can fit a passport or phone are essential, and being versatile enough to be dressed up or down and easy to keep clean is another huge plus.
From skinny to cargos to relaxed joggers, we have found some of the most comfortable travel pants for women that are perfect for exploring the world.
What to Look For:
Other than comfort, there are a few other features you should look out for when finding the perfect traveling clothes.
Pockets–  Pockets are an essential feature on travel styles (unless you prefer leggings). It is useful to have deep enough pockets to quickly and easily store your passport or phone as you move through airport security and need your hands available. With pockets, you may also want to look for styles that have a zipper or another kind of closure for extra protection.
Fit– You can get fits from very baggy to skinny or legging type fit, everyone obviously has a preference for the kind of fit they like best and feel the best in.
Stylish– It is possible to get a style that is both functional and fashionable. The Prana and the Anatomie options are both very fashionable and as well as being super practical.
Cleaning– Pants that are designed for travel are usually made with a quick-dry fabric. The reason for this is so that you can wash the garment in a sink and leave it to dry overnight. If you can dry the clothing quickly, it means that you can pack less and still have no worries about having clean clothes to wear on your trip.
Lightweight– Travel pants tend to be lightweight fabric, so they are fresh and comfortable when you are in temperate climates. If you are heading to colder places, you will want to look for a thicker fabric. A couple of options if you need a heavier garment are the Mountain Hardwear Dynama or the Athleta Skyline.
Water Resistant– When a material is water-resistant, it is also often stain-resistant and means that that you can usually brush off or wet and clean with a damp cloth any stains that occur.
Wrinkle-free– Nylon-based fabrics are usually the best for avoiding wrinkles in your clothes; no one likes to have to iron their clothes after  pulling them out of a suitcase
Packable– A good style is also easy to pack (when you unpack, there are no wrinkles), and it doesn't take up much space in your suitcase or bag.
Dressed up/down – The best travel pants are also versatile enough to be dressed up or down. If you only have room for one pair on a trip, you need to be sure they are suitable for any kind of situation you may find yourself in.