12 of the Most Comfortable Women's Slip on Shoes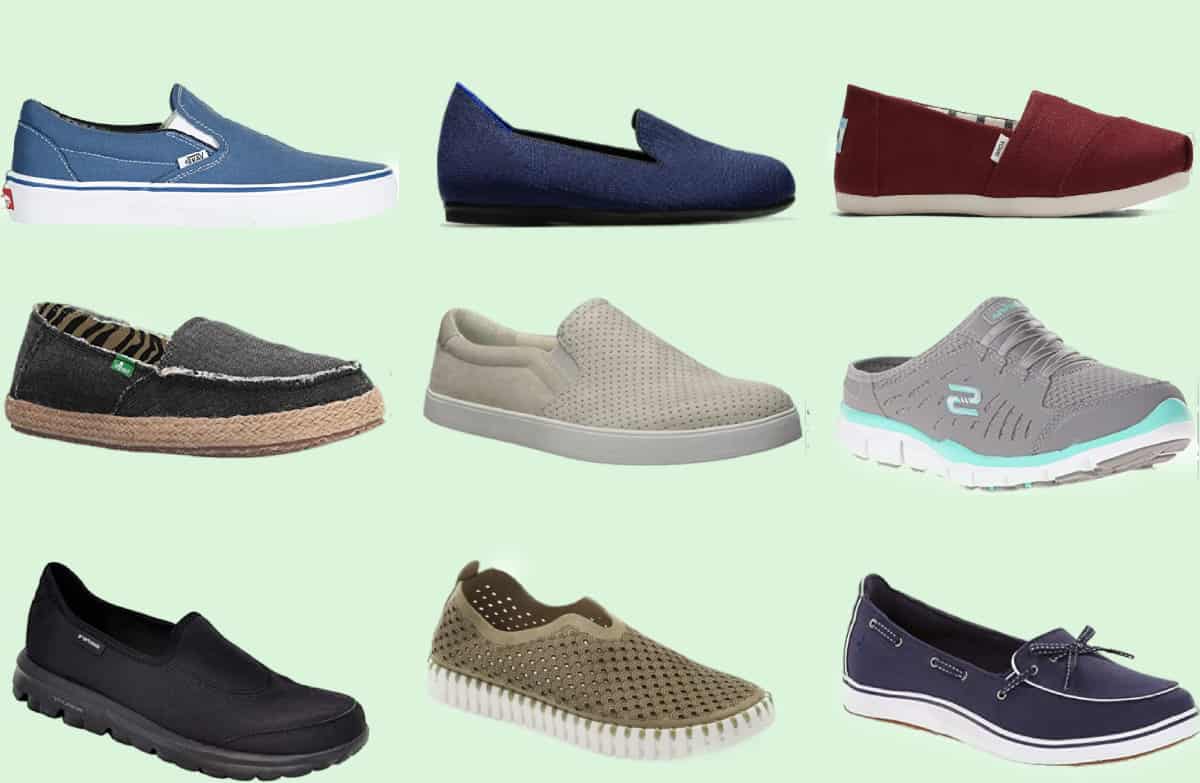 A good slip-on shoe for women should be comfortable, have a good grip, fit well, and be easy to get on and off. Slip-ons are perfect for traveling, walking, or doing errands. They also work well as a closed-toe alternate for the summer since you can wear them with or without socks.
Whether you love the ease and convenience of a slip-on, or you hate bending over to tie shoestrings, we have found 12 of the most comfortable slip on shoes for women.
What to look for:
Colors- Most of the styles on our list come in a decent variety of colors. The Ked's, Easy Spirit, and Tom's probably have the most colors to choose from if you are looking for something a little different.
Removable Insoles – If you wear custom orthotics or need to add an insert for arch support, make sure you get a design that has a removable insole.
Can they be washed? Since many women like to wear their mule styles without socks, it can lead to an odor that can be difficult to eliminate without washing. Some of the shoes on our list that can be washed are the Champions and the Skechers.
Sizing – Sizing varies a little bit across the different brands. If you need a narrow or wide width, you may be a bit more limited in what is available. If you order online, make sure you check reviews to see if reviewers give any advice on whether the shoe runs big or small.
Arch support- Generally, you aren't going to get much arch support in a slip-on shoe, although there are a few exceptions. The Easy Spirit, Merrell, and the Clarks are good options if you are looking for arch support.
Style -Some of the styles of mules are very stylish and fashionable, and some not so much. If you are purely looking for comfort, you may have to sacrifice some style.
Price– Like all footwear, the price range varies considerably for different types of comfortable shoes. The cheapest options are the Keds or the Champions, and the most expensive are probably the Clarks.
Skid Resistant– Slip-ons can be extremely convenient and comfortable to wear, but they can also come with their own issues that some people might not consider. If the person wearing the shoe has limited mobility and is prone to slipping, you may want to ensure that any footwear that is bought is skid resistant and has a back, even if it is just a small lip, to prevent slipping out of the shoe.
Socks or no socks– Before buying, you should consider whether you will be wearing footwear with socks or not. If you are not planning on wearing socks, some people recommend sizing down half a size, although this depends on the shoe, and you should check any sizing charts that are put out by the manufacturer.
Are they easy to get on and off -Many people turn to mules due to health or physical issues that make bending down to tie up laces very difficult. Not all slips-on will work well for women who have difficulty bending over.
If the design has a back, you will probably still have to bend over to adjust the shoe. Mule styles with a minimal lip at the back are the best if you have any issues with bending over.
Read More: 6 Comfortable House Shoes for Women