9 Ultra Comfy Women's Crewneck Pullover Sweatshirts (No Hood)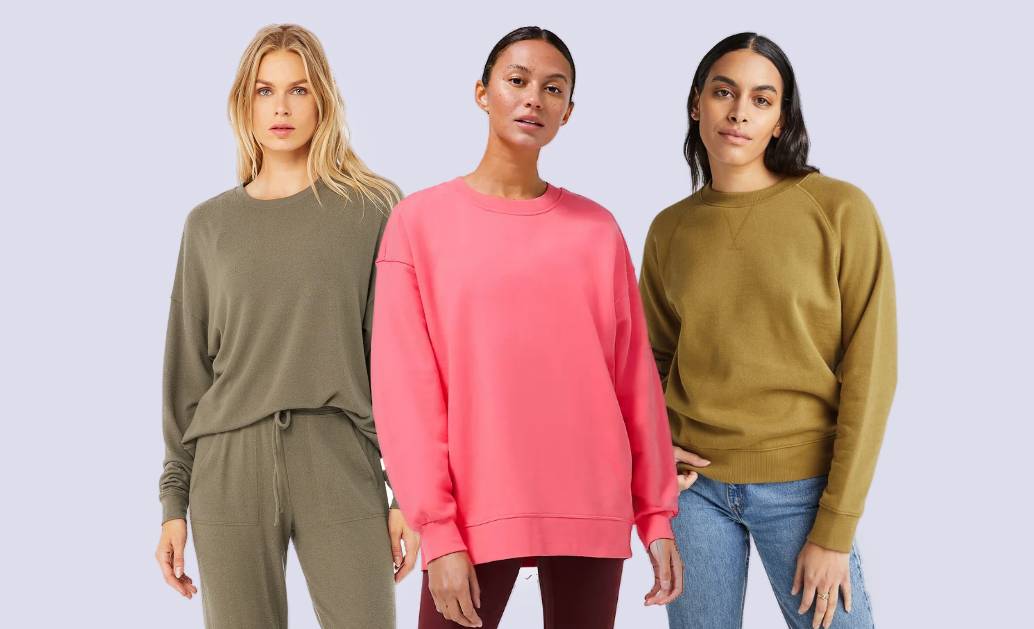 Crew neck sweatshirts are comfy and cozy enough to wear for a lot more than just exercising, although they are also great for that as well. From oversized to fitted to a few slightly cropped designs in the most ridiculously soft fabrics, we have found the styles that you cannot live without.
Whether you are looking for a no hooded pullover from some of the coolest brands to simple options that are budget-friendly, we can help you find the perfect crewneck sweatshirt.
* If you love a looser fit you may want to check out our post on Men's Crewneck Sweatshirts
What to look for:
It isn't hard to find a cozy women's sweatshirt, but here are a few things to keep in mind when you are shopping.
Size – If you don't get the right size for your body type, you are going to find any garment you get to be uncomfortable. If you like a looser fit, size up on the more fitted designs, but if you prefer your clothes to fit closer to the body, you may want to consider sizing down. If you are buying the style for layering, you may want to get a bigger size, so you have room for layers underneath, but if you are wearing it under a jacket, extra bulk may also be a consideration.
Fit– Since the fits of sweatshirts can range from slim form-fitted to baggy and oversized, it is well worth checking how the fit is described in any manufacturer's description that is available. As far as comfort goes, some women feel most comfy in a shirt that is designed to fit large, while others feel best in a style that hugs the body. If you love an oversized fit, you may also want to check out men's styles as they have more options that are bigger, and in some cases, they are less expensive.
Colors– You can get sweatshirts in pretty much any color you desire. Some of the least expensive brands have the most color options. If you are looking for subtle modern colors, try the ALO Yoga Soho or the Universal Thread design from Target.
Price– There are a lot of inexpensive brands selling decent quality options, check Hanes, or the Amazon basic style listed above for some excellent budget options. If you are looking for a branded sweatshirt, the Adidas and the Champion charge a little more for the logo pieces, but most of the branded items are decent quality fleece that is super comfy.