14 of the Most Comfortable Men's Business Casual Work Pants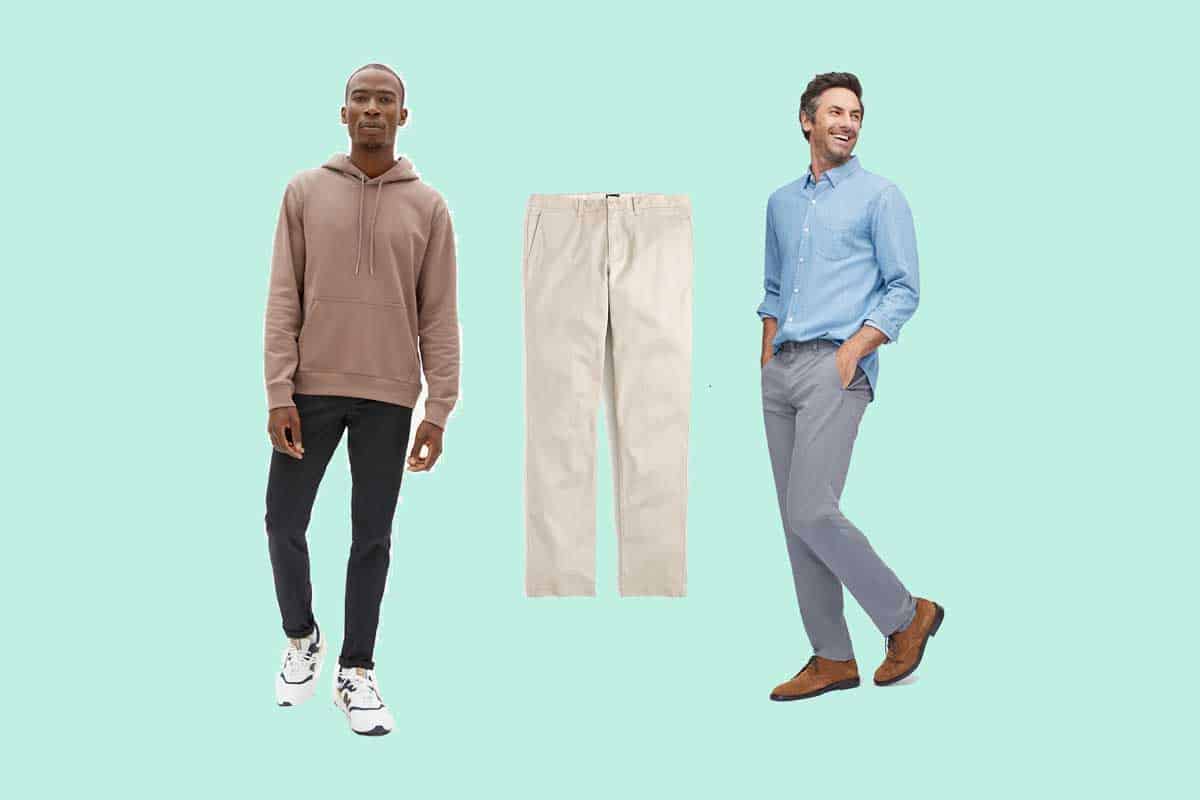 There is no need for men to be uncomfortable when wearing business casual pants at the office. There are many chinos or khaki styles that have soft, stretchy fabrics that not only look great but are also unbelievably comfortable to wear.
This new breed of ultra-comfy styles comes in modern colors and is suitable for the office environment or casual wear when out on the town.
We have found some of the best casual pants for the money that will work well for all different body types, whether you are slim, need a shorter leg, or have an athletic build.
Scroll down to see our picks for the most comfortable business casual work pants for men.
Read More: 13 Stylish and Comfortable Men's Dress Pants
How to Find Comfortable Men's Pants:
Before you set off to find that perfect pair of khakis or chinos, there are a few basic things to keep in mind.
Fit
The more prominent brands usually have, at the minimum, a slim, straight, or classic fit. Over the last few years, the popularity of skinny styles has also become very popular. The other fit that is pretty popular these days is the athletic fit, which is excellent for those who work out, as it usually gives you a little extra room in the hip and the thigh and is tapered in the leg.
Fabric
Most business casual pants are made from a cotton blend. Cotton is a suitable material because it breathes well and allows you to stay comfortable. 100% cotton pants could be a little stiffer than those that have the flex fabric options, but the more you wash and wear cotton, the softer it will become.
Stretch
The big breakthrough in creating comfortable business casual pants was when companies started to include fabrics that have a little bit of stretch. These stretch fabrics are usually just a cotton blend with a small percentage of either spandex or Lycra/elastane in the mix.
Wrinkle-free
If you aren't a fan of ironing your clothes, there are a few options that are better than others. Eddie Bauer has a decent selection of wrinkle-free options. Banana Republic, Dockers as well Old Navy sometimes has some options. Just be careful with wrinkle-free styles, as they can sometimes have a slight plastic feel to them that isn't comfortable.
Colors
The days of only the khaki-colored casual pant being available are long gone; most business casual options come in a rainbow of colors, as well as the basics, so you can pretty much wear any shade of chinos that your heart desires.
Leg opening
When you are shopping, be aware of the type of leg opening that you prefer. Many of the more modern styles are fairly tapered, which means that they get skinnier as they get closer to the ankle. A regular style will mean that the pant will get wider as they go towards the ankle.
Read More: The Most Comfortable Sweaters for Men You Will Want to Wear Everywhere