The Most Comfortable Hoodies for Men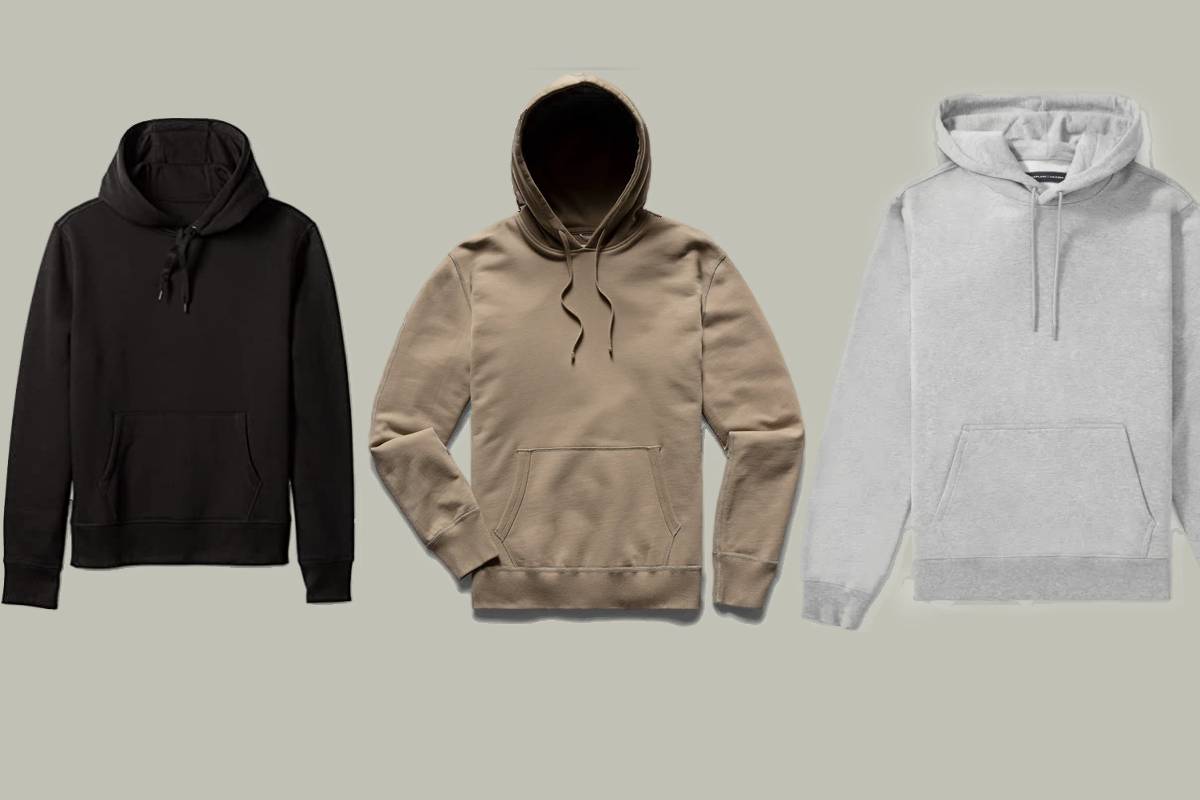 A comfortable hoodie is a wardrobe staple for a lot of men. With so many options available, finding the best hoodie can be a challenge.
Everyone's idea of the perfect hooded pullover or zip sweatshirt is a little different, but there are some common factors that you can look for to make sure you are getting the best product possible.
Fit, price, quality, and durability are essential for most men when they are trying to find the best brands. But what takes a hoodie to the next level is how comfortable it is.
The following are some of the most comfortable men's hoodies in the world. These are the styles that you can live in it for days.
Read More: The Most Comfortable Men's Sweatpants at Every Price Point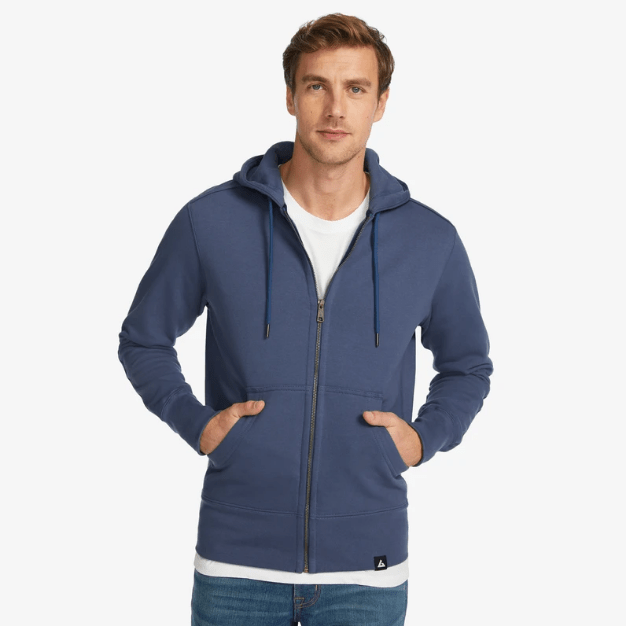 American Giant has several different comfortable hoodie options, ranging from styles made with very light fabric to a heavyweight material that is more like a jacket. Their best choice for comfort is their Classic Full Zip, which was called the Greatest Hoodie Ever Made by Slate. Slate is such a fan of this style because is made of 100% cotton that feels high quality and expensive, which can be hard to find when you are looking for sweatshirts.
The design is slightly slimmer than you may be expecting, but it works well for most men.
People who own this sweatshirt say that it is very durable while still being comfortable. It is made in the USA.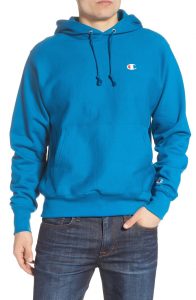 The Champion Reverse Weave Hoodie is a super popular option at the moment, partly due to the old school sweatshirt feel, as well as the introduction of a few new bold colors that are a little harder to find in quality pullovers.
It has the Champion logo displayed prominently on the left chest as well as on the left arm. The fleece is pretty heavy, so this is an excellent style to keep you warm.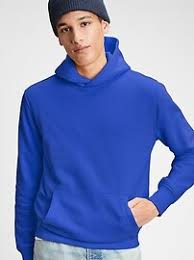 Another ultra-soft style perfect for everyday wear is the Gap Vintage Soft Hoodie, which comes with an already broken-in feel. This is a basic no-logo design with a slightly slim fit in the shoulders and arms and a relaxed cut in the body.
The fabric is a primarily cotton blend with a bit of polyester to add warmth and stretch, and most men find that it holds up well to wash and makes for a soft and warm wearing experience.
This is one of the few designs that doesn't have a drawstring, which is a nice touch if it isn't something you use regularly. The thickness and weight aren't overwhelming, making it perfect for layering.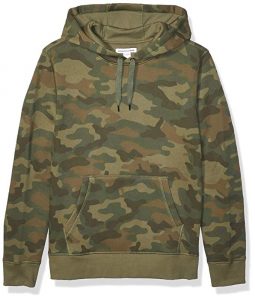 A budget style that is very popular with reviewers (over 15,000 five-star reviews and counting) that is worth taking a look at is the Amazon Essentials Men's Hooded Fleece Sweatshirt. Not only is it ridiculously cheap, but it also comes in lots of solid colors (as well as a much-loved camo option), and it is reportedly very comfy.
The fabric is known for being soft, high quality, and thick enough to keep you warm. There is no branding on it, and it is slightly fitted, so size up if you like baggy sweats.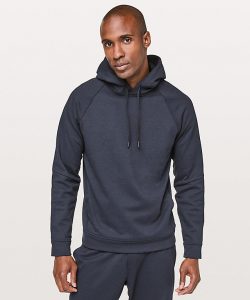 Lululemon is usually a pretty good place to get comfy, good-quality sweats. They can be a little pricey, but the brand can maintain a loyal following due to the high-tech fabrics and features of their styles. Their best sweatshirt is the City Sweat Pullover Hoodie, recently named one of the Most Comfortable Hoodies in the World by Men's Health magazine. This style has recently been slightly updated, which is something Lululemon loves to do to its most popular styles.
The latest version of the City Sweat Pullover maintains the breathable, sweat-wicking fabric of earlier versions that has the wonderful ability to adjust to the temperature of your body, so you never get too hot or too cold.
Currently, it comes in 5 subtle heathered colors; the colors change year to year. To maintain the streamlined look, it has the excellent feature of a hidden media pocket so you can store your phone as well as a coin pocket. The City Sweat is a good pullover style that works exceptionally well for colder conditions.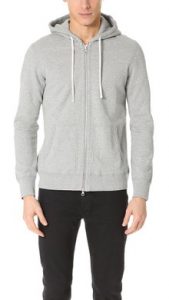 The Reigning Champ Hoodie is considered by many to be one of the top men's designs around, GQ named it their pick for The Best All-Around Hoodie. The most popular Reigning Champs style is their mid-weight 100 percent cotton design that is handmade in Vancouver.
You can get the Reigning Champ Full-Zip in a lightweight or heavyweight material. They have a reputation for being high quality, super comfy, and very durable. They have a slimmer fit than a basic style, so they look great on most men. The only downside is that they are a little on the pricey side.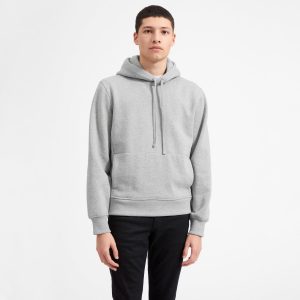 A style that was called the perfect hoodie for travel and everyday life by Travel and Leisure is Everlane's fashionable French Terry Hoodie. This is another 100% cotton design that is excellent for wicking sweat and stopping you from getting too hot so you stay nice and comfy. One great thing about cotton is that it gets softer with age, which is exactly what happens with this style.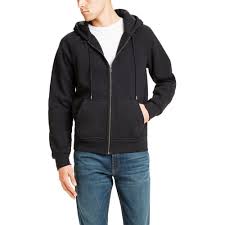 For those who want a sweatshirt that is going to last for years, you will probably want to take a look at the Flint and Tinder 10-Year Hoodie. This style was born from a Kickstarter campaign designed to create a garment that will last for at least 10 years, rather than have a limited lifespan, as so many of today's clothes do (it ended up being Kickstarter's first million-dollar fashion campaign).
This design is a slim fit that is made with a soft, yet durable, fleece. The seams are all reinforced, and the zippers are heavy duty. It comes with a 10-year guarantee that includes free mending. It isn't cheap, but if it lasts 10 years, then it will be worth the investment.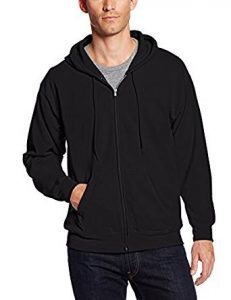 If you live in a warmer climate or are looking for a thinner sweatshirt for the summer, the Hanes Men's Full-Zip EcoSmart Fleece Hoodie is a great design to check out.  It is made from a very soft and comfortable blend of 50% Cotton/50% Polyester.
The interior of the design is a beautiful, light fleece. Since it isn't a heavy fleece, it won't keep you warm in frigid weather, but it will do the job for slightly chilly weather if you wear it as a layer.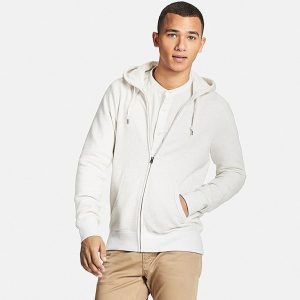 A lot of men (including the experts on Reddit's Male Fashion Advice) love the many different Uniqlo sweatshirts for comfort, with their Men's Full Zip Hoodie being a particular favorite. The key to the popularity of this sweatshirt is the pre-washing process that the 100% soft cotton material goes through before the sweatshirt is made.  The pre-wash process means that the fabric has a worn-in feel to it, making it very smooth.  It has a double zipper to open from the bottom. I never really understand the reasoning behind the double zipper, but I guess you use it for ventilation or to stop the material from bulging at the waist.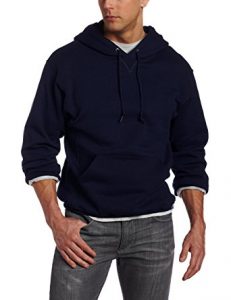 If you are looking for a moisture-wicking, hooded, pullover sweatshirt, the Russell Dri Power Fleece Sweatshirt is a great budget option. This design works well if you are exercising and are sweating a lot since it will wick the sweat away from your body and keep you dry and comfortable.
This design tends to be a little baggy or oversized, so if you like a tighter fit, you may want to go for a smaller size. The material is a blend of 50% Cotton, 50% Polyester, which is soft and will also keep you warm.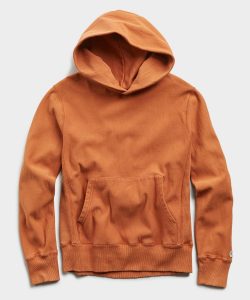 Todd Snyder has a great hoodie called the Popover that is well worth considering if you love good quality stylish sweats. This is a Todd Snyder and Champion collaboration that is made in Canada. It comes in either lightweight or heavyweight in lots of excellent color options, and it is built to last.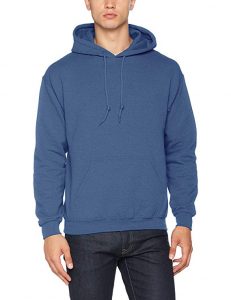 The Gildan Fleece hooded sweatshirt is a tough style to ignore if you are looking for a budget option. It currently has over 35,000 glowing reviews on Amazon with many praising the high comfort level. This heavy blend design is lined with fleece and is soft and relatively cozy. It is on the thicker side, so it is excellent for cold weather wear. The kangaroo pocket is big enough for your hands, along with a few other items. It has a deep hood and a nice long string on the hood.
Like most Gildan products, it is well made and should stand up to a lot of wear. It is a good option if you are on a limited budget. It is made of 50% polyester and 50% cotton, and it comes in 40 different colors.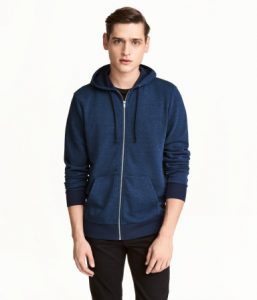 Another excellent affordable style worth considering is the H&M hoodies. They have a slim fit, come in a variety of colors, and are very comfy. They are a little on the thin side, so they are a great hooded option for layering. The best thing about these sweatshirts is the super low price and that they are pretty soft on the inside. They are made of 60% cotton, 40% polyester. Find at H&M.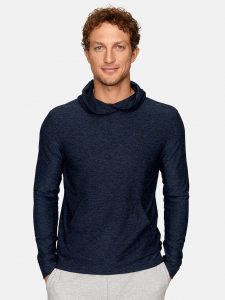 Outdoor Voices All Day Hoodie's claim to fame is that for many men, it is the softest sweatshirt that they own. This is a lightweight that is breathable and cool in warm weather yet manages to give enough warmth that you can wear it year-round. It comes in five modern you can wear with almost anything.
The shirt is part of Outdoor Voices CloudKnit collection that includes pants, T-shirts, and long sleeves in an 'insanely' soft, durable, and high-quality fabric with a huge cult following. This is a great buy if you are looking for a versatile hoodie that is cozy enough for lounging at home, practical for working out, and that looks good enough to wear on your next zoom meeting.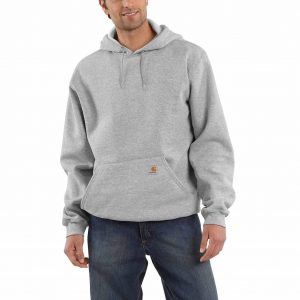 Thick Carhartt hoodies are a lot of men's men's go-to style, especially for everyday workwear. One of Carhartt's most popular options is the Men's Midweight Hooded Sweatshirt. This rough and tough style is super durable and strong for work, in addition to being soft and comfy if you are relaxing at home.
The fabric is a cotton blend, and the high quality shows throughout the design with the triple-stitched main seams and the heavy-duty rib-knit cuffs and waist that don't stretch out and become loose. Note that it has the fairly prominent Carhartt patch sewn on the pouch pocket.
If you prefer a zipper style you could try the Men's Midweight Zip Front Hooded Sweatshirt that is a 50% Polyester 50% cotton blend so that it will be warm. It also has a high-quality brass front zipper that won't snag or stop working.
What to Look for When Shopping for Men's Hoodies
In order to get the most comfy style for your needs, here the following are a few things to keep in mind:
Pricing
You can get a men's hooded sweatshirt for any budget. They range in price from $15 to $200 + for designer brands. The difference in price usually comes down to the material that the sweatshirt is made from (expect to pay more for 100% cotton, less for cotton-polyester blends), branding and marketing costs, and where the hoodie is made (if it is made in the USA or Canada you will pay more). In some cases, the styles that are in the $80-$100 range will be a little more comfortable and should last longer than the $15 Hanes designs.
Fabric
The most comfortable styles are made of either 100% cotton, a cotton-polyester blend, or cotton fleece. Cheaper brands tend to use more polyester, which can be useful for staying warm, although polyester can become less comfortable the more you wear it. 100% cotton options tend to become softer the more you wear them.
Thickness
When you are shopping for a hoodie, it is worth spending a small amount of time thinking about when and where you are planning on wearing it. The reason you want to do this is so that you get a style that has a material made of the right amount of thickness for situations you may find yourself in.  If you live in Florida, you aren't going to want to buy a heavyweight American Giant option, since they get pretty warm.
If you want a sweatshirt for the summer, you should look for a lightweight material. For most people who buy a design to stay warm in the winter a great all-around material is usually a mid-weight fabric.
Getting a Good Fit
There are different types of fit for hoodies, some of the most popular being a slimmer fit from brands like Reigning Champ and H&M. Some designs are known for being a little bit boxier or longer and narrow like Carhartt. If you prefer a looser fit, sizing up may be a good option for certain styles. If you aren't sure what kind of fit you would like check out this guide.