A Great Read for Tough Times
Books have always been a refuge for me. I usually keep up on the best-sellers and a few of the awarding-winning books out there, but like everything this year, that changed. Types of books I have always loved and couldn't put down I could barely look at.
For much of the year, my attention span was admittedly pretty terrible, making it hard to get through a book at all. I started so many books that I ended up stopping either after just reading the blurb, or I'd have to give up at some point during the story. Not only was it difficult to concentrate, but I also couldn't handle any emotion or anything too challenging in my books, making it pretty hard to find anything to read at all.
I usually get most of my books from my local public library, but it was closed from March until July, so I was forced to find books around the house for something to read. Luckily for me, we had a whole stack of old mystery novels that had been passed along to me from my mother, who would read nothing else. The cover blurbs of most of those titles were a little intense, so I started on one book that was familiar enough that it seemed like a safe bet- Miss Marple's Short Stories by Agatha Christie. These stories ended up being the perfect soothing balm to all of the stress of the everyday news cycle. If you can look past some of the stereotypes that are a little rough, Christie's intriguing mysteries, relatively gentle characters, and cozy settings were perfect for this year. Since they are short stories, they don't have to hold your attention for too long.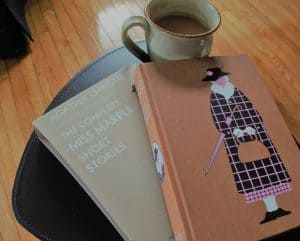 After reading four of the Miss. Marple novels and the book of short stories, I moved onto the Hercule Poirot books, but kind of overdid it. Now I'm reading a couple of feel-good beach reads without the beach (and all the murders). If you are looking for something to read and your stress levels are off the charts, try an Agatha Christie. It may do the trick if you need a story to divert your attention for a little while.
Despite my old school mystery binge, I did manage to get through a few other books this year that I enjoyed. The following are those titles:
Rodham by Curtis Sittenfeld- I would read anything by Curtis Sittenfeld – she is the best.
The Chiffon Trenches: A Memoir by

André Leon Talley

More Than A Woman by Caitlin Moran
Nine Perfect Strangers by Liane Moriarty,
Conversations with Friends by Sally Rooney,
Modern Comfort Food by Ina Garten
Stoner by John Williams
Me by Elton John- So gossipy
These are a few of the books I started but couldn't handle for various reasons (I'll read them next year)-
Such a Fun Age by Kiley Reid
Uncanny Valley by Anna Wiener
Little Fires Everywhere ( almost made it through but had to stop 3/4 through)
My Dark Vanessa  by Kate Elizabeth Russell
Things in Jars  by Jess Kidd
Lanny by Max Porter

Latest posts by Molly London
(see all)