10 of the Most Comfortable Men's Flip Flops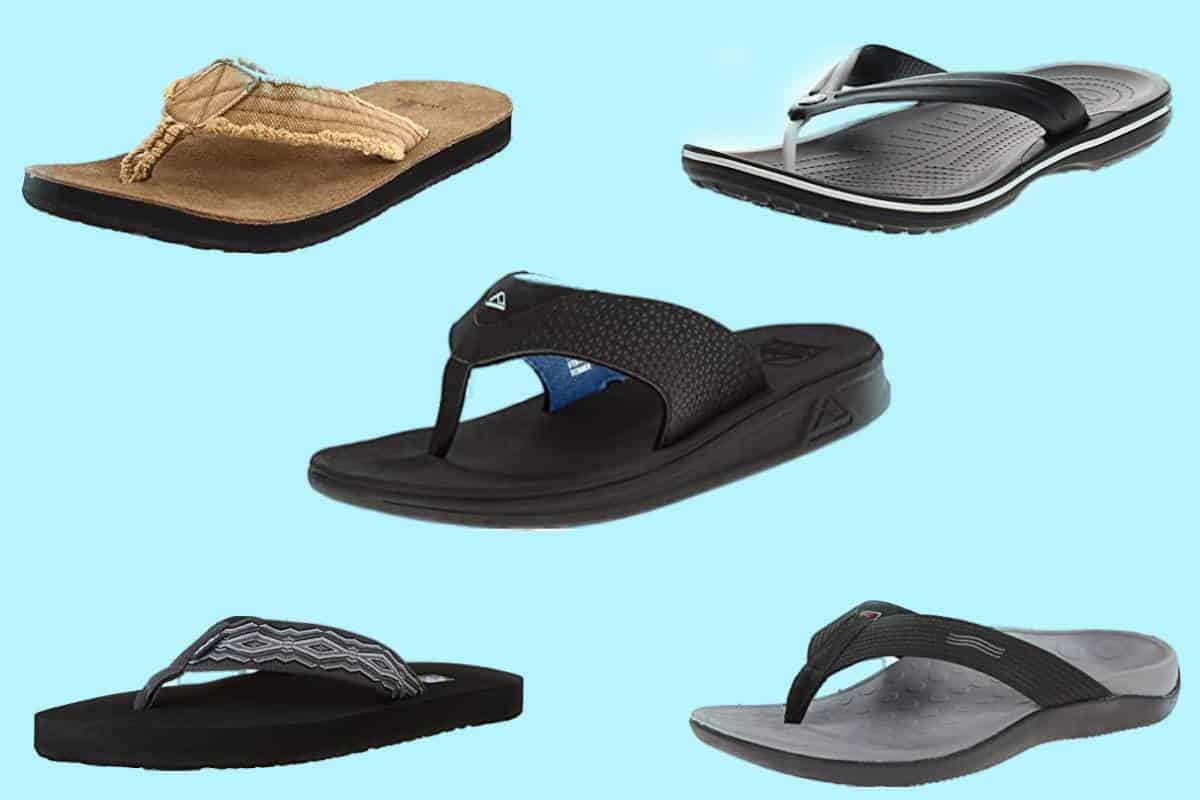 The best men's flip flops are those that look great, are durable, and are above all comfortable. We have rounded up some of the best designs on the market, from sporty styles for those who love to stay active or classic designs for everyday wear.
If you are looking for supportive footbeds to head off any future foot issues like plantar fasciitis or ankle or leg pain, make sure flip flops you are interested in are podiatrist approved with the APMA Seal of Acceptance.
If you are the type of person who lives in flip flops all summer (or even all year long), we have come up with the definitive list of the most comfortable flip flops for men on the market.
Read More: The Most Comfortable Men's Shorts by Inseam Length
Tip for finding the comfiest flip flops
When shopping for a flip flop, it is worth taking the time to find a good quality design that works well for your feet. Some studies show that wearing poor-quality flip-flops can lead to a range of health issues down the line, so it is important to invest in good brands that won't hurt your feet in the short or long term.
Podiatrists recommend good arch support, thicker soles, and a deep heel cup, in addition to making sure you are wearing the right size. They also recommend looking for designs made from high-quality soft leather or other similar material that won't irritate your skin.
Support– Support and comfort pretty much go hand in hand. If footwear has no support, most people will find that their feet start to hurt fairly quickly. If you are young and have healthy feet, you can probably get away with wearing cheap drug store flip-flops that have no support, but you may find that you pay for it later on with foot issues down the line.
For most of us, though, it is a good idea to have at least some level of support, especially if you are wearing sandals for long periods. Higher quality brands with good support are usually fine to wear all day long but not for walking long distances. If you are worried about messing up your feet, you can always check out the American Podiatric Medical Association (APMA) to find flip-flops that have Received the APMA Seal of Acceptance.
Style– There isn't a lot of room to get super stylish when looking for a flip flop. Most are your basic y-strap, thong design. You can get sporty styles that will work well if you are super active in the summer, like the Keen. If you want something that looks a little more upscale, you can try a leather strap design (i.e., Rainbow) or just a leather look-alike style (OluKai 'Ohana). If you want a useful beach style, you can't go wrong with Teva or the Reef styles.
Material– Depending on when you are planning on wearing your footwear, it is worth considering what type of strap material will work best. Leather looks amazing, but you don't want to get it wet, so it's best to avoid leather strapped sandals if you are going to the beach. However, leather is often recommended by podiatrists as good material to avoid skin irritations and blisters.
If you want a strap that dries quickly, you can't beat rubber. The most comfortable straps are often made of fabric, but in a summer shoe, you will need to make sure the material is fast drying.
Versatility: If you wear flip flops all day, every day in the summer, it is handy to have one that will be comfortable wearing for long periods and is adaptable to different situations or places that you may find yourself.
One of the most versatile styles that can get you through the summer, from the beach to somewhere a little fancy, is the OluKai 'Ohana. They can take you from an unexpected hike to a more formal activity with no problem.
Break-in period– Trying to break in some brands of flip flops can be an unpleasant experience. The brands to watch out for are Rainbow and Chaco's,  as they tend to be notorious for long break-in periods. Unfortunately, they are also two brands known for being the most comfortable once the break-in period is over and the sandal has molded to your foot.
Durability– If you are spending $50 on a flip flop, most people are going to want to get multiple years of wear out of them. Of the brands, we listed above, you should be able to get a minimum of 2 plus years out of most of the different options.
Water- In the summer, you never quite know when you may find yourself around water, so it great to have footwear that you can get wet, and dries off quickly and not be ruined.
Some of the best styles for water use are Crocs, Keen, Reef, and Teva styles. You can get all of these styles wet and either towel dry them or leave them to dry in the sun, and they will dry quickly.
Budget – To get a good quality, pain-free, non-slip sandal that you can wear all the time, expect to pay somewhere from $40-$70. Everyone has different needs, but in this price range, you have a lot of great options.
Fit– The fit of any style that you choose is going to be very important. When trying sandals on, make sure the footbed can contain your entire foot, so you don't get a lot of side-to-side movement. Your heel should be centered and aligned with the footbed. The toe bed should have enough room, so your toes can spread naturally without hanging over the sides.
Sources: