The Best Fuzzy Socks for Women
To help make the colder weather a little easier to tolerate, it is time to get yourself a pair of the most fluffy and fuzzy socks that will keep your feet toasty warm all winter long. Fuzzy socks are perfect for anyone who loves to be cozy and comfy at home but are especially useful for women who have feet that are always cold. They are perfect for wearing to bed if you get cold feet overnight and are a must for cold weather lounging.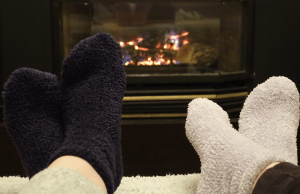 Fluffy hosiery also makes a fantastic gift or stocking stuffer since they are small, relatively inexpensive, and are luxurious to wear. If you haven't tried fuzzy socks yet, beware because once you try them, you'll never want to take them off.
What to look for:
Thickness- Some of the styles can feel super soft and fuzzy when you first get them, but after a couple of washes, they lose a lot of the fluff and get somewhat thin. It tends to happen more with the budget products, but it also occurs with higher-end styles. To avoid losing thickness, ensure you follow all washing instructions, especially if they are intended to be air-dried. The dryer can be tough on these types of fabrics.
The other thing to consider is whether your feet tend to overheat. Some of the very thick options can get pretty warm, so you may want to look for fabrics that are breathable yet thick and warm- the UGG Pom Pom style would be an example of that.
Durability– Another issue that can be a problem with fluffy fabric is the bottom wears out and gets holes really fast. If you are looking for outstanding quality, you could try the Nordstrom Butter socks or the Muk Luk slipper sock that both have reputations for being very durable.
Height– Crew length designs are the most common length in fuzzy socks, but you can get a few ankle or knee-length styles. Many of the fuzzy styles are also designed as a lounging style, so they tend to have a slightly looser fit and are slightly more slouchy. The elastic at the top won't necessarily keep them firmly in place like it would with a regular sock.
Grips-Grips or non-slip rubber pieces on the bottoms of the hosiery can have pros and cons to them. Primarily the grips will stop you from slipping, but if you plan on wearing the product with shoes, they become uncomfortable.  If you are worried about slipping but love the soft feeling, you could try a slipper-like design such as  Snoozies that has all of the comforts of cozy socks but also have grips on the bottom.
Sizing– Many of these types of socks are one size fits all or offer minimal sizing options, so getting a great fit can sometimes be a bit of an issue, but generally, fuzzy socks are very stretchy, so they can accommodate a wide range of foot sizes.
Cleaning– Most styles can be machine washed and air-dried. Some styles are a little bit delicate, so when cleaning, you may want to wash in a mesh bag to avoid them catching on zippers or buttons of other items.