The Most Comfortable Insoles to Help with Foot Pain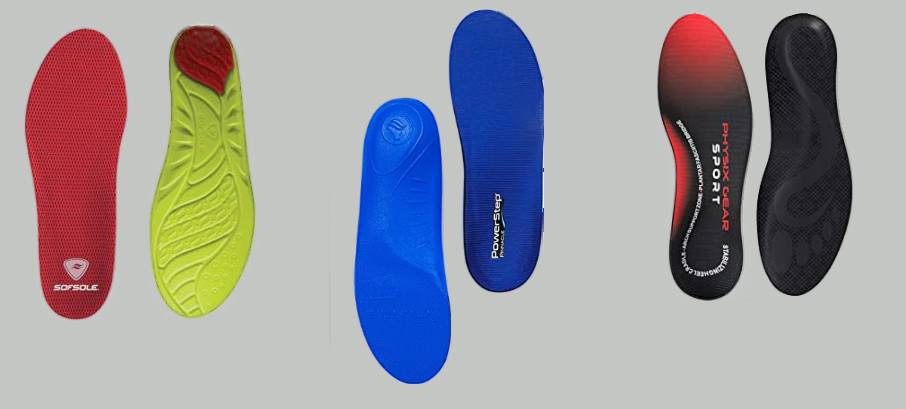 The difference between comfortable and uncomfortable shoes can often come down to the insole. You may find the perfect shoe that looks amazing, but when you try it on, it doesn't feel pleasant to wear.
An easy fix is to get yourself an inexpensive insole that can make a huge difference with support and comfort. If your doctor has recommended inserts to deal with pain from foot issues, you don't necessarily need to spend hundreds of dollars on custom orthotics. There are a lot of great alternatives to expensive orthotics that are designed to reduce foot pain and discomfort that you may want to try out before going the custom route.
Many different types of inserts are readily available that come in various kinds of materials. This post is focusing on insoles that can help with common foot pain that comes from plantar fasciitis, heel and arch discomfort, flat feet, as well as sore, tired feet and legs from standing or walking all day.
The following are some of the most comfortable and popular insoles that will make walking and standing so much more pleasant.
What to Look for:
Arch support – If you are looking for arch support there are a lot of orthotic inserts that you can buy that work for neutral or medium arches, low arches, flat feet, fallen arches, or high arches. To get the right product, you need to figure out the type of arch that you have and then ensure that you read the product specifications for the specific arch support that will work for you.  If you do end up with an insole that is not made for your arch type, it will probably be painful and uncomfortable to wear.
Sizing- Insoles usually come in a range of sizes that you must then trim to your specific size. Most products include a trimming guide to help you get the right fit. If no instructions are provided by the manufacturer, you can use the removable insoles that come with your shoes as a guide for cutting the product to size.
Footbed Type- In general, insoles and orthotic arch supports fall into one of the following categories: rigid orthotic arch support,  semi-rigid orthotic arch support,  cushioned arch support, and no arch support/flat cushion.
Adjustment Period–  If you have never worn orthotic supports before, you need to slowly break them in by wearing them for a short time each day so your feet can get used to them.
Cushioning– If you are looking for a product that can help with foot pain that occurs when standing all day or for walking or running, cushioned arch supports are a good option. The arch support is made from padding rather than a rigid material that is found in a lot of orthotic inserts. They also often have a heel cup. A popular material for cushioning is memory foam, which is very soft and helps retain the shape of your foot over time.
Fit– As mentioned above, most inserts are trimmable so you will be able to get the right fit for your feet and shoes. The other thing to look for are features that stop the insert from moving around in the footwear like a nonslip heel. When you are trimming the insert be very careful because if you cut too much, it will slide around in your footwear and become uncomfortable.
Type of activity– When browsing insoles be aware that there are different products available for various activities you may find yourself doing, including sports, walking, running, dress shoes, and heavy-duty activities.
Type of Shoe – Also be aware of the kind of shoe that the insole is designed for. There are different options for sneakers, casual shoes, hiking shoes, athletic, dress, and work shoes or boots.
Budget– You can get pretty good quality cushioned inserts for as low as $15 that will have a lifespan of about 6 to 12 months. For over-the-counter orthotics insoles you can expect to pay a little bit more some are in the $50 range, which is still a bargain compared with custom orthotics that can cost from $500-$800.
Read more: The Most Comfortable Men's Dress Shoes