May 26, 2017
The Warmest and Most Comfortable Women's Slippers
One of the great joys in life is getting home and putting on a cozy, comfortable pair of really great slippers. Slippers, house shoes, room shoes or whatever you may call them are a key item that you need to own to keep yourself comfortable and warm in colder months. The key to getting the best slipper is finding one that has good support, is comfortable and will keep your feet warm. A really good slipper can feel like walking on a cloud. We review the most comfortable slippers for women for 2017.
L.L Bean Women's Wicked Good Moccasins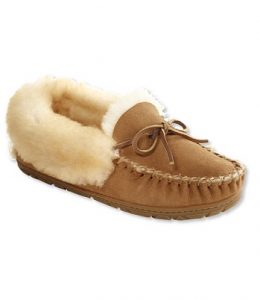 L.L Bean Wicked Good Moccasins are kind of the benchmark for comfortable slippers. L.L Bean have lots of very comfy slippers to choose from, with their most popular being the Women's Wicked Good Moccasins. These are like putting pillows onto your feet, they are beyond comfortable. Apart from comfort, L.L Bean slippers have a lot going for them. First and foremost they are warm, the sheepskin and the lamb fur are fantastic for keeping your feet toasty on very cold days. The shearling is able to draw moisture away from your feet, so even though they are warm they don't feel sweaty. They also have a top notch rubber sole with a nice cushion to it, as well as a good amount of traction on the bottom to prevent slipping. One final thing about L.L Bean slippers, they are built to last, so you should get a good number of years use out of each pair.
Available from L.L Bean
UGG Women's Coquette Slipper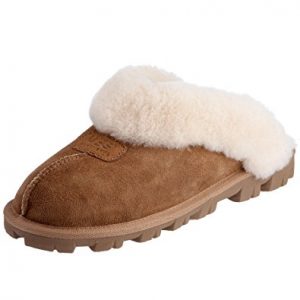 Right up there with L.L Bean Moccasins are the UGGS Coquette slippers. As you may expect, they aren't cheap but a lot of people feel like the steep price is worth it for the quality you are getting. UGGS have lots of great slipper options, the two most popular are the Coquette (pictured above) and the UGG Women's Scuffette II Scuff Slipper. I prefer the Coquette just because I like the thicker sole a little more.  They have that famous sheep skin and sheep fur that UGG's are known for. As I mentioned, they also have quite a thick rubber sole that is great if you have to make a quite trip outside. These are another slipper that should last for years, due the quality and good materials that they are made with.
Available from Nordstrom
BOBS from Skechers Women's Slipper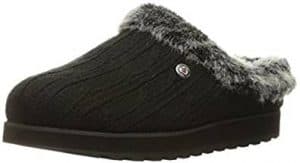 If you would like a more moderately priced option that is still super comfortable and durable, a popular choice is the Bobs from Skechers Women's Keepsakes Slipper. Like most of Skechers products it has the memory foam insole that will mold to your feet and feel very comfortable. The tread on the bottom of the slipper is okay for indoors or quick trips outside.  Apart from the budget friendly price, what I love about these slippers is the sweater like material that is used on the upper part of the slipper. It looks great and adds to the overall cozy feel that these slippers will give you.
Available from Amazon
Vionic Women's Relax Slipper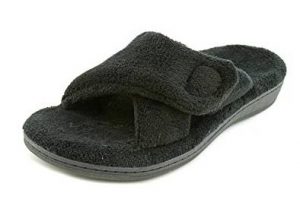 The Vionic Women's Relax Slippers come up a lot as a great option if you have foot issues like plantar fasciitis and need a little extra support. The adjustable Velcro strap is an excellent feature if your feet are wide or narrow or if they are swollen, as it gives you a bit of adjustability in the slipper to help get the right fit. The special Orthaheel arch support and foot bed are very comfortable for your feet. Some people feel like they are a little more like a shoe than slipper since they have a well formed footbed with arch support. As with most orthopedic type shoes, the Relax design is a little more expensive than other options. If your feet get really warm or you live in a warm climate an open toe option is a good way to go to help get air flow through. They are also great because unlike some designs that don't have a back that are hard to keep on, the Relax Slippers stay on easily and if you find that they are slipping off while you walk you can adjust the Velcro strap to get a secure fit. The only downside to these slippers is that they cannot be machine washed, you can only wipe them clean with a dry cotton cloth.
Available from Zappos
Orthofeet Charlotte Comfort Slippers for Women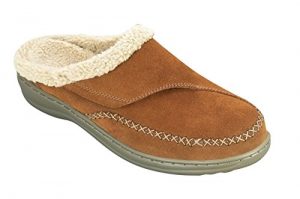 If you want a closed toe option that has orthotic support, a popular style is the Orthofeet Charlotte Comfort Slippers for Women. These are designed to work well for all kinds of different foot and ankle issues. They have a contoured orthotic insole, with anatomical arch support and deep heel-seat form. The sole is somewhat lightweight with a good amount of cushioning. The heal is designed to be a little higher than the toes, and some people find that to be helpful for plantar fasciitis. The Charlotte also has a Velcro strap on top so they can be loosened or tightened to get a better fit. They are a little pricey, like most orthopedic shoes, but Orthofeet offers free returns if you want to give it a try.
Available from Amazon
Minnetonka Women's Cally Faux Fur Slipper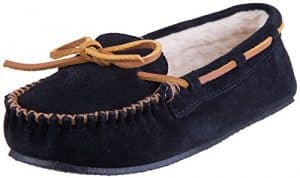 If you like the moccasin style slipper, another great brand to look for is Minnetonka. Their Cally slipper is super soft and cozy. They are pile-lined, which is the man-made equivalent of a shearling liner, so they will keep your feet pretty warm but probably won't be as breathable as slippers with shearling. If you have overly hot feet, they may not be the best option. The rubber sole is pretty thin, but it is considered an indoor/outdoor bottom, so you can wear it outside if needed.
Available from Minnetonka and Nordstrom
Haflinger Women's AR Jack Flat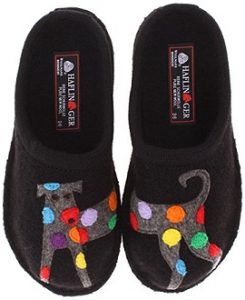 If you need a little more cute in your slippers, check these AR Jack Flat from the German company Haflinger. Haflinger slippers are, for the most part, made of something called boiled wool. Apparently boiled wool is a great material to use in slippers because it is warm yet breathable, so it is able to keep your feet cool in the summer and warm in the winter. It can also absorb moisture to help keep everything dry. Haflinger products are loved by their customer for the quality and workmanship of their footwear.  The insole has a strong molded arch support and the outsole is a felt material, but it has rubber dots on the felt to help with grip. If you like the idea of boiled wool but need a lot of arch support and a really strong rubber sole, check out their website for more options.
Available from  Zappos
World's Softest Super Soft Cozy Slippers with Slip-Resistant Bottom Sole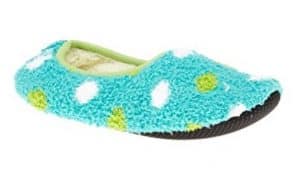 These are a cute, comfy, inexpensive option if you are looking for something that is a little bit lighter. They work great if you are travelling because they are small and can fold up easily if needed. They probably won't last that long if you are wearing them every day, so many people buy multiple pairs at a time. They are kind of like a cross between a really cozy sock and a slipper. What a lot of people love about this style is that they are easy to wash and dry, and are very comfortable because of their foam-padded soles. They also have non slip bubbles on the bottom to stop you from slipping.
Available from Amazon
ACORN Women's Moc Slipper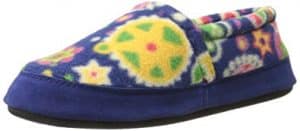 Acorn produces some very comfortable slippers that come in quite a few different colorful fabric styles and textures. The shape and fit of one of their most popular styles, the Moc Slipper, is a little different than most of the other top slipper styles for women.  The lining is made of a moisture wicking fabric of fleece Berber or sometimes a cotton blend, so you shouldn't have to worry about your feet sweating. They have a skid-resistant outsoles that are durable enough to be worn outside. They don't have a lot of arch support but are otherwise heavily cushioned. They are pretty easy to take care of because they can easily be machine washed in cold water and air dried.
Available from Zappos
Issues people run into with slippers
Comfort– There are various things that add or take away from just how comfortable a slipper is going to be. Padding, material, lining, support, grip, outsole material, and style are all things that you should think about before you start shopping for the best slipper for you.
Durability– Obviously if you wear your slippers a lot they are going to wear out at some point. The soles are often the main problem when slippers start to fall apart. If you wear your slippers outside on occasion, look for slippers with a rubber sole so they will last longer. Also be aware that if you go for a shearling lining, it will flatten out and wear down as the years go on. It will still be warm, but you may not find them as cozy after wearing them for a few years.
Climate- Almost all of the slippers on our list are made for colder climates and are built to keep your feet warm. There are lighter fabric slippers or unlined slippers that are a better option if you live in a warmer climate and just want comfortable footwear to wear around the house.
Sweating-If you have feet that get hot and sweaty, you should pay particular attention to the lining of any slipper that you are considering. Shearling will keep your feet very warm and should act as a natural wicking kind of material, but it may not work for everyone since some people find shearling a little too hot. The synthetic imitation shearling fabrics will be also be warm, but probably won't wick moisture away from your feet as well as the real stuff.
Pricing – It may seem a little bit crazy to spend over $100 on a pair of slippers, but often the very expensive slippers like the L.L Bean or the UGGs can last 5 years or more depending on how well they are taken care of and how much you wear them. The slippers that are suede or shearling will cost you much more than other styles, but may last longer and be more comfortable.
Features to Look for
Cleaning – A 'nice to have' feature in a slipper is whether it can be washed. There aren't that many slippers that can be put into a washing machine but there are a few. If you would like a slipper that can be machine washed, check out the Acorns and or the Worlds Softest Slipper. The slippers that are suede and shearling cannot be washed, instead you will have to clean them with a damp cloth.
Inside/Outside– It is handy to have a slipper that you can wear outside for brief periods without it being ruined. If you are in the habit of wearing your slippers outside, you may want to look for a style with a rubber sole. If the sole is thick enough you should be able to wear it outside even if the ground is wet or snowy without ruining the footwear. Obviously slippers aren't going to have waterproof fabric, so you won't wear them out if it is raining or super wet.
Style – There are a lot of different styles of slippers to choose from including moccasin, mules, bootie, slide-on scuffs or open back, sock styles, and clogs. The most popular styles tend to be moccasins, which are great for keeping warm and usually have a thick enough sole to be worn outdoors briefly. Slide-on styles with an open back are also very popular, since they are easy to get on and off and are very comfortable.
Cushioning– For pure comfort it is nice to have a decent amount of cushioning in your slippers. Some brands have memory foam or plush foam like the Acorn style. The styles with the rubber soles often have less cushioning, but more support.
Material– One of the most important aspects of finding a comfortable slipper is finding the right material. If your feet get very warm you may want to look for a slipper that is made of a cotton blend, as it will be more breathable than other material. They are also usually inexpensive and easy to clean. Leather and suede are very popular choices for slippers, as they are durable and warm, although they tend to cost more than synthetic materials. Sheepskin is one of the most popular and expensive options in a quality slipper, it is known for being warm comfortable and durable.
Wide or narrow feet- Generally slippers don't come in wide or narrow sizes, so you will instead have to look for particular styles that fit well for wide or narrow feet. You may also want to look for styles that have Velcro straps that you can adjust to help get a better fit.
Sole -Depending on when and where you will be wearing your slippers, you may want to consider how thick the sole is, as well as whether it is rubber or cushioned foam. You may also want to look at the grip on the bottom of the slipper to make sure there is no chance of slipping. If you get cheaper brands you may have to worry about soles leaving marks on your floors.
Lining– For those who want a warm slipper a shearling lining can't be beat, it is super warm and is also a natural wicking material so it will draw moisture away from your feet so they don't feel sweaty. Fleece is also a great lining to look for in a slipper as it will be warm and usually easy to clean.